Women's shoes to wear with afo braces
If you're wearing an AFO brace, it's important to have shoes that are both comfortable and supportive. You can't just throw on any pair of shoes and expect them to be okay with your brace—you need a good fit.
It can be tough to find the right combination of comfort and support when it comes to footwear, but we've got some ideas that'll help you out.
First things first: know your shoe size! If you're not sure how big or small your feet are, go to a local shoe store and get measured. This will help you determine what type of shoe is best for you. A general rule of thumb is that women's shoes should fit comfortably snug around your foot—it shouldn't be too tight or too loose.
#1. KICKS ARE DOPE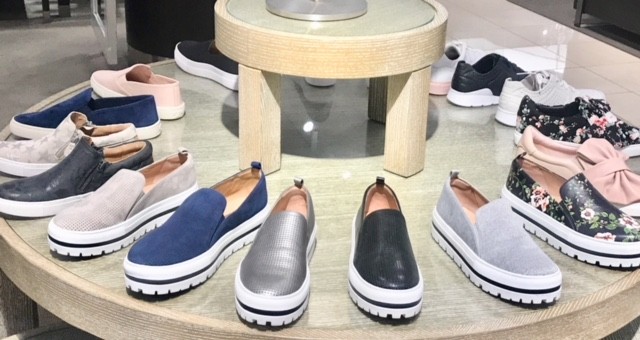 Sneakers of all types are cool. They are no longer reserved for mall-walking, city-commuting, or gyms. People can wear sneakers with anything and everywhere these days.
Brands like Nike and New Balance have a ton more competition as it seems like every designer and brand has its own line of sneakers. I mean, hello, even Ellen Degeneres has her own line of sneakers.
When worn confidently, sneakers can look just as great with jeans as they do when paired with a dress or skirt. The key is to look like you planned to wear sneakers and not that you have to wear sneakers.
#2. VELCRO IS LIT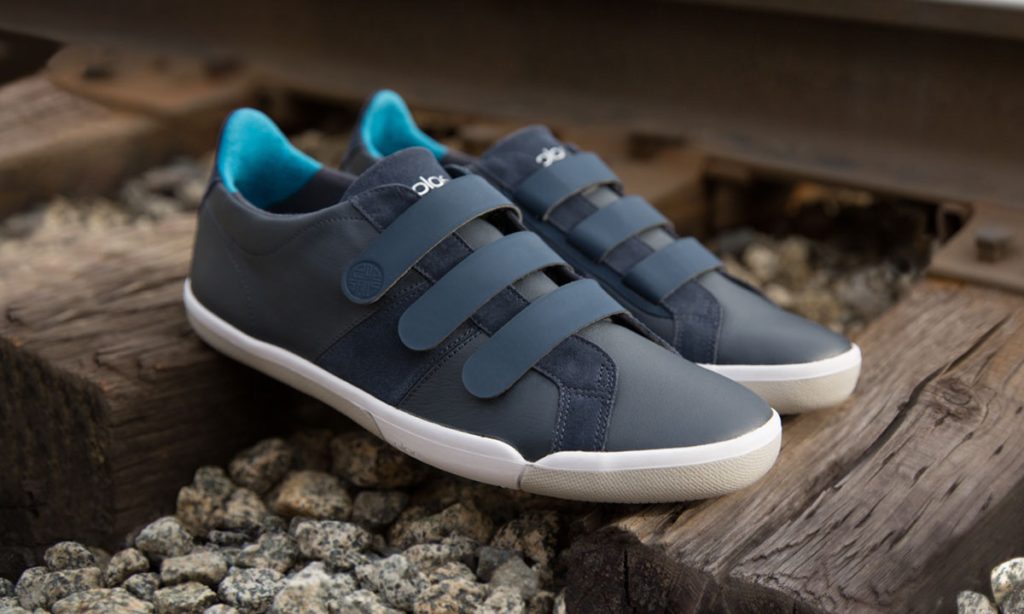 For those of you without access to a teenager or slang decoder, Lit means "hot" or "cool."
When I first saw velcro closures on shoes by popular designers, I wanted to jump for joy. I cant actually jump but I was REALLY excited.
This trend has been life-changing. Velcro shoes are no longer just worn by nurses and small children. People without hand or foot problems love the look and convenience of hook and loop closures. No more struggles with shoelaces for me.
#3. GOTTA HAVE SOLE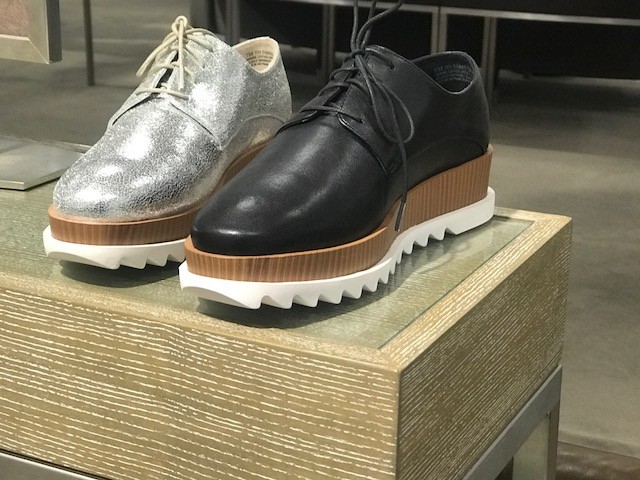 People who have foot and balance issues are experts in flooring material. If I walk into a restaurant and see a shiny painted floor, my heart starts racing, and I go into survival mode. My eyes are always scanning the floor for spilled water, baby pacifiers or any other foreign object impeding my path, causing a likely fall.
I was so excited to see that rubber non-skid soles are now everywhere and on everything from sandals and booties to party shoes. As they say (and my 14-year-old son came up with), don't forget the rubber!
#4. ELEVATE YOUR STYLE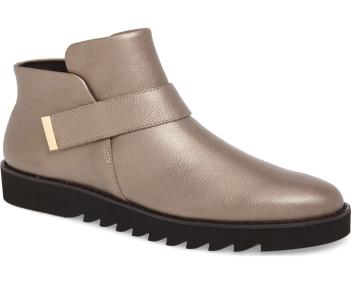 One of the hardest things to accept when you have foot and balance problems is the inability to wear heels. Heels, (or pumps as they used to call them in the 80's when my friends dyed them to match their prom dresses) are considered a necessity when dressing up, a no-brainer for able-bodied women. Heels make women look taller, thinner and sexier. Those of us who can't wear heels do not benefit from the illusion they give an outfit.
My life was forever changed six years ago when I discovered the Wolky, Jewel Sandal with a flat, platform sole. For the first time ever, I was walking comfortably in elevated sandals that made my legs look longer too. Since then, I have found even cuter platforms (only the completely level kind without a wedge) I can wear in any season. Here are some examples:
#5. ZIP IT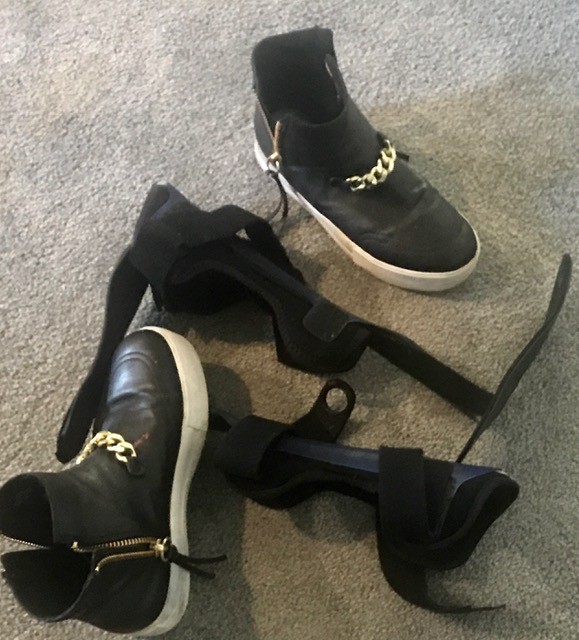 When you wear leg braces or orthotics, putting shoes on is a high-intensity workout. Even when you remove the insoles and buy a size or two bigger than your real size, there's just not enough room in the opening to shove it in. It doesn't help that both of my ankles are fused with pins, preventing any movement.
Like the struggle I have every summer, trying to get my kid's sleeping bags shoved back inside the tiny nylon bags they came in, I eventually (sweat dripping) forfeit the fight; cuz it ain't gonna happen.
This year, I saw a ton of cute hi-tops with zippers on each side. These hi-tops are not the Chuck Taylor style (I like those too) but rather, more grown-up, soft leather ankle boots that you can wear with anything.
In general, hi-tops are awesome for women with foot issues. Not only do they provide built-in ankle support, but if you want to wear trendy ankle cropped jeans, hi-tops conceal your orthotic/AFO.
Since laces are tough for me because of my fine motor issues and pull on style shoes are totally out of the question, I was bouncing off my chair with excitement when I found a pair of two zippers opening hi-tops with removable insoles.
Shoes With Zippers On The Sides Are They Helpful
I wanted to touch base on this topic because some parents assume that shoes with zippers better accommodate their childrens ankle braces than shoes without them. However, this is not always the case.
One example of this is the shoe brand BILLY Footwear, which provides lace-up zip-on shoes with zippers on their sides. BILLY Footwear is a popular choice for children who wear ankle braces as they manufacture fashionable and functional shoes for children.
However, my issue with providing children who wear AFOs with zippered shoes is the lack of lateral support they provide. The zippers definitely make it easier to slide the ankle braces inside a childs shoes, but these shoes do not give the same level of support that other sneakers do.
Patients With Multiple Sclerosis
Patients with multiple sclerosis often experience difficulty walking, depending on which stage of the illness they are in. In some cases, the complaints are about general instability when walking.
Other times its the weakness in their feet and ankles, muscle spasms, and foot drop. Another problem many MS patients have is that they often stumble. All these symptoms mean that they may benefit from wearing a comfortable AFO brace.
We Make Shoes And Boots For Afo Braces
What is an AFO Brace?
First off, many of you may be asking: What is an AFO Brace??. To answer, AFO stands for Ankle Foot Orthosis and refers to a plastic brace that is worn on the foot and ankle. Why do people wear AFO Braces? For Gracious Mays customers, AFOs are worn because of weak or contracted muscle tone brought on by cerebral palsy. AFO braces are also worn by toddlers on a short term basis to correct mild foot and ankle deformities. Whatever the reason for wearing AFO braces, Gracious May loves to customize CUTE shoes for you to wear over them! Keep reading and watch the video above to find out more about Gracious Mays special sub-site, ShoesforAFOs.com!
Here at Gracious May we customize our shoes and boots to fit over AFO Braces! We have been making shoes for AFOs since 2015, when a mama requested a custom order for her tiny fashionista with mild cerebral palsy. After 3 years of taking custom orders by email, we launched ShoesforAFOS.com, a sub-site of Gracious May that makes ordering custom shoes for orthotics easy! We customize our shoes for boys, girls, and women in AFO Braces. We desire to give A Fresh Outlook to the special needs community by providing shoes and boots for orthotics that do not compromise on style! Read on for the full story from Grace!
From Grace
AFO: A Fresh Outlook
And we know that all things work together for good to them that love God, to them who are the called according to his purpose. Romans 8:28
Fit is guaranteed!
How To Put On An Afo
Before everything else you should make the AFO is unstrapped
Sit down and bend your knee and hip at 90 degrees
Put on socks and make sure they arent wrinkly
Bring your foot inwards and then up towards the knee
Put your heel on the backside of the AFO and secure the strap. Make sure its tight enough so that your foot is secure, but dont stop your blood flow. You can test it by lifting your toes. Make sure theres no room between the AFO and the heel
Then tighten up the upper strap and also make sure that it isnt too tight
The last step is to put on the shoe over your AFO and the foot.
Perfect For Uneven Land
Foot drop causes misalignment of the feet. Because the toes point down, you have more difficulty navigating uneven terrain. Most AFO orthotics often cannot solve this problem. Even only walking on flat terrain with those rigid AFO may be challenging.
Choosing our multi-axial flexible AFO, will provide ease of movement, no matter where you are. The XTERN also offers the advantage of attaching to the outside of your shoes, behaving like an exoskeleton. By fitting it to your shoes and boots you will feel like you have a real replacement for your leg, which is perfect for uneven land.
Best Shoes For Afo Braces Adults
It is inevitable to get leg injuries once in everyones life. While some people can easily avoid them but not everyone is lucky. Due to various feet condition, we have to wear supportive braces to let our feet heal comfortably and quickly.
One of the braces for the ankle is known as AFO, which stands for Ankle Feet Orthosis. If you wear one of them and look for shoes, we have the best shoes for AFO braces adult recommendation.
Wearing shoes when you are healing with braces is a must. Although your feet need recovery, you will still have to do your daily work and walk on your feet. That is why you need additional support with the braces, and you can get them from your shoes.
However, not all shoes are suitable for braces, and that is why finding the right shoes is very necessary. You want to feel all the comfort and support you need for your feet. That is why we are here to help you with our list of the best shoes for AFO braces adults and some other helpful information.
How To Overcome Dependency On Foot Drop Braces
In order to regain the use of your ankle and foot, you need to reconnect your mind to your muscles through neuroplasticity.
Neuroplasticity is the mechanism that your brain uses to rewire itself and form new neural connections and you can activate it through repetitive practice.
By repeating foot drop exercises over and over, neuroplasticity will start to engage and your brain will get better and better at controlling your ankle and foot.
Over time, your ankle and foot mobility will gradually improve from all your hard work. As it improves, with your doctor or therapists recommendation, you may begin to practice walking without your AFO in a safe environment.
Best Kids Shoes For Afos And Smos
Drop foot shoes – Fitting Step-Smart AFO in Shoes
Shoe brands are really starting to provide more options for AFO users. It still takes some trial and error, but there are certainly a lot more styles to choose from these days. Even mainstream brands are adding options to make shoes easier to take on and off.
I put together this list of some of the best brands that carry AFO-friendly shoes. This list certainly isnt exhaustive, but hopefully it provides you with a good place to start!
What Makes The Shoes I Recommend Effective For Afos/smos
The shoes I recommend for children who wear ankle braces provide these 3 important features:
Substantial Outsoles: This feature provides a stable and supportive base for the medial arch and forefoot. Shoes with substantial outsoles help to minimize the impact your childs feet feel when they come in contact with the ground and hold the AFO/SMO securely in place.
Straight Lasts: The last of a shoe determines the shoes overall shape. Shoes with straight last are ideal as they help keep feet in the correct position, which is especially important for a child who wears AFOs or SMOs.
Firm Heel Counter: This feature provides additional heel and ankle support as well as heel stabilization.
Flexible and Lightweight: The shoes must be supportive, but lightweight and flexible at the same time to prevent your childs feet and legs from easily getting tired.
Shoelaces: While I understand how tiring it can be for parents to constantly be retying their childrens shoes, especially when a child is learning how to tie them, shoes with shoelaces are always ideal. Shoelaces will allow your child to receive the full support of their shoes and orthotics, improving your childs overall stability.
Round Toe-Boxes: This feature helps prevent the front part of the AFO from destroying the front part of the shoes.
Wider Opening for Easy On & Off: This feature allows parents to easily slide the AFO inside the shoes so they dont have to struggle every time they have to put on the AFOs.
New Balance Afo Shoes
Orthotists and bone specialists recommend trying New Balance shoes. These shoes are to compensate for the foot wire when you get a problem with the foot. True to its brand name, balance can provide mobility for people with disabilities who desperately need comfortable shoes to wear every day. Most New Balance shoes have foot-friendly materials.
Buying Shoes For Afos Can I Buy Two Different Sizes For The Price Of One Pair Yes
Nordstrom Department Store will sell a left and a right shoe in different sizes and youll only pay for one pair of shoes.
Brooks brand will sell you two different sizes of shoes for the price of one pair plus an additional $30. You order from a local store that sells Brooks, usually a Runners store, and they have the shoes shipped to their store. You cant order two different sizes directly from Brooks.
Parents report that other stores may sometimes sell two different sizes of shoes for the price of one pair. Just explain your childs situation and ask! If you score a win, let other parents know in our support groups.
Does Walking Help Drop Foot
The telltale sign of foot drop is catching your toes on the ground as you walk. A physical therapist can help treat the condition with exercises and other modalities. The main goal of physical therapy for foot drop is to improve functional mobility related to walking.
Patients With Instability In Lower Limbs
Even though the A in AFO represents ankle, the truth is that this device is more often prescribed for the foot by podiatrists and other clinicians.
In case of lower limb instability that is often a result of an ankle sprain, some experts shy away from using an AFO. This is a complicated problem, and not everyone takes the same approach to treating it.
However, there is much evidence that shows using an AFO with other therapy interventions can lead to excellent outcomes. In cases of chronic ankle instability in patients who are in professional runners, an AFO is often recommended as a part of the treatment.
How Many Shoe Sizes Up Do I Need To Go
Although its best to choose the smallest size that fits comfortably and properly, the occasional upsize is necessary.
For SMOs, you shouldnt need to go up much more than half a shoe size. If you have to go up much beyond that, you may be better off with a different shoe.
For AFOs, which feature full footplates, its best not to go beyond one and a half sizes.
You can also ask your orthotist or physical therapist if ever have concerns about the style and size you picked.
Shoes For Afos And Smos The Ultimate Parents Guide
How can I possibly find shoes for AFOs and SMOs?
Youre not the first or last parent to ask.
Pediatric orthotics can do amazing things, but they also create several challenges. One of the biggest revolves around shoes.
So where do you even start?
Lets dive into what you should be looking for, specific recommendations, and commonly asked questions.
Shoe Attachment Afo Brace
Lite AFO Brace for Drop Foot and other Muscle Weakness Disorders
Luckily, modern medicine is very progressive and wearing an AFO is one of the simplest ways to handle the unpleasant signs of drop foot, including:
Dragging your toes and foot across the ground as you walk
A high steppage gait, or raising your thigh as you walk, to prevent your toes from catching the ground
An inability to raise your foot at the ankle
Numbness along the top of your foot or toes
Nevertheless, finding the right support to maintain foot clearance when walking can be challenging. This soft AFO brace helps address those cumbersome signs by comfortably supporting the upper portion of your foot, allowing you to move about and walk more naturally.
Tips For Finding Stylish Shoes If You Wear Orthotics
Ive had a love/hate relationship with shoes my entire life. Long before I started wearing leg braces , it was a struggle finding shoes that fit my high-arch, fused ankle, drop-foot, callous-prone feet.
I remember the day I picked up my first pair of leg braces. When the orthotist brought them to me in a clear plastic bag, I instantly burst into tears. I was scared to touch them.
What the f*** kind of shoes do I have to wear with those things?
When I caught my breath, my greatest concern came off as superficial. What the f*** kind of shoes do I have to wear with those things? That orthotist probably needed therapy after his experience that day with me. When he brought in a catalog with a pair of bulky fake leather clodhopper shoes on the cover, I literally started screaming at him, Do you expect me to look like Fred Flintstone? No f***ing way am I wearing those!
I left his office, AFOs still in the bag, and didnt take them out again for another six months, until cleaning bloody knees from sidewalk falls became a daily thing. I moved out of denial and into typical solution-focused Lainie mode.
As my leg braces evolved through the years, so has my ability to find stylish shoes that I can wear confidently. Today, it is so much easier as the trendy shoe styles have features people with hand and feet issues actually need. Here are four of my favorites:
1. Kicks are dope.
2. Velcro is lit.
3. Gotta have sole.
4. Elevate your style.
5. Zip it.
Where do I get the shoes?
What Shoes Can You Wear With A Brace
It is always better to wear shoes with your AFO braces. Although the brace is there to stabilize your movement and help you recover from your injuries quickly, it is not entirely possible without the help of shoes.
The shoes are going to provide the additional support and comfort your feet need when walking. The best kind of shoes for braces are those with lots of cushioning support and protection for the feet. The shoes which provide stability and comfort to the feet will be an excellent choice for the purpose.
Best Childrens Shoes For Afos And Smos
These are all shoes that I recommend and have fitted children who wear ankle braces in before, so I know they work well with AFOs and SMOs.
Take a look at the description below each shoe image to check what size range that specific shoe style can fit. Disclosure: Keep in mind that we may receive commissions when you click our links and make purchases.
How To Put On An Afo Brace Made Of Plastic
Like leather AFOs, plastic ones are used for various medical conditions, such as spraints, foot drop, arthritis, and cerebral palsy.
They keep the ankle and the joint in the proper position, correct abnormal gait, and improve the quality of life for people with neurological/orthopedic disorders.
Again, well give you the general directions on how to put on an AFO brace made of plastic. But always consult the product info or your doctor to ensure youre using the foot equipment as you should.
Criss Cross Foot Drop Sandal
The Ecco Damara and Cruise Sport sandal has the ideal fit and shape for a Foot Drop and to accommodate orthotics and AFO devices.
Top Features:
Sot and supple leather uppers straps with a luxurious natural texture.
The Criss-Cross Vamp styling ensures a highly supportive and stabilizing fit.
A cushioned EVA footbed, for plush comfort with a moisture-wicking microfiber lining.
The Direct Inju=ected PUY single density outsole is very lightweight and flexible.features the FLUIDFORM Technology, that makes these shoes very hard wearing and extremely easy to walk in.
The microfiber lining gives a soft and smooth feel against the skin.
There are some color variations available.
Your Ankle Brace For Workboots
To make up for the weakness in a leg affected by foot drop, it is advisable to use ankle foot orthotic. However, most orthotics on the market are incompatible with regular footwear. In these cases, you always have to choose oversized footwear or orthopaedic shoes designed for your orthotic.
Fortunately, our orthotic fits almost all types of shoes perfectly, from regular styles to sportswear. Not only that, but it will also serve as an ankle brace for work boots, as it's compatible with steel-toe boots, winter boots, and even sandals.
What Is An Afo Shoe
If you do not know what AFO shoes mean, you should know AFO braces first. AFO stands for Ankle Foot Orthosis, which refers to a kind of braces that is going to support your feet by helping it to heel from any injury to the lower portion of your leg.
The brace will work by preventing and limiting movement of your lower leg and let it heal slowly. So AFO shoes basically refer to shoes that are suitable to wear with braces. As not all types of shoes can be worn with braces, the specific shoes that allow these braces are known as AFO shoes.
CONCLUSION
Note that I do receive a small commission if you use links from this post to purchase. This does not cost you anything and helps me offset some of the website expenses.
Depending on when you are reading this, the exact shoes above may or may not be available. Finding shoes that work with orthotics and afos takes patience and trial and error. Try not to be frustrated and give up. Keep looking, be creative and of course, keep reading this blog ? You may find some of my other blogs about the best shoes to wear with afo leg braces helpful also.