Rosa Parks was a civil rights icon who famously refused to give up her seat on a bus in Montgomery, Alabama.
In 1955, she boarded a bus and sat in the first row of the "colored" section, which was behind the bus driver. When the white section filled up, the bus driver ordered her to move to the back. She refused, and was arrested. Her arrest sparked a boycott of the city's buses by African Americans and led to a ruling that outlawed segregation on public transportation in Alabama.
Parks was a seamstress at Red Top Cab Company before she became active in civil rights causes. She was also active with the NAACP, which encouraged its members to be courteous and polite when dealing with discrimination or racial insults. Parks continued working as a seamstress after retiring from activism in 1977; she died in 2005 at age 92.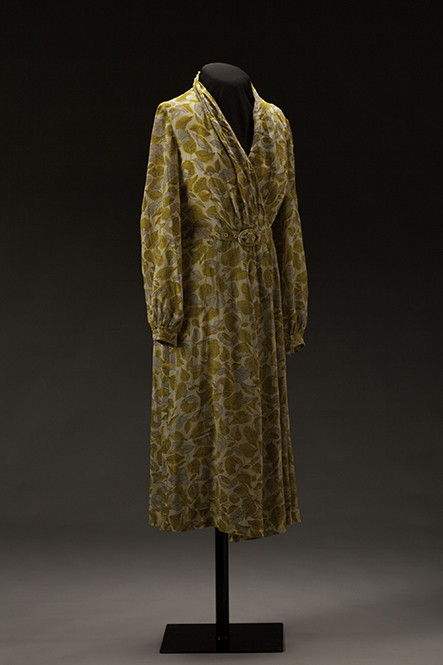 Michael Barnes, Smithsonian's National Museum of African American History and Culture. Gift of the Black Fashion Museum founded by Lois K. Alexander-Lane.
Rosa Parks' Dress, 1955
Though Rosa Parks is best known for her role as a civil rights activist, the Alabama native also worked as a seamstress at the Montgomery Fair department store. She was on her way home from work Dec. 1, 1955, when she was arrested for refusing to give up her seat on the bus to a white passenger. At the time, she was working on the dress above, which was intended for personal use. The mustard and gray shawl-collar dress featured a crossover front bodice with a floral and leaf pattern printed on viscose fabric.

This wrap-style dress was sewn by Rosa Parks. She was carrying this when she was arrested on the bus in 1955. (Alex Jamison/Smithsonian's National Museum of African American History and Culture)
The yellow-and-brown floral-print dress is modest and feminine. Pretty. It has three pleats down the front and long sleeves. It wraps at the waist.
It isn't a groundbreaking design, but it is a dignified one. Most important, it was sewn by Rosa Parks, whose refusal to vacate her seat on a Montgomery, Ala., bus in 1955 gave rise to the civil rights movement.
"She was a seamstress for a department store," says Spencer Crew, guest curator at the National Museum of African American History and Culture. "Most often [Parks was] altering clothes that would belong to white Southerners." In taking a stand against segregation, Parks was putting her livelihood in jeopardy. Parks wasn't wearing this dress that day, says Crew, former director of the National Museum of American History. That garment is lost to history. But this, he says, is "as close as we can get to that moment in time."
The dress survived because of Lois Alexander-Lane, a black woman who loved fashion, not just for its beauty, but also for what it meant to African Americans: dignity, entre­pre­neur­ship and self-determination.
Born in Little Rock in 1916, Lane wanted to be a designer, but the times put insurmountable hurdles in her way. She moved to Washington and found a job with the federal government. Eventually, she relocated to New York, but her love of fashion never faded. She was also active in the civil rights movement. "My mother actually knew Rosa Parks and considered her a friend," says Lane's daughter, Joyce Bailey.
The top 36 must-see items at the African American museum
In 1975, Lane organized "A Bicentennial of Fashion," celebrating the creativity of African Americans. Because Lane cared about provenance — not simply aesthetics — she asked Parks whether she could display the little floral dress, which Parks had reportedly made for her mother.
"Mrs. Parks was actually carrying the dress in a carryall when she was arrested on the bus," Bailey says.
In 1976, Parks gave the dress to Lane's more ambitious project: The Black Fashion Museum. And after Lane died in 2007, Bailey donated her collection of more than 2,000 garments and accessories to the African American Museum.
"My mother always wanted to make a contribution to the race," Bailey said at the time. "You don't hear that much anymore."
Item: Dress sewn by Rosa Parks
Donor: The Black Fashion Museum, founded by Lois K. Alexander-Lane
Museum exhibition: Defending Freedom, Defining Freedom: Era of Segregation, 1876-1968
— Robin Givhan