Last Updated on 2022-09-30 by Olufemi Lydia
An undershirt is an essential item for men who want to look their best. It provides a layer of protection between your dress shirt and your skin, which helps keep you cooler and drier during the day. The right undershirt can also increase your confidence by ensuring that there are no unsightly bulges or creases in your dress shirt.
What Is An Undershirt?
An undershirt is an undergarment that is worn beneath another garment, such as a dress shirt or t-shirt. These shirts can be short sleeve or long sleeve, but they are typically made from cotton or polyester and have a more casual appearance than regular dress shirts.
Two types of undershirts include:
V-neck undershirts: This style features a V-shaped neckline that is intended to make it easier to tuck in the top half of the shirt underneath your suit jacket or blazer. The V shape creates an opening in the front of the garment so that when you put on your jacket, it goes over both sides of the shirt instead of just one side like traditional button down shirts do. This helps reduce wrinkles caused by folding over fabric at each side of
Undershirt For Dress Shirts
The Best Undershirts for Dress Shirts
Here are four top-performing undershirts for your consideration.
Best all-around undershirt: Sweat Proof Thompson Tee
Best compression undershirt: Spanx
Best performance, quick-dry undershirt: Uniqlo AIRism
Best economy undershirt: Fruit of the Loom Men's Stay Tucked Crew T-Shirt
BEST ALL-AROUND UNDERSHIRT: SWEAT PROOF THOMPSON TEE
Thompson Tee sweat proof undershirts feature patented Hydro-Shield technology that blocks armpit sweat from passing through to your dress shirts. Plus, its integrated sweat barriers allow body heat and perspiration to escape to make sure you always stay cool. Bonus: they're extra-long for the perfect tuck.
MSRP: $34.99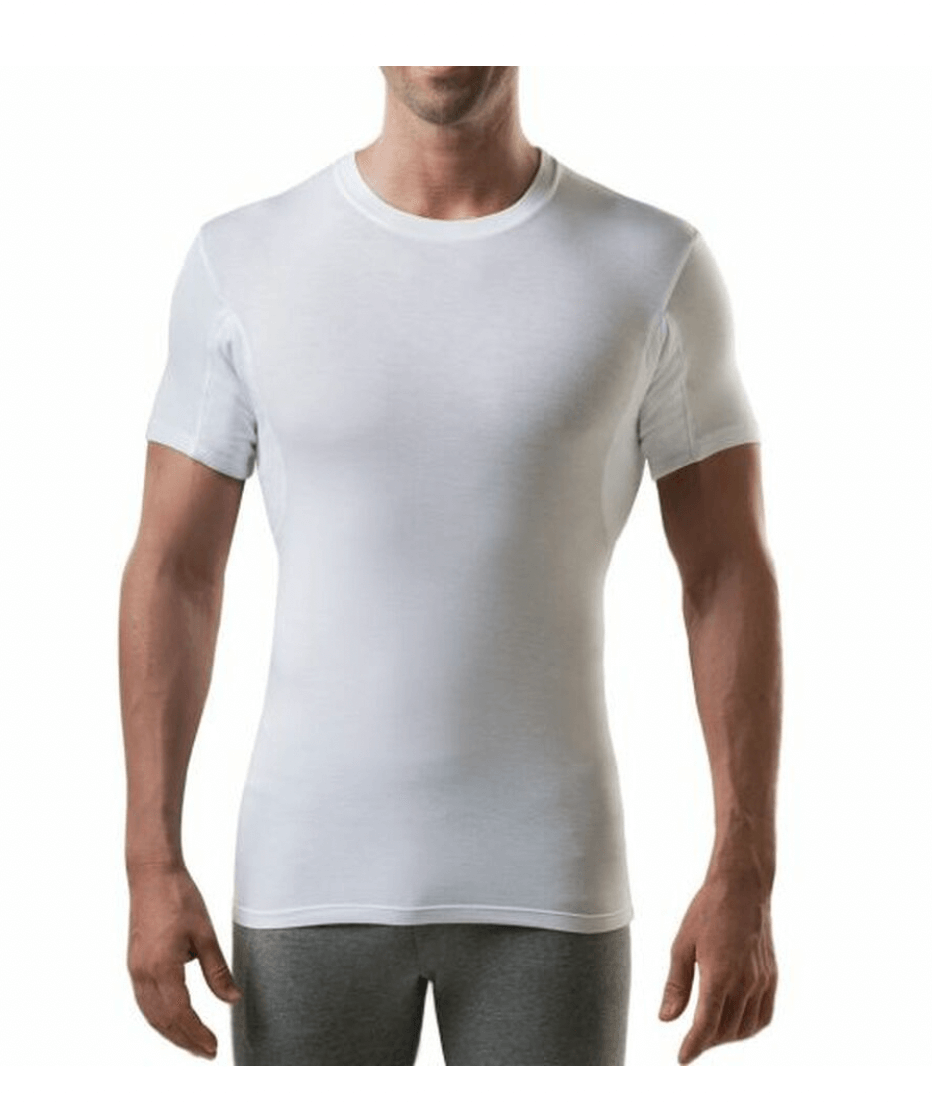 BEST COMPRESSION UNDERSHIRT: SPANX
Spanx isn't just for women anymore. Their Sculpt Cotton Crew Neck undershirts feature opaque performance fabric that provides slight firming and reduces bulk under your clothes. If you're wearing a super slim-fit dress shirt or layers on top, this compression undershirt is a great choice.
MSRP: $58.00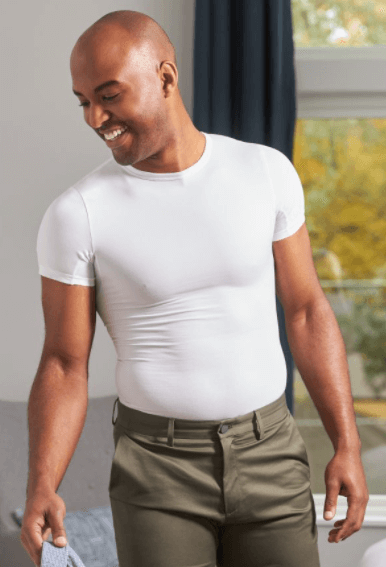 BEST PERFORMANCE, QUICK-DRY UNDERSHIRT: UNIQLO AIRISM
Uniqlo's AIRism t-shirt includes quick-drying technology to keep you feeling cool. A note on quick-dry undershirts: performance fabrics are sweat-wicking, meaning they push sweat away from your body. While they'll keep you cool, they aren't the best option for preventing pit stains. If you sweat a lot, it would be best to choose a different, sweat-friendly option.
MSRP: $14.90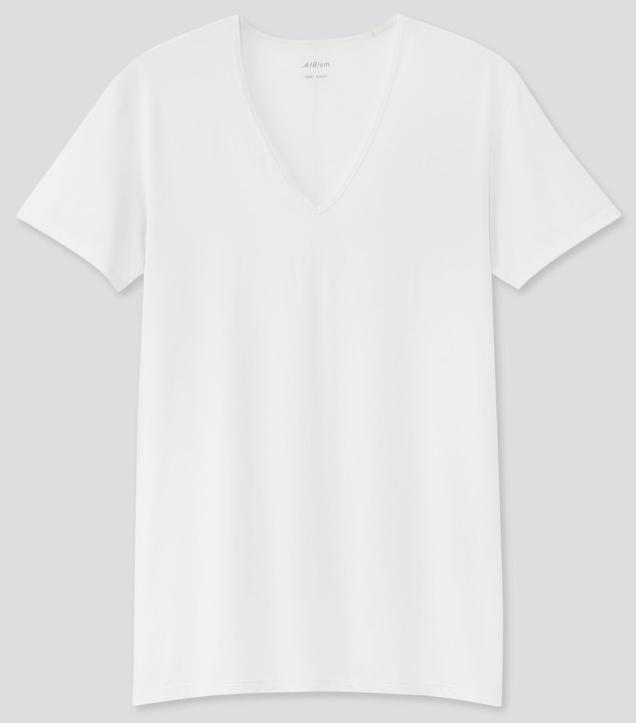 BEST ECONOMY UNDERSHIRT: FRUIT OF THE LOOM MEN'S STAY TUCKED CREW T-SHIRT
Fruit of the Loom's tag-free, crew neck tees are classic undershirts that fit various occasions, like a casual work day or a nice family dinner. However, they don't offer any added sweat protection, so they may not be the best choice if you sweat profusely.
MSRP: $14.59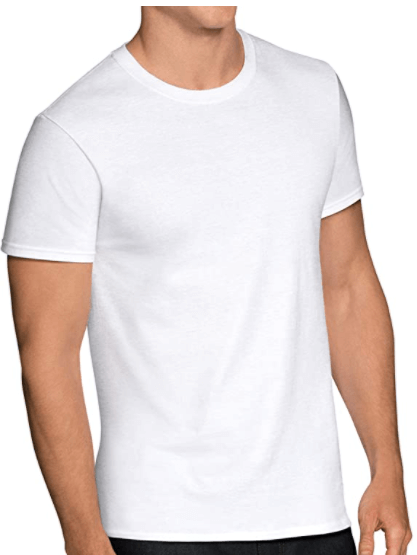 Do I Need to Wear an Undershirt Under My Dress Shirt?
In a word, yes. Undershirts serve three purposes:
Undershirts are an extra layer to keep you warm under lightweight dress shirts.
Undershirts protect your dress shirt from deodorant and sweat stains.
Undershirts provide an added layer of privacy under sheer or light-colored dress shirts.
Good dress shirts are an investment. Wearing an undershirt not only prevents sweat stains but also preserves your dress shirts so they last longer (and helps you save on your dry cleaning bills).
Read more: Dress Shirts That Don't Show Sweat
Aren't Undershirts and T-Shirts The Same Thing?
No! Remember: Undershirts are underwear, while t-shirts are outerwear. So while it's tempting to throw on your favorite tee under a dress shirt, don't do it. Undershirts are typically more fitted and cut to wear under a dress shirt.
T-shirts don't lay as well underneath a dress shirt and can look baggy. Plus, if you sweat a lot, t-shirts don't have the same sweat protection as undershirts.
One more thing: Unless your name is Clark Kent, don't even think about wearing a graphic t-shirt under a dress shirt! The design will most likely show through your shirt, ruining your polished appearance.
Tips to Find the Best Undershirts for Dress Shirts and Suits
There are a lot of undershirts out there. Here are a few tips for choosing the best undershirt for your dress shirt, suit or tuxedo:
Select a tight fit: You don't want the sleeves to be bulky. Extra fabric will press against the seams and show through your dress shirt, making you look sloppy.
Match the cut with the occasion: Are you going to be wearing a tie at a black-tie event? If so, you'll be fine with a crew neck undershirt. However, if you're going to a casual beach wedding, you might want to unbutton a few buttons (especially when you hit the dance floor). In that case, choose a deep V-neck undershirt for some breathing room.
Don't wear a white or black undershirt with light-colored dress shirts: Wearing a white undershirt with a white dress shirt is often the default choice. However, the stark white outlines of your dress shirt will easily show through. Try a light gray or skin tone undershirt instead.
Don't wear sleeveless undershirts under dress shirts: The purpose of an undershirt is to protect your dress shirts from pit stains and sweat marks. Tank top undershirts have less coverage and are more visible under dress shirts than short sleeve shirts.
Make sure you can tuck in your undershirt: Test the length of your undershirt. You should be able to tuck it in comfortably and retain a full range of motion. To test it, tuck in the undershirt and raise your hands. It should still feel snug and comfortable.