Are you ready to glisten?
If you're going to an all white party, you have a few options. You can wear white, of course, but that might be boring. You could also wear black—but then you'd be competing with everyone else in the room who's wearing black. Or what if you want to stand out?
Don't worry! There are plenty of ways to have fun with your outfit and still look fabulous. Here are some ideas for outfits that will make heads turn as soon as you walk into the room:
1) Wear white pants with an all-white top. Mixing up the textures will add some interest and keep your outfit from looking too boring.
2) Pair an all-white dress with a colorful jacket or cardigan for an edgy look that still works with the theme of the party.
3) Try a white skirt paired with a solid-colored shirt or blouse instead of a button-up dress shirt—it'll give your look more texture without seeming too casual for such an occasion!
outfits to wear to an all white party
But first, what's a white party? Well, it's pretty much what it sounds like: a party theme with a special dress code that asks all guests attending to wear white outfits.
Yes, you can wear black to a white party in the form of accessories. But generally speaking, except for accessories and accents, your outfit should be head-to-toe white.
That means a white dress, jumpsuit, blouse and skirt, or another outfit idea, depending on the dress code of course.
We'll get to accessories, too, later on in this post.
CUTE SUMMER WHITE PARTY OUTFITS FOR LADIES
Labor Day weekend tends to be a popular time for white parties, so embrace the summer theme with a cute white dress!
There are soooooo many white party outfits for ladies on Amazon. In fact, I have a whole blog post just dedicated to them!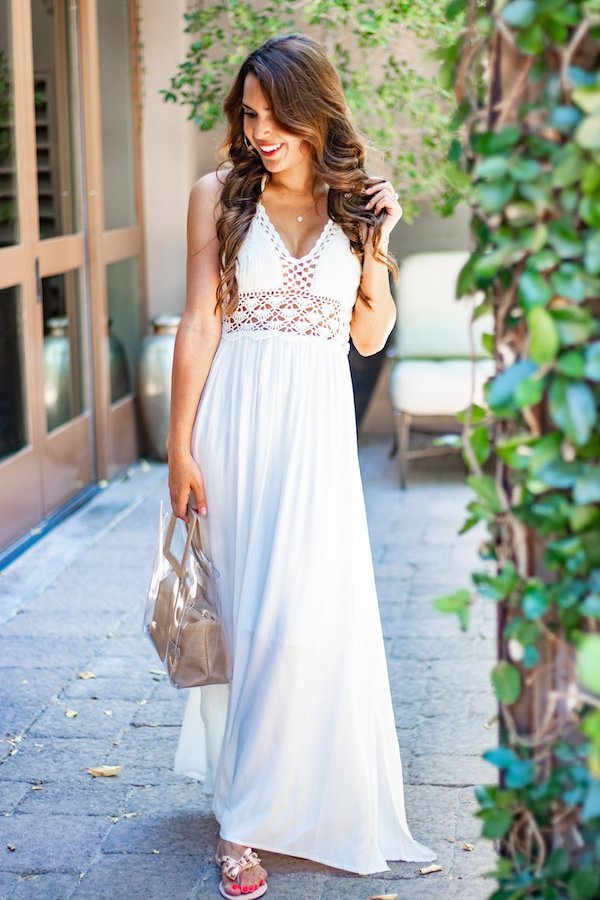 Some of my favorites include this crochet beach dress that looks great with a pair of studded sandals. This one is perfect for a more casual white party in the daytime.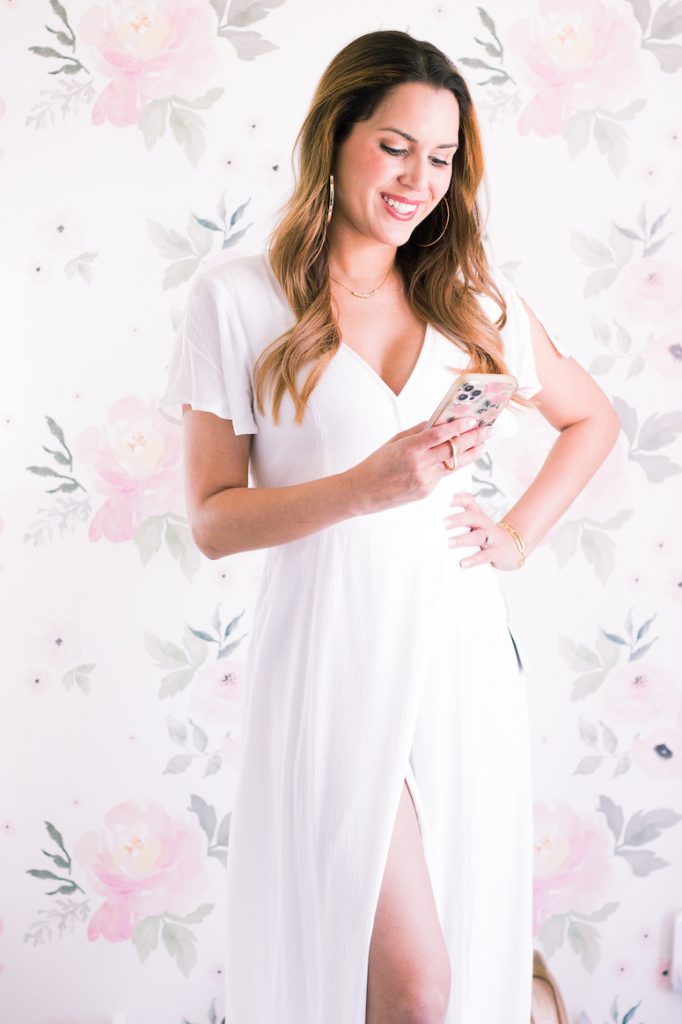 If you need something a bit dressier, try this white maxi dress with a full slit. It's a wrap style which is friendly on most body types and although it's light, it's lined so it isn't see-through.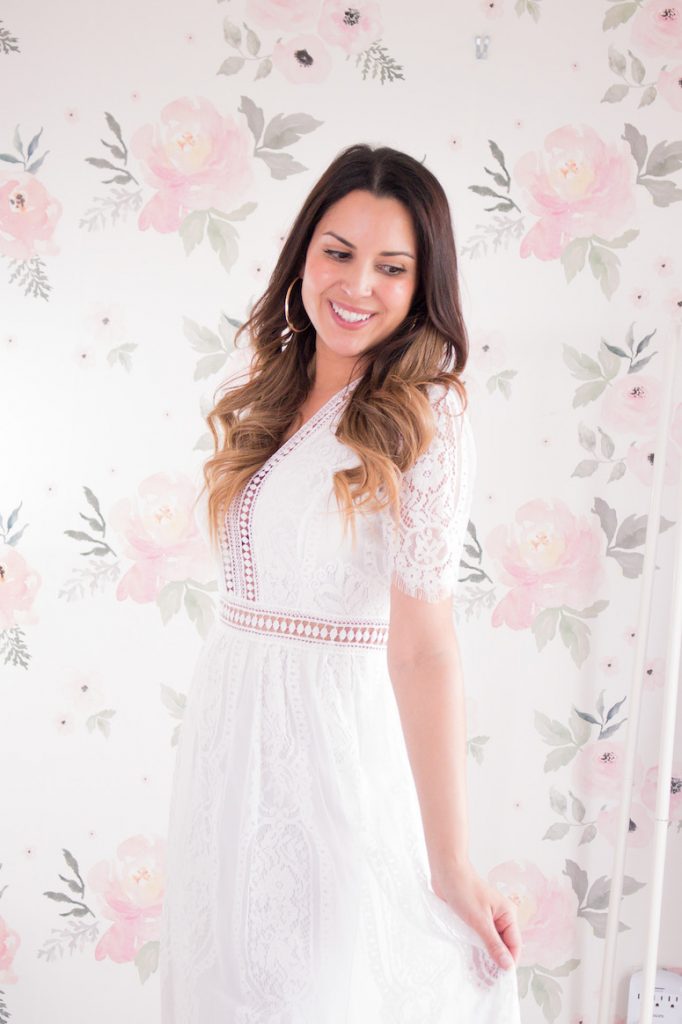 Another favorite, and bestseller, is this white dress from Amazon. It's bump-friendly, too, if you need a maternity dress for that white party! This one has really gorgeous lace detail and is on the dressier side. It's also really long so you'll need to get it tailored or wear heels if you're on the shorter side like me.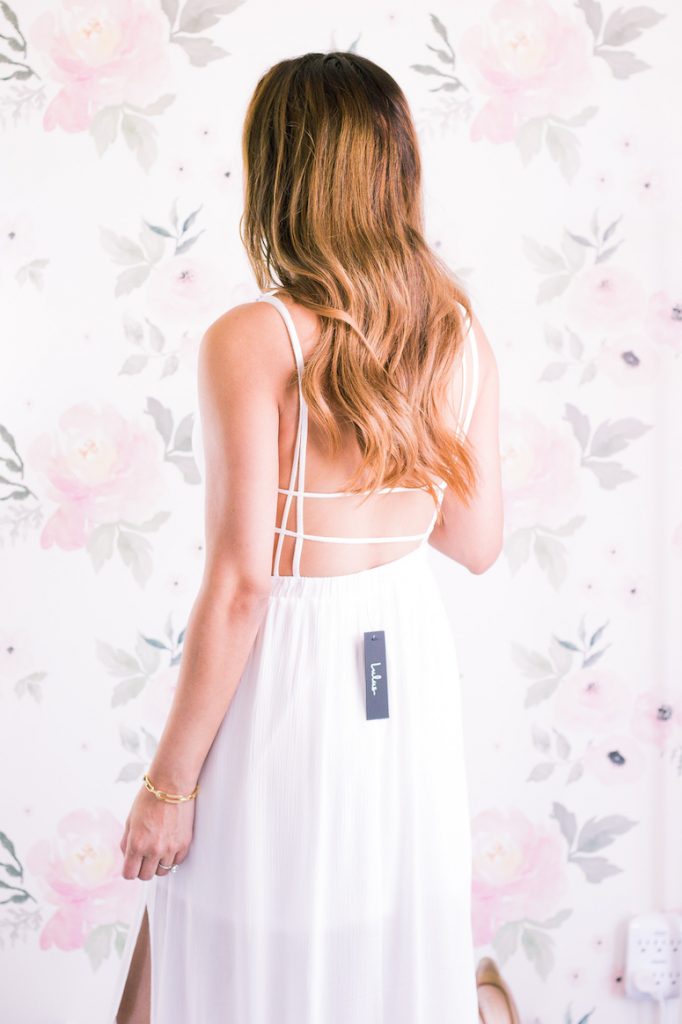 If you're looking for a way to stand out at a white party and specifically want a long white dress, try this white backless dress from Lulu's. It's perfect for the summer months and would look gorgeous at a white party.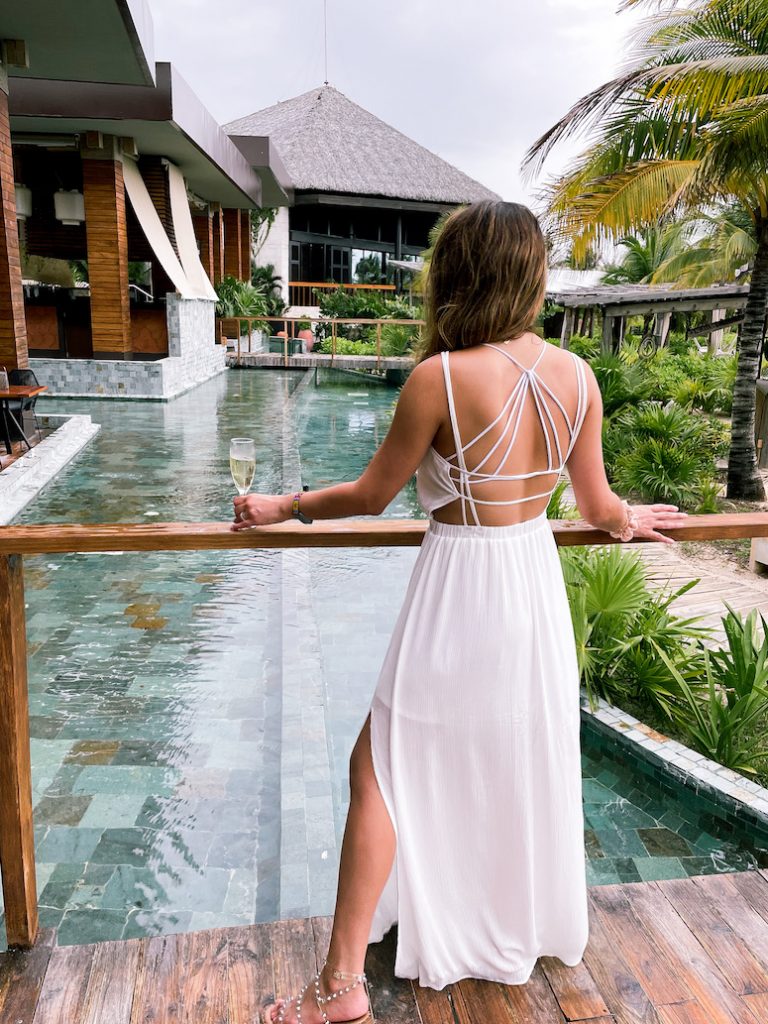 You can wear it on its own or with a strappy bralette like I did. This one also doubles as a fabulous beach dress so you can easily repurpose it.
WHITE PARTY COCKTAIL DRESSES
If the dress code says it's a formal event, then you'll probably need a cute white cocktail dress.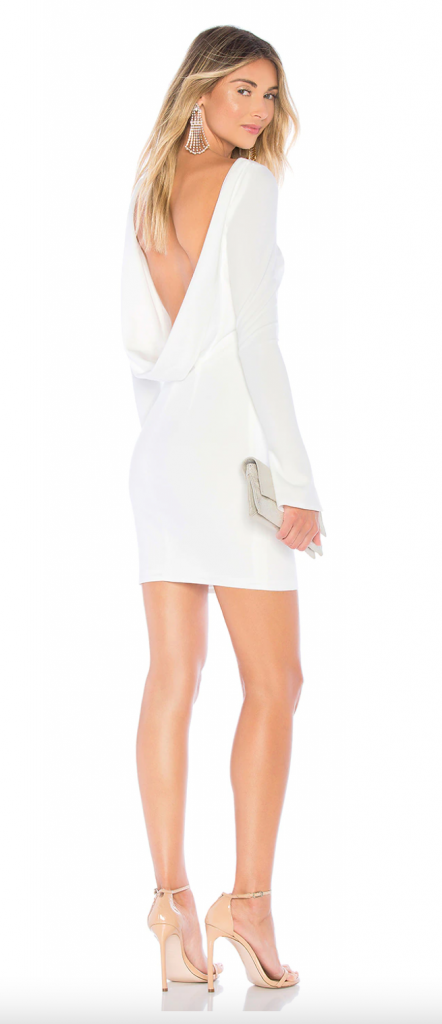 The Glisten dress from Revolve would be absolutely stunning at a white party. The backless detail makes a statement but it's dressy enough for the evening. Pair it with some nude heels and statement-making earrings. 

Another excellent option is this bestselling Elliatt dress. It's under $200 and has gorgeous crystal-embellished straps. This one would also look fabulous as a bridal party dress, too!  
CLASSY WHITE PARTY OUTFITS
One of my personal favorite cute white party outfits is a chic blazer and pants combo aka, the white suit! Something about this look is decidedly fashion-forward and definitely makes a statement.
What's more, this one works whether you're in need of an outfit for a winter white party or for the summer. The blazer will keep you warm and stylish no matter when you decide to wear it.
This white blazer is crisp and clean and looks so elegant paired with white trousers. It's also 100% linen so it's the perfect breathable fabric for a summer white party. And yes, you can do it with a white blouse instead of a bra underneath. Or, you can give it a go with a bralette crop top! 
For a chic look that's a bit unexpected, try a blazer with white shorts. It's another great look for a summer party and has total cool-girl vibes. 
PRO TIP: Look for white shorts that are on the dressy side to make this look work. It's not something you would pair with denim.
THE NEW YEAR'S EVE WHITE PARTY
Speaking of blazers, they're also cute if you've been invited to a New Year's Eve white party. This is also a great time to bring on the glam! A cute sequined blazer would be a great outfit choice for this occasion or any dress with beautiful, embellished details.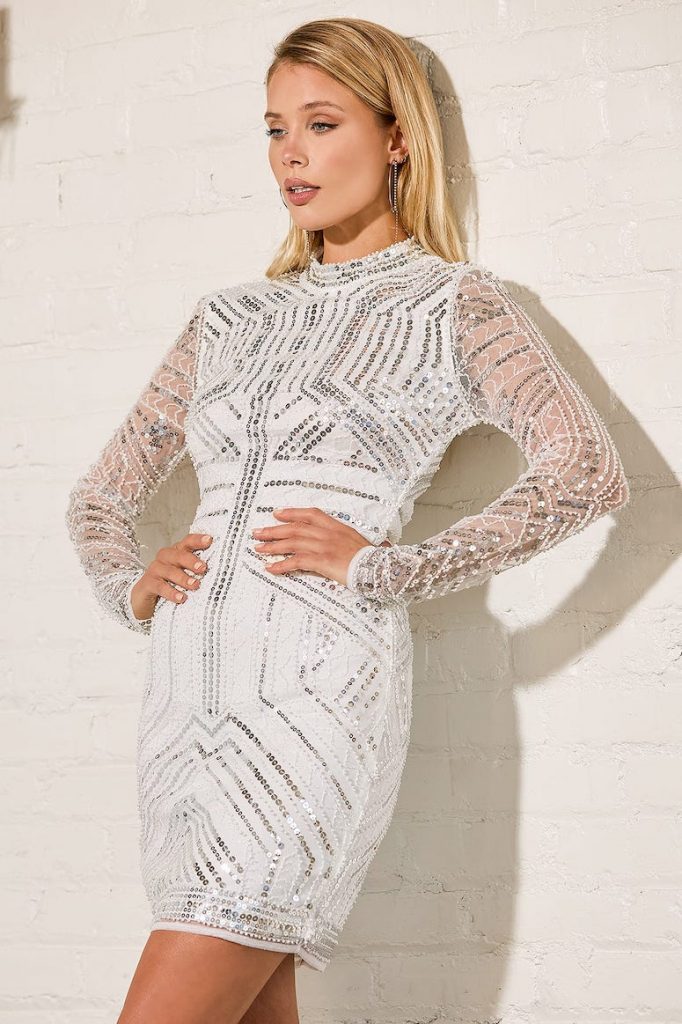 This white sequin dress from Lulu's would be perfect for watching the ball drop. Even though the sequins are in silver it would be appropriate and gorgeous for a New Year's white party. What's more, it's under $100! 
EFFORTLESS WHITE ATTIRE WITH JUMPSUITS
When it comes to white outfit ideas, jumpsuits and rompers are probably the easiest. It's a chic outfit that's so easy to put together.

This white ruffle jumpsuit is incredibly chic and would look gorgeous to an evening event.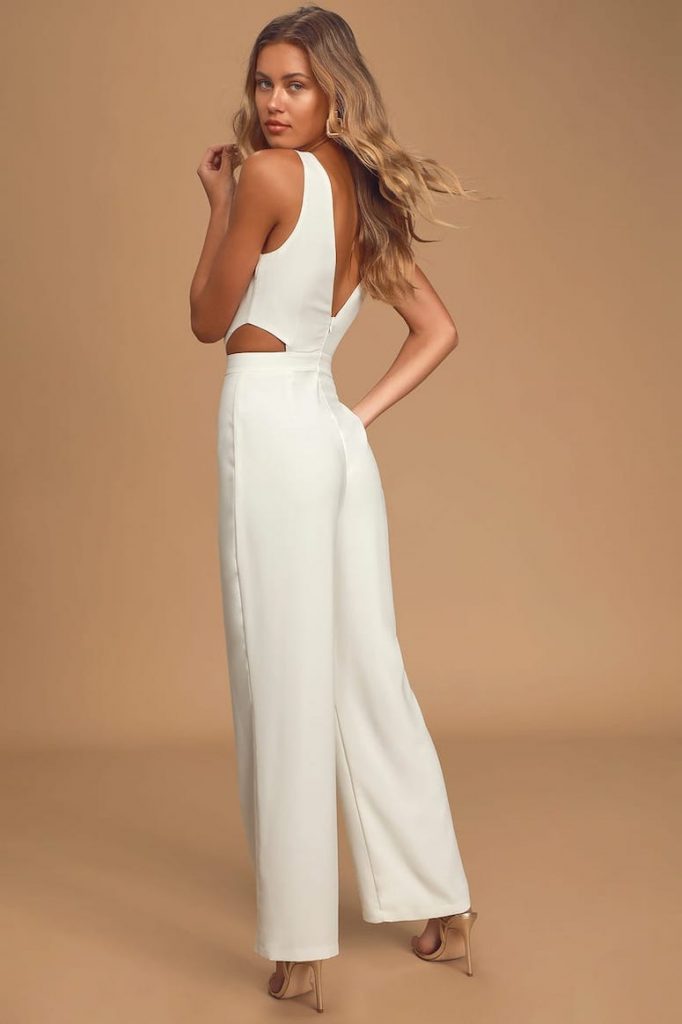 This cutout jumpsuit from Lulu's is another great find and well-priced at right under $100