To find out your bra size, all you need is a measuring tape, or a piece of string or ribbon, and a ruler. You should do this at least yearly. "This can help you celebrate the body you have and ensure full comfort in your underpinnings," says Iserlis.
To find your band size: Wearing an unlined, non-padded bra (not over your clothes!), run the measuring tape all the way around your back where your band sits, being careful to keep the tape level. It should be as snug as possible without digging. If you don't get a whole number (33 and 1/2 inches), round to the nearest whole number (34 inches), and then use the chart below to find your band size. Note: Inches do not equal size, meaning 34 inches does not equal a size 34 band.

To find your cup size: "Run the measuring tape around your back, just under your shoulder blades, and up around the fullest part of your bust," says Iserlis. "The tape should just skim the bra in front." Then (bra math alert!) subtract your band size from your bust measurement. "The difference in inches corresponds to your cup size." For example, if your bust measures 37 inches, and your band size (not the exact measurement, but the band size you found above) is 34, the difference will be 3. On the chart below, you'll see a 3 is equal to a C cup, meaning your bra size is 34 C.

Watch video


Bra Sizes Decoded
If you've ever wondered what the number and letter of your bra size really mean, you're not alone. It's a sizing method that has been in use for years and has gone through several changes. This is the single most important tool for bra fitters. It's reported that more than half of American women are wearing the wrong size bra. If you think that might include you, the best thing to do is to go to a reputable store and get a fitting. Your body changes over time even if you don't gain or lose weight, and getting a professional fitting is the best way to find out your size and get a bra that is the most flattering to you. And that's the whole point of this garment. Every lingerie company sizes their undergarments and bras differently because there is no agreed-upon method or exact science, and trying on each bra and assessing its fit is the best method to find comfort and support.
Band Size
Your bra's band size is the number portion of your bra size. For example, in a bra size 32D, the 32 is the band size.
In American lingerie boutiques, department stores, and on bra shopping sites, band sizes typically range from 28 to 56. The vast majority of bra manufacturers in the United States create band sizes in the 32 to 42 range, with newer products emerging or brands creating more sizes to accommodate more women. U.S. band sizes come in even numbers, so you won't find one in a 33 or 45, for example.
This number corresponds to the measurement underneath your bust, around your rib cage, in inches. This is not your actual bust measurement. It is not always an exact reflection of your actual underbust measurement. In the past, bra sizes were based on a pattern that used what's referred to as a "plus four" method. This is now considered a "classical bra sizing" method. In this method, you add three, four, or five inches to the actual measurement of your underbust to get your bra band size. For example, if you measured 29 inches, you would wear a band size of 32 or 34.
In recent years, in an effort to end the "plus four" method, and as bra materials have more stretch, bra band sizes have an updated fit. In this newer method, you may add zero, one, two, or three inches to your actual measurement to get your desired band size. For example, if you measure 29 inches, you would try a 30 or 32 band size. Learn more about measuring yourself and finding your bra size.
Cup Size
The cup size is the letter portion of your bra size. For example, in a bra size 32D, the D is the cup size. Once again, this is not an exact reflection of your actual bust measurement.
In the U.S, bra cup sizes typically range from A cup to N cup. The further the letter is in the alphabet, the larger the cup size. In other words, an N cup is larger than an M cup, which is larger than an L cup, and so on.
In U.S sizing, the sizes typically go like this from smallest to largest:
AAA, AA, A, B, C, D, DD, DDD, G, H, I, J, K, L, M, N
DD is larger than a D cup. And DDD is larger still. It then jumps from DDD to G, because DD is thought to replace the letter E, and DDD is thought to replace the letter F. This is not true in all brands. Some follow a European method (not to be confused with the UK method) of simply sizing A, B, C, D, E, F, G, H, and so on.
While the DD is larger than the D cup, this is not true for the A cup. The cup size AA is one size smaller than an A cup, and an AAA is even smaller.
How Cup Size Relates to Band Size
Did you know that a 32D is smaller in both the cup and the band than a 34D? It's obvious that the 32 band is smaller than the 34 band because it's a smaller number, but what about the cup size?
Typically, cup size is calculated by subtracting your band size from your bust measurement. Cup size is relative to the band size, meaning it changes as the band size changes. So a D cup is not the same size or volume in each band size. As the band size gets larger, so does the cup volume, by one cup size. For example, a 32D is one cup size smaller than a 34D, two cup sizes smaller than a 36D, three cup sizes smaller than a 38D, and so on through all the band sizes. The cup size means nothing without knowing the band size.
For that same reason, bra sizes have "sister sizes." These cup sizes may appear to be different, but the cup volume will actually be the same because the band size is different. For example, a 32D has the same cup volume as a 34C or a 36B or a 38A. The only difference is the band size and possibly where the cups are positioned on the band.
This can be confusing but very helpful to know, especially if you're adjusting your bra size to get a better fit. Let's say you are trying on a 34C bra, and the band feels a bit loose but the cup size seems OK. Instead of trying a 32C, you should try a 32D. That way, the cup volume will remain the same, and the band will be smaller.
Because bra brands use different materials and fitting methods, you could have good-fitting bras in more than one bra size in your drawer. 05of 05
Sizing in Different Countries
Even in brands that use the same sizing method, like those made in the U.S., manufacturing practices, differing materials, and style differences mean each bra or brand might fit slightly different than another.
On the other hand, some brands actually use a completely different sizing notation than others, especially those in different countries. Here are a few popular bra sizing methods:
European lingerie brands use cup sizes that run A, B, C, D, E, F, G, and so on. They do not favor the D to DD method. In addition, they use band sizes that run like 65, 70, 75, 80, 85, and so on. Commonly, the 65 refers to a 30 band in the U.S., a 70 to 32, 75 to 34, 80 to 36, 85 to 38. So a 32DD in U.S. sizing would be a 70E. Examples of brands that use this method: Empriente, Prima Donna, and Marlies Dekkers.
Brands made in France and Spain use band sizes that are similar but sized differently than others. Their sizing is 80, 85, 90, and so on, but it corresponds to U.S. sizes in this way: 80 refers to a 30 band, 85 to 32, 90 to 34, 95 to 36, and so on through the sizes. An example of a brand that uses this method: Simone Perele.
Italian lingerie brands size their bras on a 1,2,3 method. The number refers to the band size. A 1 is a 32, 2 is 34, 3 is 36, and so on. They also use an A, B, C, D, E, F, G cup-size method. So a 32DD in U.S. sizing would be a 1E in Italy. Example of a brand that uses this method: La Perla.
InAustralia and New Zealand, their band sizes run 8, 10, 12, 14, and so on. An 8 refers to an American 30, 10 to 32, 12 to 34, and so on through the band sizes. Example of a brand that uses this method: Cake Maternity.
In the United Kingdom, bra sizes are completely different, mainly because of the cup size. The U.K.'s favored cup size method is A, B, C, D, DD, E, F, FF, G, GG, H, HH, J, JJ, K, KK, and so on. Notice that starting with D, they choose to use a "double" size for each letter. Band sizes usually follow the U.S. or European method, so a 32DD in the U.S. would still be a U.K. 32DD, but the E cup would be slightly larger in cup volume. Examples of brands that use this method: ​Panache, Tutti Rouge.

Bra Size Chart and Conversions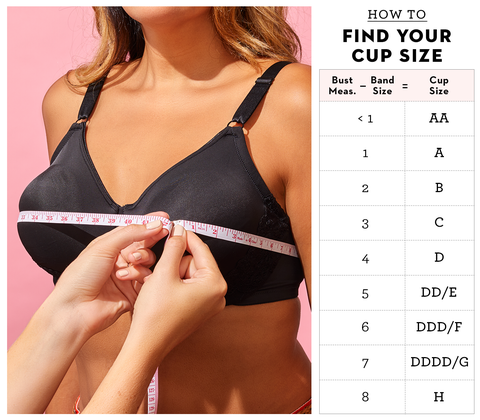 Average breast weight
Sometimes we are curious to know what our breasts weigh. The breast weight below is just an average measurement. Our breast mass will always be different because it all depends on the ratio of dense breast tissue to fatty tissue in the breast. The average density of breast tissue is considered to be 0.9kg/L.
To keep things consistent I have selected a size 10 (32) band for each cup size below (as we know, cup volume changes with each different band size).
These figures represent the weight of 1 breast, not both.
10A – .43kg
10B – .56kg
10C – .70kg
10D- .86kg
10E- 1.1kg
10F – 1.3kg
10G – 1.5kg
10H – 1.8kg
How To Weigh Boobs
For product developers and breast biomechanists breast mass is regarded often as it is well documented that breast mass is correlated with vertical breast displacement. This means that bras designed for those with a larger breast mass will need to be engineered to control more motion. So for anyone interested in calculating the exact weight of each breasts there is simple way to do this at home, This could be a helpful way to determine a size difference, which may also help in finding out how much padding you should use to even out your size difference.

HOW TO MEASURE BREAST MASS
1. Fill (to the brim) a bowl with warm water. Make sure the bowl is considerably bigger than your breast.
2. Weigh an oven / roasting tin.
3. Place your bowl of water on top of the oven / roasting tin.
4. Submerge your total mass of breast tissue in to the bowl of water. The water that spills out of your bowl and in to the oven tin should represent your breast volume.
5. Weigh the oven tin with the water. Subtract the original weight of the tin.
6. As breast tissue weighs approx. 0.9kg/L in order to convert this to the weight of breast tissue multiple the water weight by 0.9.
Knowing When You Need a New Bra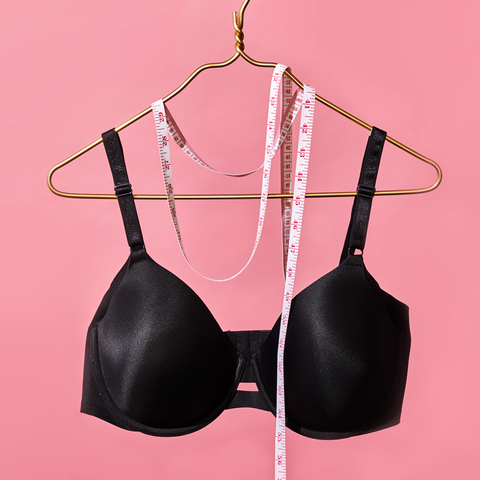 It's been said (by me) that the worst task in the world of clothing is shopping for a new bra. Even more daunting than finding a new pair of favorite jeans, many women know that finding the perfect bra can be a frustrating and uncomfortable experience. That's why so many of us stay in the same bra for much longer than recommended: After the band stretches out, the cups lose their shape, and the straps start slipping, we cling to our old ones because, yes, they're comfortable and familiar, but also because we don't want to go through the anguish of getting sized for a new one.
But, anyone who's found The One knows that a good bra is essential to feeling and looking great. It can improve posture, reduce back pain, make your clothing look better, and at the very least, make you feel damn confident. "A bra will not be comfortable or support you well if it's the wrong size," says Miryha Fantegrossi, Wacoal's Vice President of Merchandising & Design.
If you find yourself squirming inside your cups, tugging at the band of your bra, and looking forward to the moment you can discard your bra after a long day, it's time, says Ra'el Cohen, Chief Creative Officer at ThirdLove. Below is how to measure yourself for a new bra, and how to find the best one for your body type. We promise it's not as painful you may remember.
Next, how to find the right bra for your breast shape:

Just because you've found your correct bra size (yay!) doesn't mean your work is done (sorry!). One of the most important factors in finding the right bra for your body is to consider your breast shape. "Just like with everything else, fit is personal," says Iserlis. "Even if you're wearing the 'correct' size, it might be that you're wearing the wrong bra for your shape."
Shopping for your breast shape is a popular new initiative from retailers. "Keep in mind, as with all clothing, different brands will fit you differently," says Lexie Sachs, Textiles Director at the Good Housekeeping Institute. "Not all 34B's are created equal," points out Iserlis. Fit is dictated as much by size as it is by breast shape, so you shouldn't be afraid of trying additional sizes from various brands to find the bra that looks the most flattering and feels best. Some rules of thumb:
If you have full, round breasts, you carry fullness all over. For full breasts, our experts recommend triangle or plunge bras that hug cups without digging in, like Hanes Ultimate T-Shirt Bra.
If you have teardrop breasts, you mostly carry your fullness on the bottom. Iserlis suggests sweetheart demi silhouettes or fabric overlays that keep cups lying flat, like Wacoal's La Femme Contour Bra.
If you have compact breasts, your breasts sit high and you might find that "bras sit away from your body or that lace or fabric doesn't lie flat," says Iserlis. Shop for stretch fabrics or bras with contoured padding, like Natori's Pure Luxe Bra.
If you have wide-set breasts, you carry your fullness on the sides. Look for bras with gently curving underwires and generously spaced gores (the center part of the bra between cups), like the Freya Idol Moulded Balcony Bra.
If you have asymmetric breasts, one breast may be larger than the other. This is "very common to all women in the world," says Iserlis. Look for stretchy, shallow cups or "contour styles sized to the larger breast," she suggests. Hint: Always shop for the larger breast to avoid telltale spillover. You can also shop for bras with removable padding to compensate for the smaller side, like ThirdLove's 24/7 Classic Contour Plunge Bra.
Finally: Do you actually need a new bra?
There are some telltale signs when it comes time to replace your old standby. Here are the most obvious indicators that it's time to hit the lingerie department, according to our experts:
Your band is riding up your back. A band that's sitting high, even on the tightest hook, means it's stretched out or too loose. "One of the most common mistakes is having the band be too large, and the cup too small," says Danielle Iserlis, Associate Marketing Manager at Journelle.
Your cups are digging into your breasts. If your breast tissue is spilling out of the cups and you can see a "double boob" in tight-fitting shirts, your cups are too small.
Your cups gape, or you shift out of your cups as you move. This means your cups are too large (or the wrong shape) for your breasts.
Your straps keep slipping. If, no matter how many times you tighten them, your straps keep falling off your shoulders, they've lost their elasticity.
Your bra is showing visible signs of wear. If the underwire has poked through the fabric or if the edges straps are frayed and worn, it's time for a new bra.