What is Pleated Accordion Fabric?
Pleated accordion fabrics are also called knife pleats. They are materials folded in permanent series with the same width in alternating directions. Pleated accordion fabric was inspired by the mushroom plant and the paper fan. This lovely fabric is mostly used in making clothing and furniture.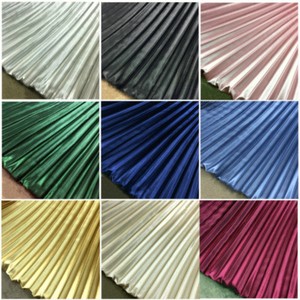 Pleated Accordion Fabrics: Design and Fashion
Down the memory lane, pleated accordion fabrics were widely used to make garments of different styles by Egyptian Fashion designers and seamstresses in large volume and textures. Fashion designers in our contemporary times have redefined the use of accordion fabrics by creating designs that meets the taste of current fashion.
Pleated accordion fabrics are pressed with industrial iron and the fabric comes out in permanent folds after the process. However, pleats that are sewn together are know an tucks.
Pleated Accordion Fabrics: 2020 Fashion Trends

Clothings made from Pleated accordion fabrics made a huge come back in 2019 and 2020. Pleated dresses are the order of the day. You cannot scroll through your Social media feeds without seeing pleated fabrics sewn into beautiful skirts, dresses, pants and palazzo outfits.
Where to Buy Pleated Accordion Fabrics in Nigeria.
On buyandslay, we have assorted pleated accordion fabrics that meets your taste. Buyandslay pleated fabrics are in all  colours and textures. The interesting aspect is that these fabrics are 60CM in length. We deliver our fabrics all over Nigeria and beyond. Kindly flip through our displayed products to make your choice of any colour of pleated accordion fabric you can think of.
For more details, click the button below to chat with the supplier.