You can't go wrong with the classic pair of Converse Chuck Taylors. They're a great, affordable choice if you want to add some flair to your joggers. The red, white and blue look is perfect for summer, but they also have other colors to choose from.
If you're not feeling the Chuck Taylors, try the Nike Air Force 1s. These are another great option because they're made by a well-known brand that's been around for decades. You can get them in different colors like black or white, so they'll match with any outfit.
If you're looking for something more casual, try some slip-on sneakers like Vans or Chucks. Vans make great shoes for summer because of their canvas material that keeps your feet cool when it's hot outside.
Best Shoes To Wear With Joggers
If you're a guy who likes to wear joggers, you know that finding the right shoes to go with them can be tricky. After all, they're just sweatpants! But there are some great shoes out there that will work perfectly with your favorite pair of joggers. Check out our list below for our top picks!
The chukka boot: This is a great way to add some style to your look without going overboard. With its clean lines and cool look, this shoe is perfect for pairing with your joggers. It also works great with jeans or shorts if you're going for a more casual look.
The loafer: If you've got a pair of nice loafers that you'd like to wear but don't want them to look too formal, try pairing them with your joggers! They'll give off an entirely different vibe than regular sneakers or tennis shoes would—and they'll still be comfortable enough for all-day wear (even if you do end up going out).
The sneaker: Sneakers are also a great option when trying to find something that looks good but isn't too fancy—especially since they come in so many different styles these days! You can find sneakers in almost
1. Twill Jogger
Twill joggers boast a tapered design with an elastic drawstring waistband, and the twill makes them look appealing. Available in a plethora of shades, you can slay twill joggers with loafers for sheer comfort and eye-catching looks. Apart from loafers, twill joggers can also be paired with sneakers.
Good Pair: Trainer shoes & Leather sneakers
Bad Pair: Textile blend sneakers & Derby shoes
2. Shirred Leg Jogger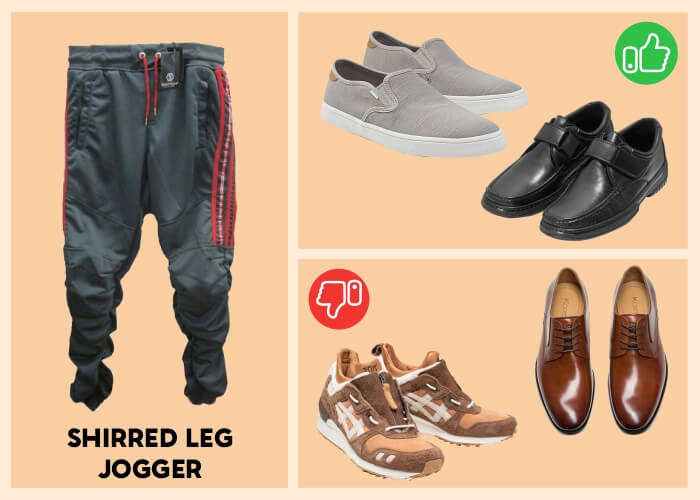 Shirred leg joggers might look the same as twill joggers, but these feature a more sophisticated design that brings attention to one's legs. Pair up your shirred leg jogger with a funky tee and comfy sneakers. Do not pair these cool joggers with derbies.
Good Pair: Slip-on sneakers & Leather velcro shoes
Bad Pair: Fleece sneakers & Laced formal shoes
3. Moto Knit Jogger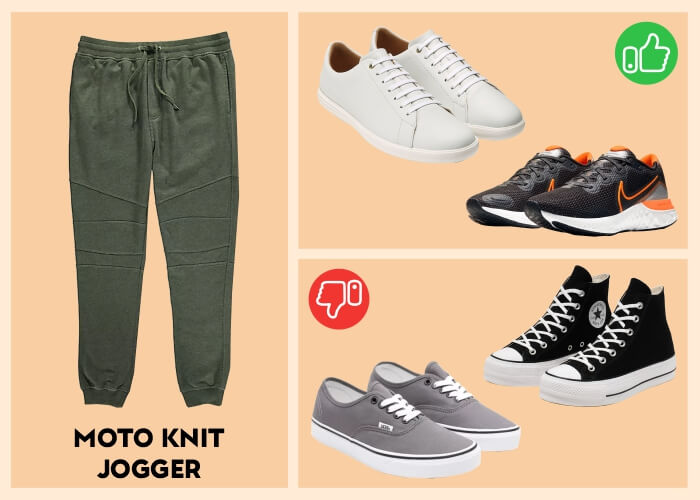 Moto knit joggers feature ankle cuffs and a comfy design to help you enjoy lazy Sundays and be fashionable in the crowd. Dress up your favorite hoodie and loafers with a colorful moto knit jogger, and rock your casual looks. You can also wear versatile moto joggers with leather sneakers.
Good Pair: Running shoes & Low ankle sneakers
Bad Pair: Chuck tailor shoes & Canvas shoes
4. Drop Crotch Jogger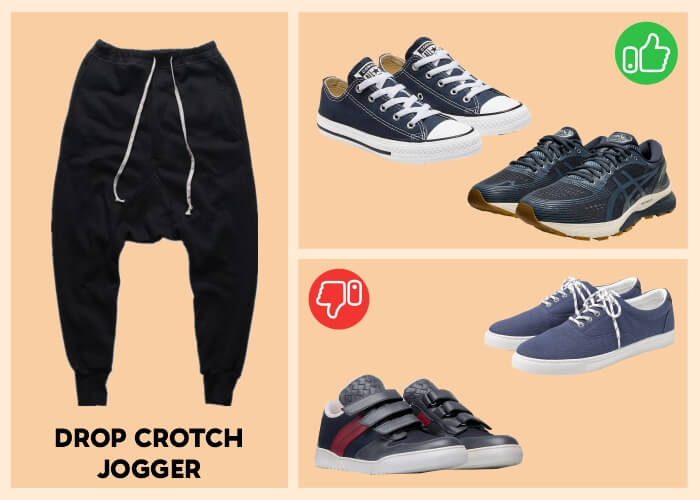 If you're looking for the ultimate style and enduring comfort in a jogger, drop crotch joggers can be your best bet. Dress like a fashion icon and pair up your drop-crotch joggers with running shoes, high-ankle leather sneakers. Please avoid boots to end up looking like a fool.
Good Pair: Chuck tailor shoes & Walking shoes
Bad Pair: Lace-up sneakers & Velcro sneakers
5. Hip-Hop Jogger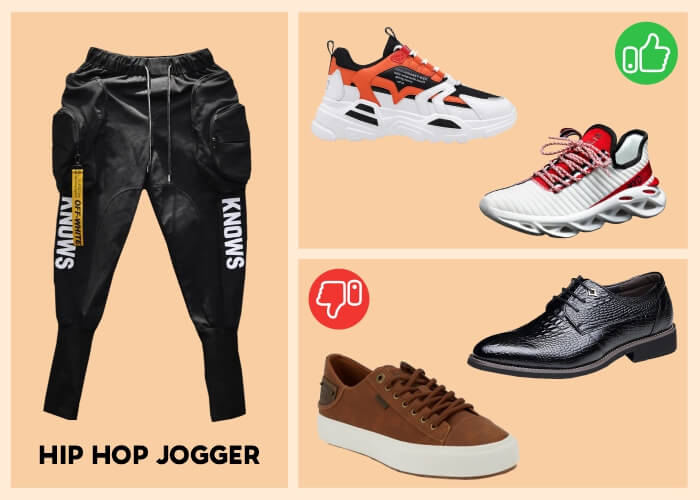 If you love street culture and dance, you probably own a few hip-hop joggers. Designed to help dancers move freely, hip-hop joggers are spacious and baggy towards the crotch. Dress like a rockstar by pairing up your hip-hop joggers with funky sneakers.
Good Pair: Fashion sneakers & Color block chunky sneakers
Bad Pair: Leather shoes & Canvas shoes
6. Colour Block Jogger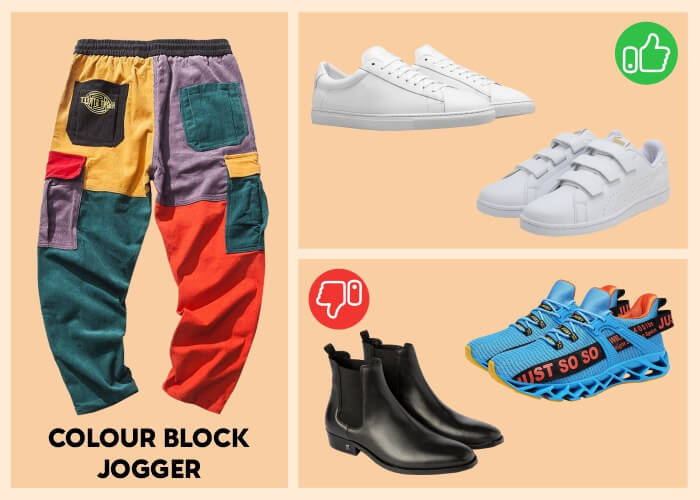 Colour block joggers are tapered, and they also feature ankle cuffs for better grip. Moreover, these joggers have eye-catching multi-colour patches that make them stand out from the rest. Set your style apart and befriend lightweight and comfortable Crossfit shoes or sneakers to perfectly wear color block joggers.
Good Pair: White velcro sneakers & White tennis sneakers
Bad Pa.ir: Blade running sneakers & Chelsea boot
7. Chino Jogger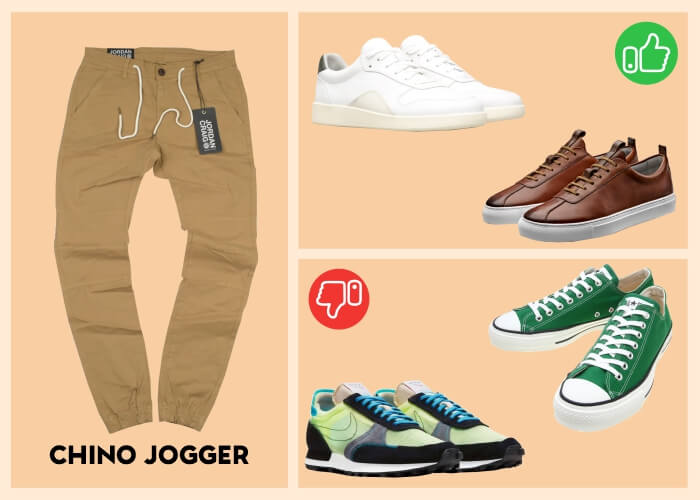 Chino joggers offer casual looks that are a class apart, and they do so without compromising with your comfort. The best part about chino joggers is, they go well with a variety of shoe styles. For best casual looks, pair up your chino jogger with loafers, canvas sneakers, and athletic sneakers.
Good Pair: Court snekers & Leather snekers
Bad Pair: Fashion sneakers & Chuck tailor shoes
8. Tie-Dye Jogger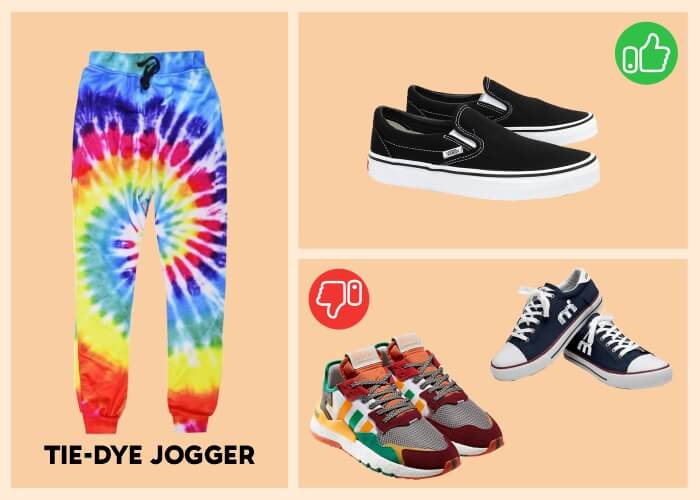 Tie-Dye joggers offer a relaxed fit, and they feature a colorful print that grabs everyone's attention at the gym, market, and everywhere else. Make your refreshing style statement and match your tie-dye joggers with flat or ankle-high sneakers. You should avoid tie-dye joggers with boat shoes.
Good Pair: Black or white athletic slip-on
Bad Pair: Funky snekers & Canvas snekers
9. Cargo Jogger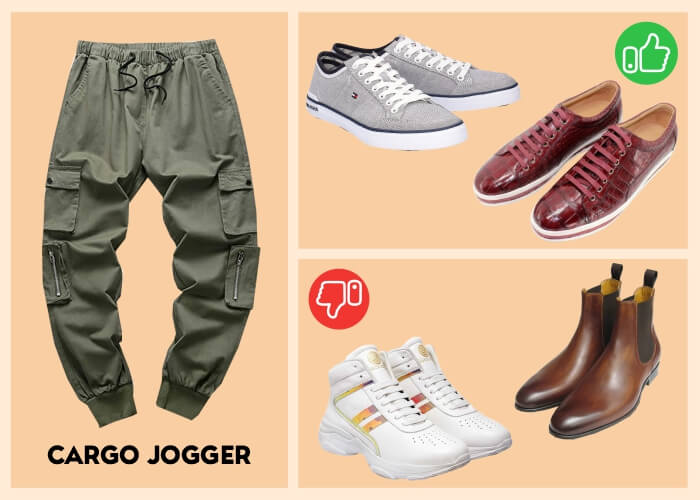 Cargo joggers are lightweight, and their fabric makes them immensely popular amongst jogger-heads. The best jogger shoes for men's cargo joggers are ankle-high sneakers, boots, and loafers.
Good Pair: Lace-up sneakers & Leather sneakers
Bad Pair: Chelsea shoes & Fashion sneakers
10. Fleece Jogger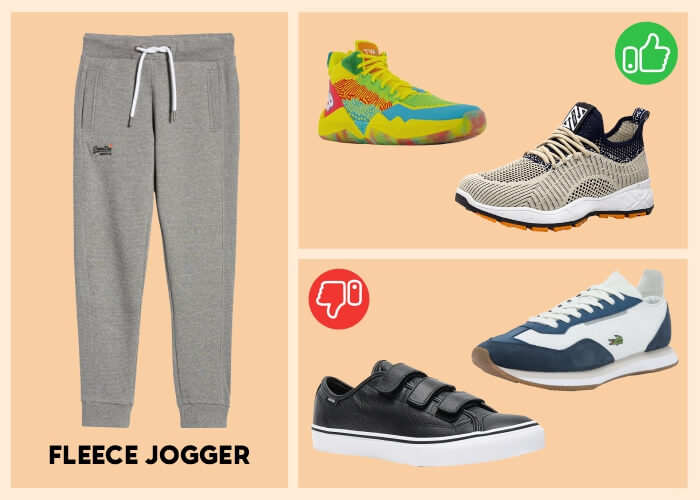 re among the most sought jogger pants as they offer ample room for thighs and look impressive. The best way to style fleece joggers is by pairing them with slip-on loafers, canvas sneakers, and athletic shoes. However, fleece joggers must be avoided with slippers and sandals.
Good Pair: Knitted running shoes & Basketball shoes
Bad Pair: Textile blend sneakers & Velcro sneakers
11. Ripped/Distressed Jogger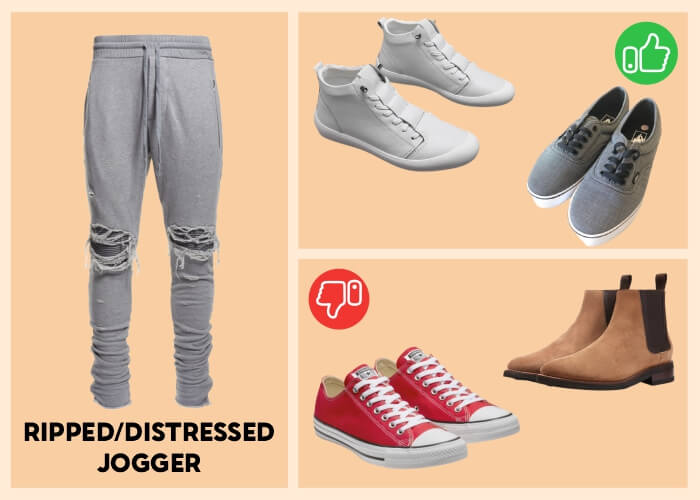 Ripped joggers are a highly stylish and comfortable alternative to ripped and distressed jeans. While ripped joggers are also made of denim, they offer incredible style and endless comfort. We advise you to wear ripped joggers with flat and high-top sneakers.
Good Pair: Textile blend sneakers & High top fashion sneakers
Bad Pair: Chuck tailor & Chelsea boot
12. Non-Cuffed Jogger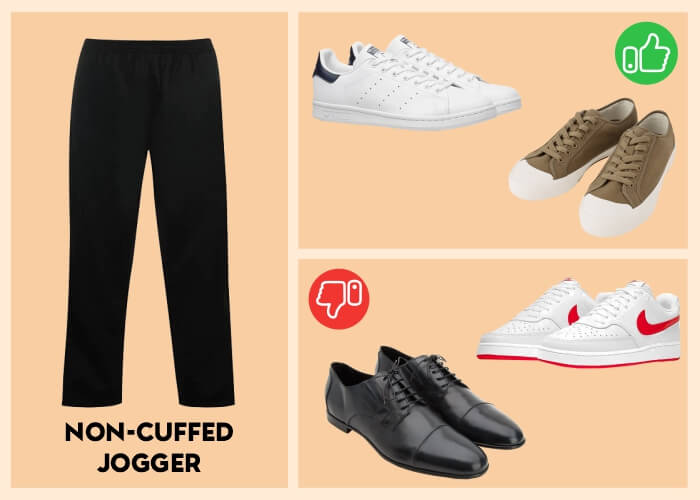 Non-Cuffed joggers are amongst the most simplistic yet classy joggers to have ever existed. You may choose your non-cuffed joggers from straight or tapered options, and they both look great with flat sneakers. Never wear non-cuffed joggers with any kind of boots.
Good Pair: Canvas sneakers & Plimsoll shoes
Bad Pair: Derby shoes & Court sneakers
13. Patches Jogger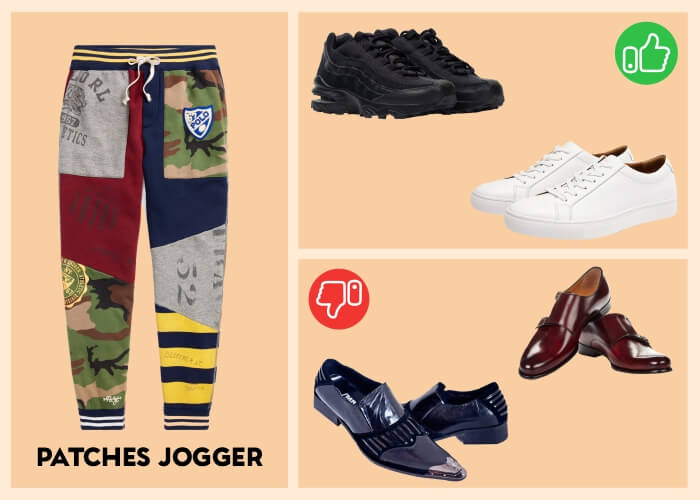 As the name indicates, patches joggers boast various unique patches that make the jogger both fun to wear and different. As patches joggers are funky, never pair them with formal or semi-formal shoes. Instead, you can choose running shoes, converse sneakers, etc.
Good Pair: Black trainers & Minimal fashion sneakers
Bad Pair: Statement shoes & Leather shoes
14. Tapered Jogger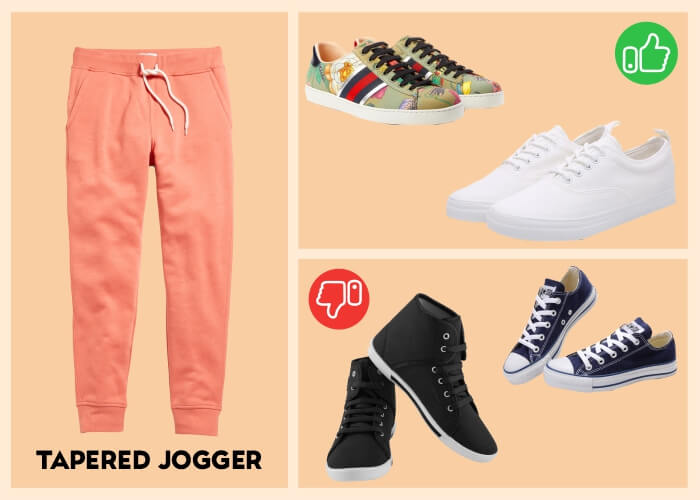 Tapered joggers help you do more while you choose to stay comfortable and stylish. Whether you need to hit the gym or run the track, tapered joggers enable you to do it all with ease. Match your favorite tapered joggers with athletic sneakers, gym shoes, and converse sneakers.
Good Pair: Printed sneakers & Lace-up white sneakers
Bad Pair: Chuck tailor & High ankle shoes
15. Contrast Tape Jogger
Contrast tape joggers look great when matched perfectly with a stylish t-shirt or a hoodie, as per the weather. Typically, these joggers boast a tape-like strap on their left and right exterior sides. For ultimate looks and perpetual comfort, grab a pair of boat shoes, loafers, or sneakers.
Good Pair: White or neutral lace-up sneakers
Bad Pair: Fashion sneakers