It's easy to find shoes for seniors. It's hard to find shoes that are comfortable, stylish, and provide the right support.
Good shoes for elderly people can make a big difference in their comfort and ability to get around.
Here's what you need to look for when shopping for footwear:
Comfort. Comfort is the most important consideration when shopping for elderly shoes. The best way to determine if a shoe will be comfortable is by trying it on at home or in the store. If possible, try on several different styles of shoes with different materials and types of construction until you find one that feels good on your feet.
Support. Shoes for elderly people should have good arch support and heel cushioning because many older people have flat feet or high arches that need special attention when choosing footwear. Supportive shoes will also help prevent falls by keeping feet in place while walking or standing up from a seated position.
Best Shoes For Older People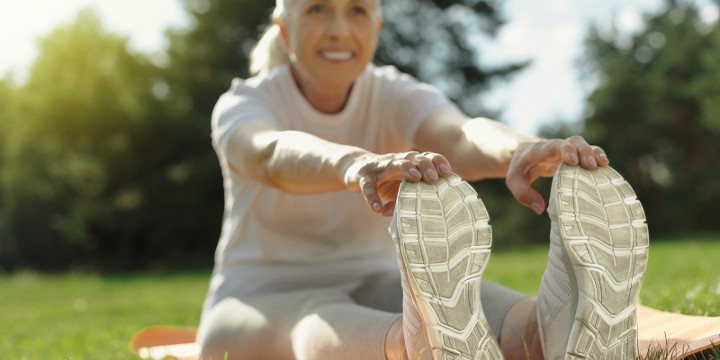 Nowadays, many manufacturers are catering to both the fashion and functional needs of seniors by creating footwear that provides the necessary support and demonstrates a sense of style. So, when it comes to finding the best shoes for elderly women and men, there are plenty of comfortable and attractive options. The challenge lies in finding the right pair for your feet.
Did you know that, according to an article in Geriatric Orthopaedic Surgery & Rehabilitation, close to 80 percent of elderly people experience foot problems? Ill-fitting footwear is a major cause of those problems. So if you have any foot pain or concerns, talk to your healthcare professional. He or she may recommend that you consult a podiatrist, who can assess your condition. A podiatrist can also measure the angle of your ankles and feet in order to have molds made and custom orthotic inserts manufactured.
The information below will help you understand the common problems that seniors experience with their footwear. You'll learn what features to look for in a pair of shoes and get practical tips that can make your shopping easier. You'll also read about 18 different shoes that are good for older adults with various needs or health conditions.
Common Footwear Problems in Older Adults
As people get older, their feet undergo numerous changes that can affect the fit of their shoes. For example, your skin gets thinner and you lose fat padding on the bottom of your feet, so you may need extra cushioning in your shoes in order to stay comfortable. Your joints also get stiffer, and your arches get flatter. Plus, your feet tend to spread out more as tendons and ligaments lose strength, so you may find that you need a bigger or wider shoe than you used to.
In addition, conditions like arthritis and diabetes can cause your feet or ankles to swell, so you will likely need shoes that have adjustable openings and fasteners that can accommodate your changing size. Arthritis can also make it painful to tie up laces, so Velcro shoes for seniors may be a good option.
Here are some common foot issues that seniors experience:
Corns or callouses: Hardened patches of skin that often develop as a result of repeated friction or pressure
Bunions: Bony bumps that develop on the joint at the base of the big toe, forcing the joint to stick outwards
Fallen arches: A condition in which the tendon supporting the foot arch weakens and allows the entire foot to contact the ground (something that can lead to knee and back pain)
Hammertoe: A deformity of the toe joint that causes the toe to curl downwards rather than point forward
Plantar fasciitis: Inflammation of a band of tissue along the bottom of the foot that causes heel pain, particularly first thing in the morning
The good news is that the pain and discomfort that accompanies these problems can often be improved by choosing the appropriate footwear. The right pair of shoes can also help keep you balanced, reduce the risk of falls, prevent knee and back problems, and encourage you to stay physically active.
What to Look For in Comfortable Shoes for the Elderly
Shoes that properly support your feet allow the muscles of your feet to work less and can result in fewer injuries. Here are a few features you may want to look for in seniors' footwear or "elderly" shoes (i.e., shoes for older adults):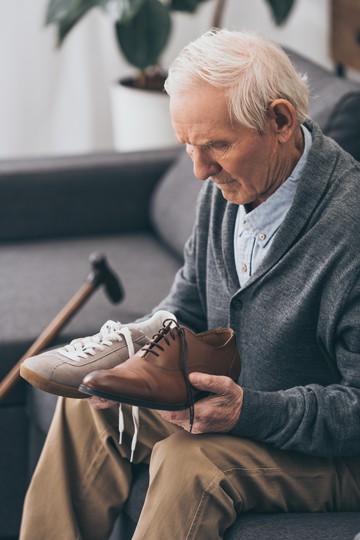 A non-slip sole: This is essential to ensure stability and prevent falls. However, people with conditions like Parkinson's may want to look for smooth soles that will accommodate a shuffling gait.
Lace-free closures, such as Velcro straps: Flip-flops and other types of shoes that don't anchor to your feet could easily slip off or cause you to trip. Many seniors want their shoes to stay firmly on their feet without having to bend down and fiddle with laces. Velcro shoes for elderly ladies and men are easier to fasten and come in various styles.
A wide mouth: A wider opening makes it easier to get your foot in and out of the shoe, especially if your feet tend to swell. If you wear compression socks, make sure the shoe has enough space to fit them.
Adequate padding: Cushioning absorbs and disperses the shock of your foot impacting the ground, thus reducing the effect of the impact on your hips and back. If you tend to bump your feet against objects, you may want a shoe with more padding in the upper (the part that encloses your foot).
The right material: Shoes with uppers made of sturdy materials offer more support and insulation. On the other hand, a softer upper made of mesh will be more lightweight and provide more breathability. Some shoes feature a breathable mesh upper combined with a supportive overlay, which allows the shoe to bend with your foot without causing you to lose control.
Removable insoles: If you plan to use either over-the-counter or custom orthotics for shoes, you may need to be able to take the insole out.
A high back: This can help stabilize your ankle. A hard insert in the heel gives the shoe a firm structure and can help keep you from falling. However, it can also scratch or irritate your Achilles tendon if it doesn't have enough padding.
A low heel: Heels that are higher than about an inch and a half place undue strain on your toes and the balls of your feet by shifting your weight forward. But a shoe that is totally flat can also be uncomfortable. Look for a wide, slightly raised heel that can help take the strain off your feet and legs.
Adequate traction: Good grip is critical, especially in shoes for elderly people with balance problems. Look for groove patterns on the bottom of the shoe that extend right to the edge. These grooves allow water to escape and help keep you steady in wet conditions.
Tips for Buying Shoes
You don't want to waste your money on poorly fitting shoes. To help ensure that you get what you need, try following these tips:
1. Think about the purpose of your shoes.
Are you looking for comfy footwear for around the house, or are you searching for the best walking shoes for seniors who like to stay active? Do you need shoes to keep you warm and dry in a cold climate, or are you hoping for light, airy summer slippers? Determining how you plan to use your shoes will help you decide what to buy.
2. Research online, but buy in store.
It's a good idea to look into your options and know what's out there, but then go to an actual store and physically try on the shoes. If that isn't possible, read online reviews carefully and consider each vendor's return policies. Buying online is less risky if you're getting a new pair of the same shoes you currently wear. (But keep in mind that your feet may have changed since the last time you bought shoes.)
3. Shop later in the afternoon.
Your feet expand over the course of the day, so you'll get a more accurate fit if you try on new footwear later in the day rather than first thing in the morning.
4. Try them on and walk around.
Don't judge a pair solely by how they feel when you're sitting down. You need to see how they support your feet and ankles when you move about. If possible, walk on both hard and carpeted surfaces to see how the shoe performs.
5. Check the fit.
Your shoes should be sturdy enough to keep you stable without wobbling. Also, the toe box should be deep and roomy enough for you to wiggle your toes without feeling pressure. (However, the shoes should not be so roomy that your feet slide around inside.) There should be about half an inch of space between your longest toe and the front of the shoe. Remember that shoes generally won't stretch out, so if they feel overly tight, they are probably not a good choice.
6. Don't rush.
Try on several different pairs if possible. And make sure you put both the left and right shoes on and walk around a bit to see how they feel. You may want to ask a salesperson to measure both of your feet, as they may be different sizes. If that's the case, go with the bigger size.
7. Don't go too cheap.
If you can possibly afford it, spending a bit more to get the right fit is absolutely worth it.
8. Be smart about gifting.
For many of the reasons listed above, buying shoes for grandpa or grandma (or anyone, really) should be a process that involves them as much as possible, to ensure the right shoe choice and fit. It's wise to choose footwear that is returnable or exchangeable and, if possible, take the gift recipient shopping with you so they can try on and compare different styles.
This article contains affiliate links. We are compensated with a small commission, at no extra cost to you, for sales made through the links.
7 Good Shoes for Seniors
The most comfortable shoes for elderly men and women are those that conform to their foot shape and offer the specific protections they need. Everyone has different requirements and preferences, but here are a few shoes you may want to try:
1. Skechers Performance Women's Go Walk 4 Kindle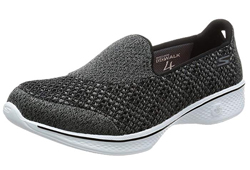 These extremely lightweight shoes have a non-slip rubber sole as well as a breathable, padded mesh upper. They offer good cushioning and are almost entirely seamless, so you have little chance of developing blisters. The insole also features antibacterial odor control. Plus, the Go Walk 4 Kindle is available in more than a dozen colors, so you should be able to match it to any outfit.
2. Propet Women's W3851 Wash & Wear Slip-On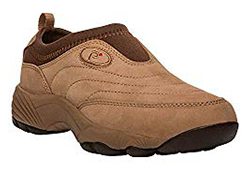 The stretchy nylon collar of these shoes makes putting them on (and keeping them on) a breeze. In fact, these are some of the best house shoes for elderly women. Lightweight and soft, they feature a non-slip sole and multiple treads for better traction. They're even machine washable.
3. Skechers Performance Men's Go Walk 4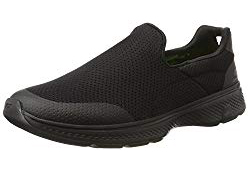 Among the best walking shoes for elderly men, the Go Walk 4 features a rubber sole that is nicely grooved and provides excellent traction. These lightweight slip-on shoes have a flexible mesh upper as well as a highly supportive midsole and an odor-controlled insole. They are comfortable to walk in and provide very good shock absorption.
4. Hush Puppies Men's Gil Slip-On Shoe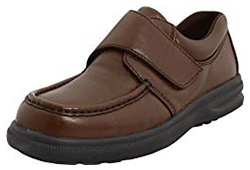 These classy loafers have a large Velcro strap for closure, so you can easily tighten or loosen them as needed. The firm upper should help keep your ankle or foot from rolling, and the slip-resistant sole has plenty of grooves to give you grip. Surprisingly lightweight, this shoe also features a removable insole, so you can replace it with an orthotic insert if necessary.
5. Aravon Women's Clarissa Fisherman Sandal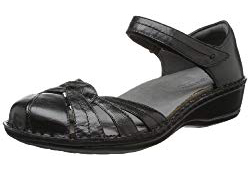 These dressy closed-toe sandals have a 1.5-inch heel as well as a strap to secure them around your ankles. The upper is durable and adapts to your foot shape for comfort. There's even a removable insole. The Clarissa is among the best sandals for seniors and is available in both red and brown.
6. New Balance Women's WW813 Hook and Loop Walking Shoe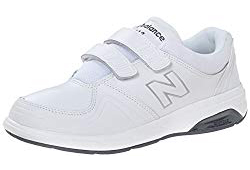 With plenty of padding on the collar, heel, and tongue, these New Balance shoes for elderly women are comfortable and sturdy, making them great for extended walks. The long Velcro straps allow for easy size adjustment, and the grooved rubber sole provides good traction. Plus, the Rollbar system in the heel helps keep the back of your foot stable.
7. Orthofeet Joelle Women's Walking Shoe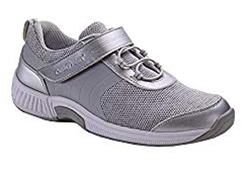 These Velcro tennis shoes for elderly women feature a slip-resistant rubber sole and a flexible fabric upper for a relaxed fit. The toe box is both wide and deep, and there is good arch support. The soft, seamless lining reduces friction pain and enhances comfort.
5 Shoes for Older Adults With Diabetes
Here's something you should know: If you have diabetes and receive benefits under Medicare Part B, you may be eligible for free shoes and inserts via the Therapeutic Shoes for Individuals with Diabetes program. Only diabetic shoes for men and women that are designated as A5500-approved are covered. Such shoes feature four main characteristics:
They are extra deep to accommodate custom orthotics.
They come in at least three different widths.
They have some form of closure to secure them to the feet.
They are made from leather or another protective material.
Even if you don't qualify for the program, choosing shoes that are A5500-approved can help you get the best protection for your feet. All of the shoes listed in this section meet the A5500 standards. Check out these examples of the best orthopedic shoes for seniors with diabetes:
1. Propet Women's Cush N Foot Slipper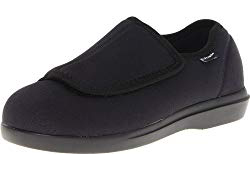 These soft, stretchy slippers make extremely comfortable shoes for elderly women. They have an extra-large opening with a Velcro closure, so they are super easy to open up, slide on, and secure. While they're designed as house shoes, they do have a rubber sole, so they are suitable for use on a wide range of surfaces.
2. Propet Men's Life Walker Strap Sneaker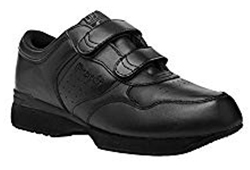 With a non-slip sole, good traction, and excellent shock absorption, these shoes provide sturdy protection for avid walkers. The two Velcro straps make it easy to adjust the fit, and the perforated upper provides breathability. The cushioned insoles can be taken out to accommodate custom orthotics.
3. Propet Men's Vista Strap Shoe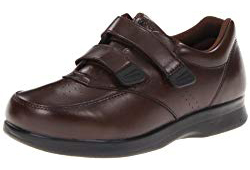 Lightweight and supportive, with two Velcro straps that can be easily adjusted to accommodate swelling feet, these are excellent diabetic shoes for older men. They feature a perforated upper and a mesh lining. The cushioned collar and firm heel counter keep your feet secure and comfortable, and the insoles can be removed to make way for your own orthotics.
4. SAS Women's Roamer Slip-On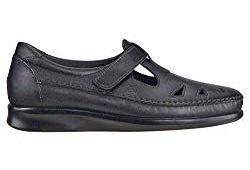 These cute orthopedic shoes are both comfortable and supportive. The upper features a single adjustable Velcro strap and a padded collar to prevent rubbing. The Roamer has a wide, slightly raised heel that offers good stability and shock absorption, and the removable insert is even washable. You have your choice of eight different colors.
5. Drew Shoe Men's Dublin Suede Casual Sandals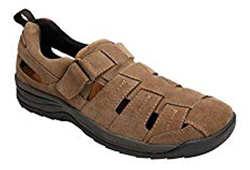 The Dublin is one of the few sandal models that is double-deep and suitable for custom orthotics. This classy-looking sandal features a supportive cushioned insole (which can be removed) as well as a flexible rubber sole that offers good shock absorption. The Velcro closure makes these shoes easy to put on and take off.
6 Shoes for Seniors With Arthritis
For older adults with arthritis, wearing the wrong shoe can cause long-term damage to numerous joints. The best shoes for people with this condition provide good arch support and extra cushioning. They are also typically designed to fit prescription or custom foot orthotics. Many of the diabetic shoes mentioned above will also work for adults with arthritis, but here are a few additional options you may want to consider:
1. Rockport Cobb Hill Paulette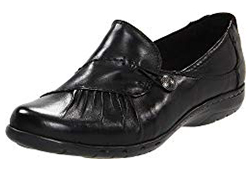 Looking for stylish flats for Grandma? Shoes like these slip-on wedges might be just what she needs. They have a soft lining and collar that won't rub or irritate her feet, and the removable foam insole means she can put in her own custom orthotics. Available in a wide range of colors, these shoes are popular with women who suffer from conditions like arthritis and plantar fasciitis.
2. NAOT Women's Matai Mary Jane Flat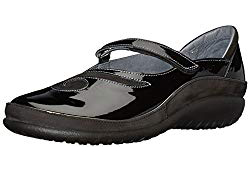 Lightweight, durable, and flexible, these Mary Janes have a padded heel cup and good arch support. The slip-resistant sole provides stability, and the Velcro strap allows for a customized fit. The latex-and-cork insole is covered in soft suede and can be removed if you need more space for orthotics.
3. Drew Shoe Men's Bexley Loafers
These stretchy slip-on shoes include a foam-padded collar for extra comfort. They are durable and lightweight, with a tempered steel shank and firm heel that promotes stability on wet surfaces. The shoes offer excellent therapeutic cushioning and are extra deep. The insoles are removable, so you can substitute prescribed orthotics if you wish.
4. Brooks Men's Addiction Walker V-Strap Walking Shoes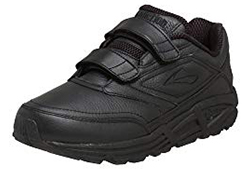 The Addiction Walker's cushioned collar and soft, breathable lining mean there should be no additional pressure on your pain points. These supportive walking shoes feature a non-slip rubber sole that has plenty of grooves to help provide traction and very good shock absorption to protect your joints.
5. Orthofeet Sandy Athletic Shoes
These shoes were specifically designed to relieve joint stress and promote comfortable movement with a wide toe box, cushioned heel pad, and slip-resistant rubber sole. The upper is soft and non-binding, and the seamless foam lining offers excellent protection for arthritic feet.
6. Mt. Emey Men's 9602
Need shoes for swollen feet? Elderly men may find comfort in these stretchable shoes that feature an expandable padded collar and a Velcro strap for closure. The soft upper includes a flex area to accommodate bunions, and the seam-free lining means you shouldn't have to worry about blisters.
Find the Right Shoes
Whether you're seeking a comfy set of house slippers or a sturdy pair of walking shoes, there are a variety of great options to suit different tastes. Armed with the information and tips above, you can definitely find the footwear that works best for you.