If you are an avid off road runner, then this post is for you.
We all know how important it is to have the right gear and equipment when running. But the most important part of your gear is your shoes.
You might have heard of a variety of different types of running shoes. But did you know that there are specific types of shoes that are designed specifically for off road running? If not, then keep reading to learn more about them!
What Are The Best Shoes For Off Road Running?
Well, first we need to understand what makes an off road shoe different from a normal running shoe. Well, they are usually made with thick and durable materials that can withstand intensive usage on rough terrains. They also have larger treads on their soles so they can grip onto dirt better than regular running shoes would. These features make them much more stable than regular running shoes, which is very important when you're running over mud or rocky terrain!
Best Shoes For Off Road Runners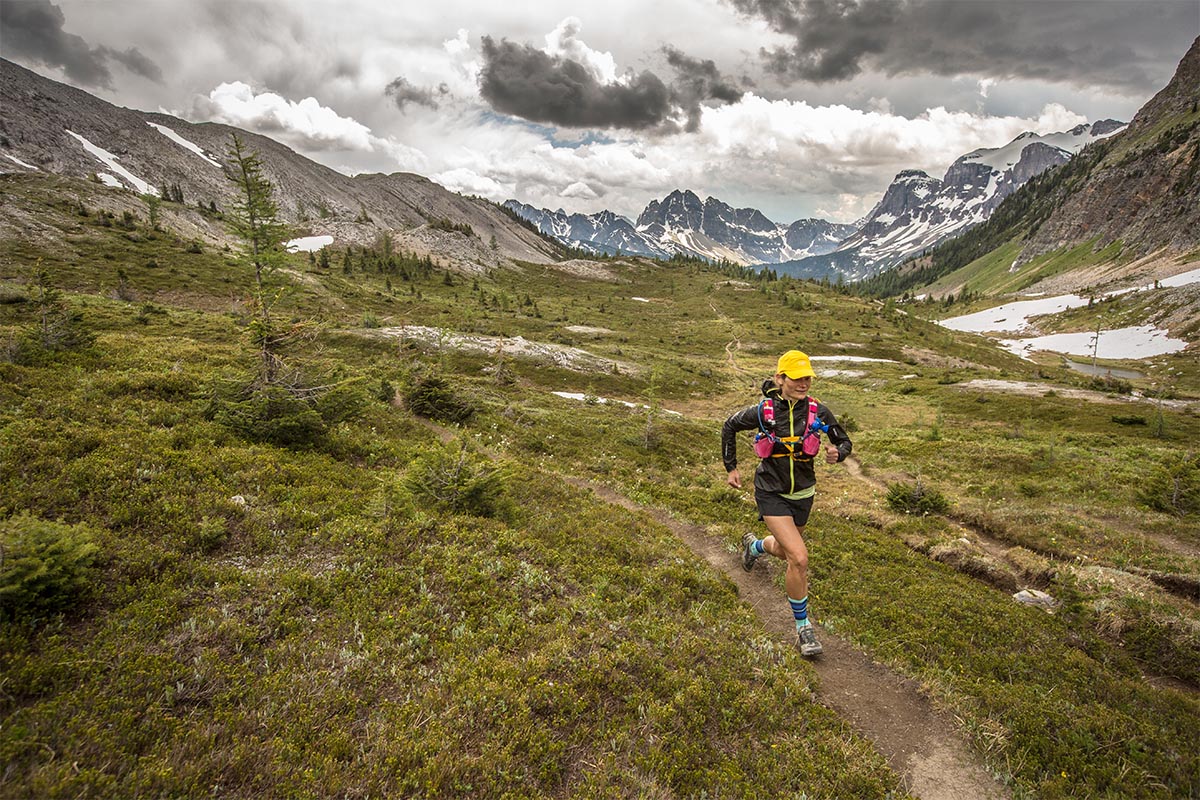 Running on varied and challenging trails is a welcome break from the monotony of pounding pavement (or even worse, the belt of a treadmill). Better yet, trail running is an immensely easy sport to get into and requires only minimal gear. Below are our top trail runners of 2022, which cover everything from flexible and lightweight shoes for smooth trails to tough and stable designs for tackling technical or mountainous terrain. For more information, check out our comparison table and buying advice below the picks.

---

Best Overall Trail Running Shoe
1. Salomon Sense Ride 4 ($120)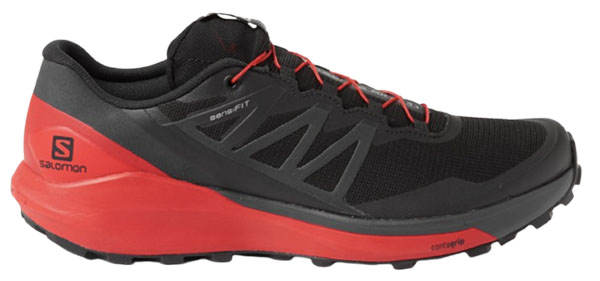 Weight: 1 lb. 4.5 oz.
Cushioning: Moderate
Drop: 8mm
What we like: A winning combination of comfort, versatility, and price.
What we don't: Not a top performer in any one category.
For a trail runner that can do it all, we love the Salomon Sense Ride 4. This shoe is equally at home on quick door-to-trail runs as it is during ultra-distance pursuits, and can even handle technical cross-country terrain with ease. The all-around performance isn't surprising given the Salomon's versatile design, which features a moderate amount of cushioning (27mm in the heel), generously sized toe box that accommodates our wide feet, fairly standard 8-millimeter drop, and full Contragrip rubber outsole. We've put over 700 miles on various iterations of the Sense Ride, and the "4" has proven to be a consistently comfortable and high performance shoe for a wide variety of terrain.
Best Max-Cushioned Trail Running Shoe
2. Hoka Speedgoat 5 ($155)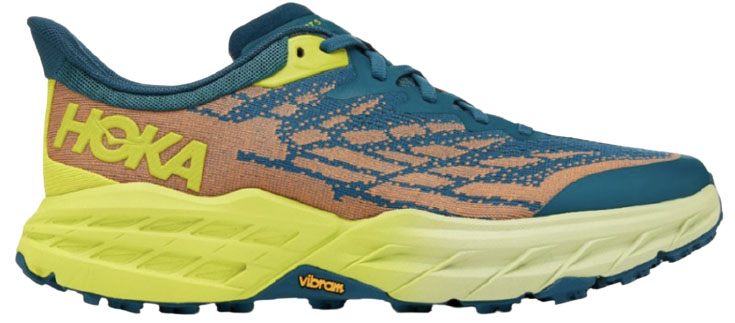 Weight: 1 lb. 4.6 oz.
Cushioning: Maximum
Drop: 4mm
What we like: Standout comfort and traction in a lightweight package.
What we don't: Thick midsole minimizes trail feel in technical sections.
Hoka has built their reputation around plush, heavily cushioned running shoes, and the freshly updated Speedgoat 5 is a nice upgrade to the popular design. With a thick midsole (33mm at the heel), the shoe offers maximum long-distance comfort and underfoot protection, absorbing a nice amount of impact with each stride. But there's a lot more to love about the design: In our opinion, the Speedgoat hits a near-ideal balance of comfort, weight, protection, and responsiveness whether you're running short or far, fast or slow. The aggressive outsole is light but sticky with substantial lugs (improved in the most recent version), blown rubber, and a Vibram Megagrip compound that holds well on everything from dry dirt and mud to steep rock. Tack on a medium-width toe box that fits a broad range of foot shapes, and it's no secret why Speedgoat is one of the most well-loved running shoes of 2022.
The fifth version of Hoka's Speedgoat is a pretty serious overhaul from the previous model, but the new shoe retains all the performance characteristics we love. The biggest changes were to the upper, which features stretchy engineered mesh without the overlays of the outgoing 4, translating to a closer fit with slightly less weight and bulk. The midsole is also a bit softer and lighter–more reminiscent of the race-ready (and now discontinued) Evo Speedgoat. But while the Speedgoat has converted many skeptics to the max-cushioned world, it's not for everyone: The tall stack height lacks the precision of a low-slung build like La Sportiva's Bushido II below, and those taking on shorter distances at speed will likely want a lighter, more responsive design. But for a surprisingly good all-rounder that offers exceptional comfort for ultra distances, the Hoka is a top performer.
Best Trail Runner for Wide and/or Finicky Feet
3. Altra Lone Peak 6 ($140)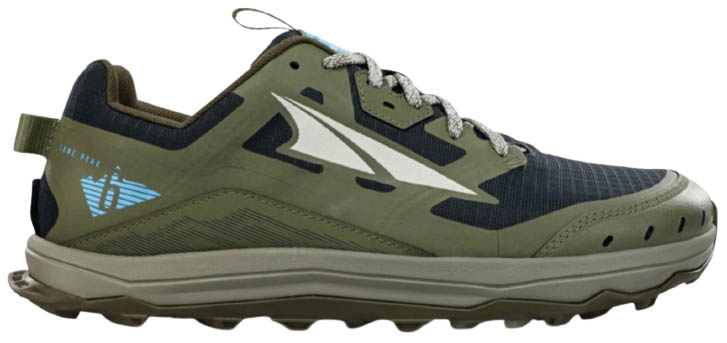 Weight: 1 lb. 5.2 oz.
Cushioning: Moderate
Drop: 0mm
What we like: A very comfortable shoe that allows the foot to lie in its natural position.
What we don't: Slightly sluggish feel and too roomy for some.
If you're among the myriad trail runners who suffer from the pressure points, hot spots, and blisters resulting from ill-fitting shoes, this one's for you. Popularized by the barefoot running movement, Altra's zero-drop Lone Peak is arguably the most ergonomic and comfortable trail runner on the market. With a flat footbed and extra roomy toe box, the Lone Peak allows the foot to stay in its naturally flat and splayed position, which is great news for wide-footed runners or those with particularly finicky feet. We've recommended this shoe to dozens of friends and acquaintances who've struck out with more traditional shoes (including wide versions of models like the Hoka Speedgoat), and have yet to lead anyone astray.
The new Lone Peak 6 doesn't venture far from previous models, but it does feature an updated upper and new lacing system for a more secure fit. This is good news for those with low-profile feet: Previous versions of the Lone Peak have been critiqued for being too roomy and thus unstable on rocky and rooty terrain. And true to its trail-worthy intentions, the Altra also features a rock plate, gaiter attachments, and drain ports both on the toe box and inside of the foot. But all praise aside, it's important to keep in mind that the zero-drop design is not for everyone, and those accustomed to a more typical trail runner might find the Lone Peak rather sluggish. Finally, we haven't had great luck with the Lone Peak's durability, although the "6" features a more robust toe guard that should address many of the outgoing model's delamination issues.
Best Running Shoe for Mud and Soft Terrain
4. Salomon Speedcross 5 ($130)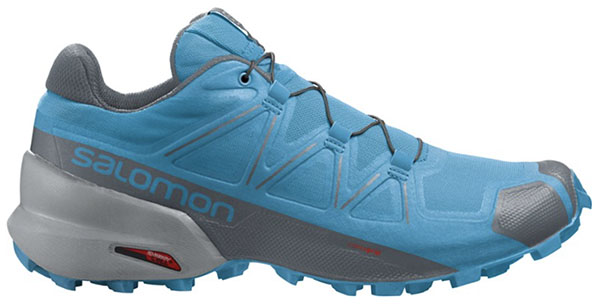 Weight: 1 lb. 6.6 oz.
Cushioning: Moderate
Drop: 10mm
What we like: Truly excellent traction in soft ground.
What we don't: Not versatile for easy trails or most mountain running.
The Speedgoat above is a nicely cushioned go-to for well-established trail networks, but it suffers on particularly soft terrain like mud and snow. In these conditions, you'll want a full rubber outsole (the Speedgoat uses a combination of rubber and foam) with relatively long and widely spaced lugs that bite into the ground with each step. Salomon's trail-eating Speedcross 5 sets the standard for this category, combining massive 6-millimeter arrow-shaped lugs and a supportive and snug-fitting upper for impressive control at speed. Tack on a thick midsole, single-pull lace system, and sturdy yet still reasonably light chassis, and you get one of the most capable trail designs, whether your run takes you over snow, sand, or wet leaves and thick mud.
But while the Speedcross is hard to beat on soft terrain, it's not a particularly versatile shoe. The tooth-like lugs and aggressive build are overkill on easy trails and gravel roads, and the tall stack height can feel tippy on uneven ground (plus, shorter lugs offer better traction on rock). For off-trail exploration, we'd recommend a more planted, rock-ready design like the Sense Ride above or Bushido below. But for wet and rugged forest paths, the Speedcross is incredibly purpose-built, even down to details like the anti-debris mesh upper and gusseted tongue. And keep an eye out for the updated Speedcross 6 ($140), which features an updated outsole and upper at a slightly lighter weight.
Best Mountain Running Shoe
5. La Sportiva Bushido II ($145)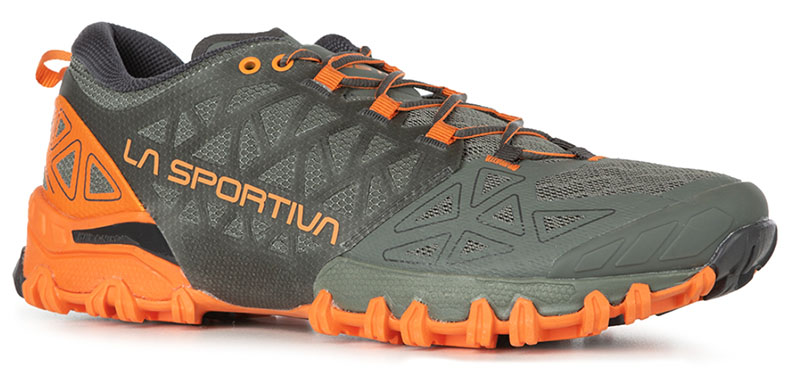 Weight: 1 lb. 5 oz.
Cushioning: Light
Drop: 6mm
What we like: A superb technical shoe with awesome traction.
What we don't: Too much grip and not enough cushion for trail miles.
In 2022, mountain athletes don't think twice about taking on big, technical challenges with nothing more than a pair of running shoes and a day's worth of supplies. Among the growing assortment of fast-and-light footwear options, many of our go-to shoes come from climbing-specialist La Sportiva. Their versatile Bushido II is a perennial favorite and excels on all manner of terrain, from soggy trails and snow to fifth-class rock and loose talus. Grippy FriXion rubber (a compound used on some of Sportiva's climbing shoes) gives you solid traction while scrambling, and the burly tread grips remarkably well on soft terrain without being too overbuilt for firm ground. Tack on a durable upper, protective toe cap, and rock guard underfoot, and the Bushido is a solid and confidence-inspiring workhorse of a shoe.
Compared to the Speedcross above, the La Sportiva here has much more versatile intentions for a variety of on- and off-trail terrain. Further, mountain runners will love the shoe's low stack height (19mm in the heel compared to the Speedcross' 30mm), which lends stability and a solid ground feel. But all this performance does end up feeling a bit overkill on smooth paths, and the Bushido's lightly cushioned midsole is noticeably less comfortable than all-around models like the Speedgoat or Sense Ride 4 above (especially on high-mileage days). But for technical missions that don't involve too much dry trail—think high routes in the Cascades, the Sierra, and Colorado—the Bushido is hard to beat. Mountain runners with particular needs might also want to look a bit deeper into La Sportiva's lineup, which includes the new Cyklon (with attached gaiter) and the freshly revamped Ultra Raptor II and Akasha II…
Best Light and Responsive Trail Runner
6. Brooks Catamount ($160)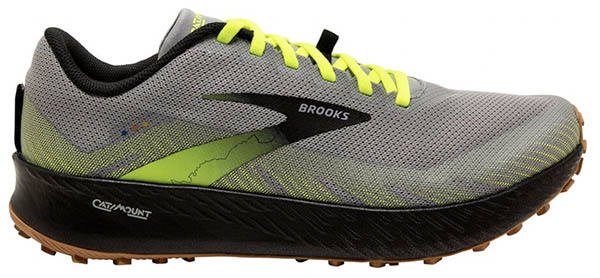 Weight: 1 lb. 2.6 oz.
Cushioning: Moderate
Drop: 6mm
What we like: A lightweight and snappy shoe great for speed.
What we don't: Expensive and not plush enough for long distances.
Brooks is most known in the trail running world for their Cascadia (below), a beloved shoe among both runners and thru-hikers that is now in its 16th generation. But the modern Catamount here offers a whole different take on a trail runner, with a nimble design built to take on moderate distances at speed. Imported from Brooks' Hyperion Tempo road shoe, the carbon-like DNA Flash midsole is lightweight and responsive, offering a snappy underfoot feel ideal for pushing the pace and precision on tricky sections of trail. You'll notice the extra kick on fast ground like gravel roads and easy hardpack, but the Catamount is also prepared for battle on technical terrain, with trail-specific features like a rock plate, gaiter adapters, and a TrailTack rubber outsole.
At $160, the Catamount is no small investment, so it's important to understand its strengths and weaknesses. Despite the fact that it was "designed and built for 100 miles of run happy" (as it states on the tongue), most runners will want a softer and plusher shoe for ultra-distance efforts. Further, the upper doesn't stretch as much as a shoe like the Speedgoat above—worth considering if you deal with swollen feet—and like most of Brooks' offerings it lacks a truly locked-down fit. But there's no denying that the Catamount is lightweight and fast, and despite its high price tag, it is still a noticeable $40 less than the similarly high-end TNF VECTIV Flight. Finally, within this race-ready category, it's also worth looking at carbon-plated shoes like the Hoka Tecton X and Saucony Endorphin Edge.
Best of the Rest
7. Topo Athletic MTN Racer 2 ($145)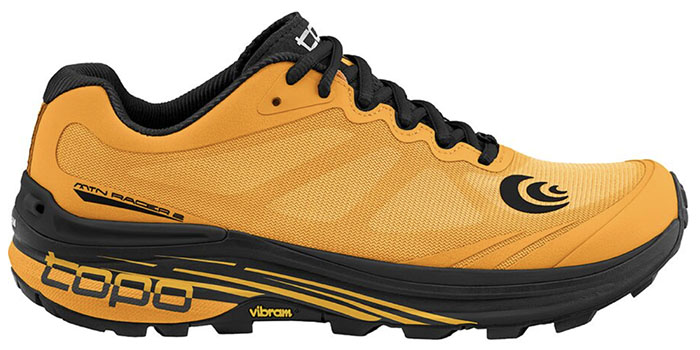 Weight: 1 lb. 4 oz.
Cushioning: Moderate
Drop: 5mm
What we like: A comfortable shoe with some technical chops.
What we don't: Pricey and some might find the toebox to be a touch wide.
Topo Athletic might not be a household name like Salomon or La Sportiva, but their lineup of trail and road running shoes speaks for itself (not to mention, they're founded by the former CEO of Vibram). The MTN Racer 2 is a standout trail-specific model in their quiver: like the Lone Peak above, it features a wide toe box and locked-in waist and heel, lending all-day comfort for swollen and hard-working feet. But the MTN Racer tacks on some technical chops, with a 5-millimeter drop (compared to the Altra's 0mm), slightly firmer cushioning, a sticky Vibram Megagrip sole (a blend often used in climbing approach shoes), and a small decrease in weight. Overall, it's a really easy shoe to get along with—we recommend the MTN Racer to friends more than any other model here, and have yet to know anyone who's been less than thrilled.
The MTN Racer was recently updated, and the "2" features a more breathable upper, revamped heel, and a refined fit (we had to go a half size up with the first iteration but dropped down to our normal size with the "2"). We think it's a great update to an already excellent shoe, and with a solid build the MTN Racer should last you upwards of 500 miles. Where it does fall short is on truly off-camber terrain—mountain runners will want to opt for a stiffer and protective ride like the La Sportiva Bushido or Salomon Sense Ride above. But for those who stick to the trail (even fairly technical trails), the Topo Athletic is a trustworthy and capable companion.
8. Hoka Zinal ($160)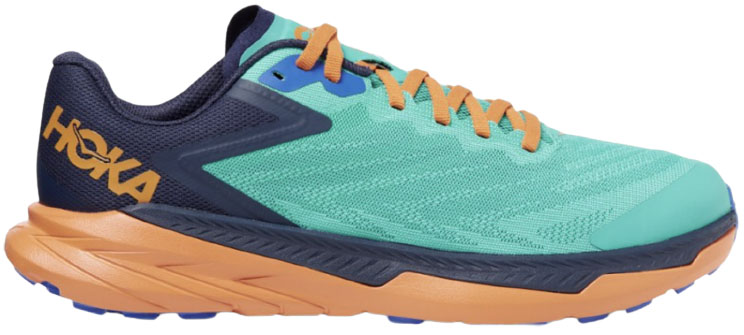 Weight: 1 lb. 1 oz.
Cushioning: Moderate
Drop: 4mm
What we like: A Hoka shoe for Hoka skeptics; lightweight and fast.
What we don't: Poor traction on rock.
Running-shoe giant Hoka has built a name around their max-cushioned designs (as seen in the Speedgoat above), but the Zinal bucks this trend with a lower profile that provides ample ground feel. The result is a Hoka that's responsive and fast, making it great for race day and tempo workouts alike. But it's not all speed—with durable cushioning, highly breathable mesh, and a fit that leaves nothing to be desired, the Zinal is incredibly fun to wear, too. We've put over 400 miles into our pair of Zinals while training for (and racing) a 50K, and have been impressed with their nimble, speedy, and supportive feel on a variety of terrain.
In a world flush with rock guards, carbon plates, and maximum cushion, the Zinal's minimalist weight and close-to-the-ground feel is a breath of fresh air. Much of this weight-savings is achieved through streamlining the outsole, which contains a hefty dose of blown rubber alongside patches of Megagrip Litebase on the heel and forefoot. We've found this combination to provide ample traction for most hardpacked trail and gravel roads, but the Zinal definitely struggles on boulders and slab. The sole nevertheless does an admirable job isolating the foot from sharp roots and rocks, and it's really all most trail runners need. All told, for a speedy shoe that can tackle anything from a 5K to a 50K or 50 miler (and all your training in between), the Zinal is one of our favorite models—ever. If you're looking for a bit more traction in a similarly low-slung design, it's worth checking out Hoka's Torrent 2.
9. Saucony Peregrine 12 ($130)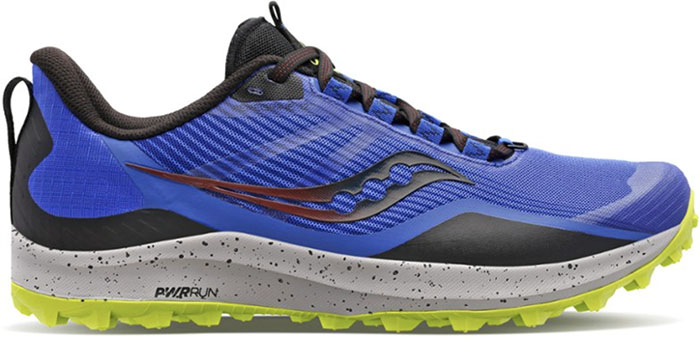 Weight: 1 lb. 3.4 oz.
Cushioning: Moderate
Drop: 4mm
What we like: A great all-rounder among moderately cushioned shoes.
What we don't: Some might want plusher cushioning.
Saucony's Peregrine has been an all-around favorite of ours over multiple generations, excelling in most of the categories that matter: traction, fit, protection, and weight. We love the Peregrine's signature trail-eating, teeth-like tread that grips anything from wet rocks to hardpack dirt, along with the added underfoot protection of the forefoot rockplate. Moving up the shoe, the well-balanced PWRUN midsole is stable yet responsive on off-camber terrain, with enough cushioning to keep you comfortable for a few hours on the trail. And with the newest "12," the upper received a full overhaul, dropping most of the overlays for a stretchy, foot-hugging fit that's even lighter than the previous version.
But with only a modest level of cushioning and a fairly firm midsole, you do give up some comfort on hard surfaces or during long days on the trail. Further, the newest Peregrine features an even trimmer fit, which is less than ideal for swelling feet. If you log high-mileage days or run on the road from time to time, we'd stick with a plusher shoe like the Hoka Speedgoat above. On the other hand, the Saucony is a great option for short and speedy efforts, with a goldilocks combination of cushion, responsiveness, and protection for those who like to push the pace. Finally, at just $130 it's an excellent value. And keep in mind that Saucony also makes the Peregrine 12 ST (soft terrain), which features longer lugs (6.5mm compared to 5mm), a debris-resistant upper, and quick-lace system for $140.
10. Nike Pegasus Trail 4 ($140)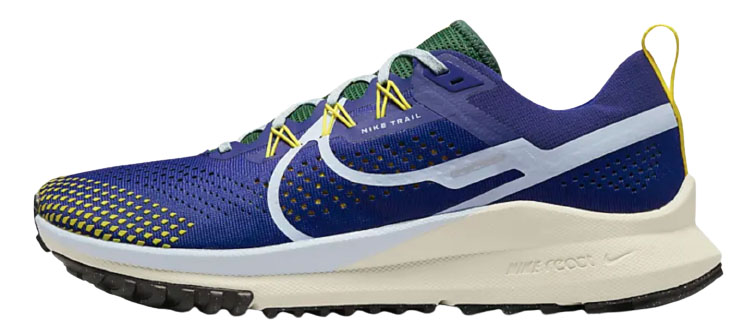 Weight: 1 lb. 4.6 oz.
Cushioning: Maximum
Drop: 10mm
What we like: A comfortable and responsive road-to-trail shoe.
What we don't: Unstable on technical terrain and poor traction on wet surfaces.
Nike puts most of their efforts into road running gear, but their Pegasus Trail 4 is a quality, max-cushioned option for trail work. Modeled after the road-specific Pegasus but infused with trail features (including a mostly rubber tread and reinforcements in the upper), this is one of the best road-to-trail shoes in the business. The main event here is the large dose of Nike's soft yet responsive React midsole, which offers great energy return as well as long-distance comfort. You don't get that low-slung feel that many runners love for particularly technical trails, but the Pegasus Trail 4 offers a great fit for most (with a roomier toe box than most Nike models), and the recently updated version is a lot lighter than its max-cushioned frame would suggest.
Looking at Nike's trail lineup, the Pegasus Trail is the clear all-rounder, sliding in next to the durable Wildhorse and light and speedy Terra Kiger. Among the trio, the Pegasus Trail gets the edge in terms of comfort and high-mileage use, but it's not particularly performance-oriented. The shoe's max cushioning will feel unstable on rugged trails, and traction—although improved in the latest version—is among the worst here, especially on wet surfaces. But for max-cushioned comfort and undeniable style, Nike's Pegasus Trail 4 is a great option for recreational trail runners, long-distance training, and road-to-trail routes.
11. Brooks Cascadia 16 ($130)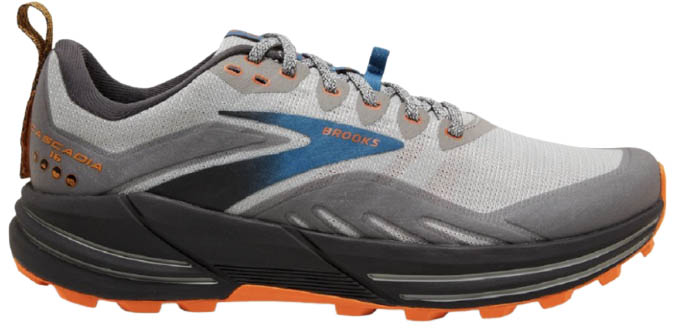 Weight: 1 lb. 5 oz.
Cushioning: Moderate/maximum
Drop: 8mm
What we like: A big update gives an old classic a lighter and livelier feel.
What we don't: Still stiffer and heavier than most shoes here.
Now in its 16th iteration, the Brooks Cascadia is one of the longest standing trail runners on the market, and for good reason. This is a shoe that can do it all, with the traction and protection you need for rugged trails alongside a hefty dose of cushioning for long days out. Add to that an emphasis on stability, and the Cascadia is an easy-wearing shoe and deservingly popular with a wide audience, from ultrarunners and daily joggers to mile-crunching thru-hikers. It's true that recent iterations had started to feel really dated (read: heavy and slow compared to the more modern competition), but the updates to the "16" are significant and give it a brand new lease on life.
Perhaps the biggest improvement to the Cascadia 16 is its lighter and sprightlier build, thanks to a couple millimeters of extra (and softer) cushioning, a flexible rock plate, and an updated outsole. The result is a workhorse shoe that will put a bounce in your step, which is never a bad combination. Of course, the Cascadia still can't match the speed or light weight of some of the top models here, and despite the updated cushion it's still stiffer than most. But for a trail shoe that will provide reliable stability and protection mile after mile—and double as a wonderful hiking design—Brooks' Cascadia is back on our radar as one of the best all-rounders in the game.
12. Saucony Xodus Ultra ($150)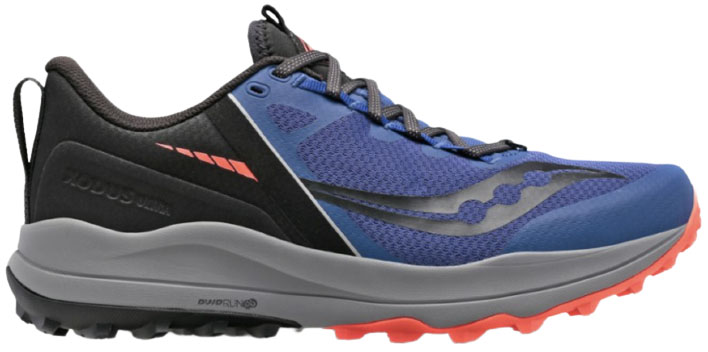 Weight: 1 lb. 4.6 oz.
Cushioning: Maximum
Drop: 6mm
What we like: A max-cushioned shoe that's still stable, speedy, and impressive on technical terrain.
What we don't: Difficult to lock in the fit.
The Peregrine above has long been Saucony's go-to trail shoe for shorter and technical efforts, but the running company hasn't always had a similarly popular pairing for ultra distances. Enter the Xodus Ultra, a revamp of a bygone model that's gotten a lot of attention upon its 2022 release. It's been called everything from "the best shoe of the year" to "Saucony's answer to the Speedgoat," which is certainly high praise in a flooded market. The key to the Xodus Ultra's success is its dual-density midsole, which combines two different varieties of foam (one as a frame, the other as a core) for a running experience that's well cushioned without sacrificing stability and speed. And the cherry on top is that you get all that performance at a decently low weight.
There are a lot of reasons why runners love the Hoka Speedgoat, but stability and traction on technical trails is not one of them. Here is where the Xodus Ultra shines: The shoe is fairly savvy on rocky, off-camber trails, thanks to the midsole's dense foam frame and the outsole's grippy PWRTRAC rubber and sharp lugs. The fit does leave a bit to be desired—you get a little more room than the Peregrine (great for foot swelling), but the shoe fails to get a really secure lock on the foot, and the elasticized laces don't help. But minor gripes aside, Saucony made a real winner in the Xodus Ultra, which is a great companion for long-distance rambles and short, technical trails alike.
13. La Sportiva Jackal ($155)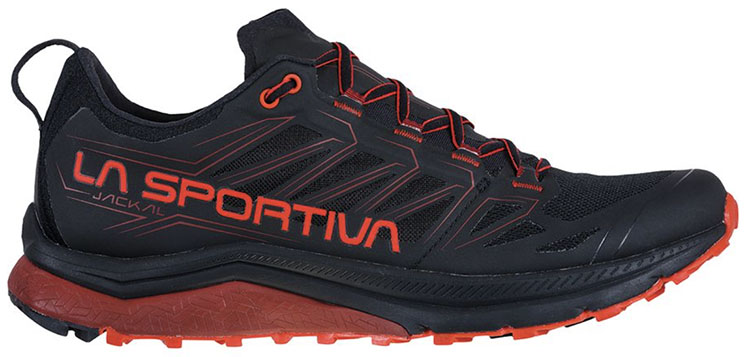 Weight: 1 lb. 5.2 oz.
Cushioning: Moderate
Drop: 7mm
What we like: Comfortable and cushioned yet still very capable in technical terrain.
What we don't: Sizing is tricky and short lugs aren't great on soft ground.
La Sportiva's mountain running shoes are known for being fairly narrow and firm, but they've expanded their offerings with the Jackal. Like the Salomon Sense Ride above, the Jackal is a solid all-rounder, combining ultra-distance levels of cushioning and a roomy toe box with mountain-ready features like a rock plate and sticky Vibram FriXion rubber. It all adds up to a really comfortable yet high-performance shoe for everything from packed dirt and gravel to cross-country terrain. Finally, we've been really impressed with the Jackal's durability—it has held up remarkably well during a season of trail running in Kauai, despite frequent run-ins with sharp rocks and plants, wet conditions, and over 200 trail miles.
At 1 pound 5.2 ounces for the pair, the Jackal isn't particularly lightweight, but it has a really nimble feel and the soft foam lends a bit more spring than the Sense Ride. Keep in mind that the 3-millimeter lugs are shorter than we're used to seeing in a mountain running shoe (4mm is a more standard lug length), which lends more hold on rocky, hardpacked terrain and less on soft mud or snow. And finally, the Jackal runs small (most will bump up at least a half size) and some runners have experienced issues with the overly rigid heel cup, which we'd love to see Sportiva change in the forthcoming update (the 2 is expected for summer 2023). Finally, it's also worth checking out Sportiva's Karacal ($145), which has similar all-around intentions and an even roomier fit.
14. The North Face VECTIV Enduris II ($139)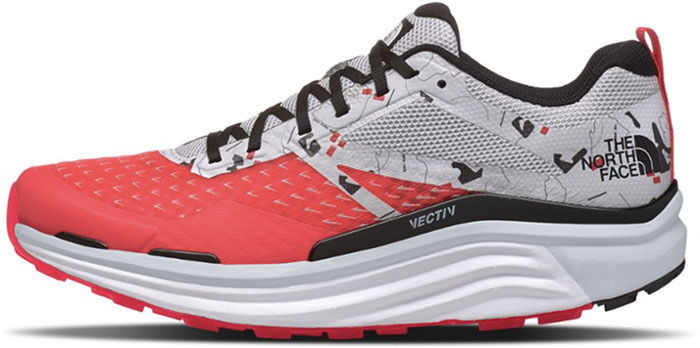 Weight: 1 lb. 5.8 oz.
Cushioning: Maximum
Drop: 6mm
What we like: A responsive midsole alongside max-level cushioning.
What we don't: Takes some time to break in and get used to.
The North Face hasn't always been much of a player in trail running, but that all changed with the release of their VECTIV lineup. Hallmarked by its unique rocker, the VECTIV collection includes the high-end Flight, the mid-range Infinite, and the max-cushioned Enduris here. This is the ultra-distance VECTIV, offering runners a responsive feel (thanks in large part to the TPU midsole) that's forgiving enough to go all day. Tack on an airy mesh upper, full rubber outsole, and accommodating fit, and the Enduris is one of our favorite all-rounder trail shoes this year. A recent update features a redesigned upper and slightly lighter weight, but the overall formula remains the same.
We don't blame you if the top-shelf VECTIV Flight grabs your attention over the Enduris, with flashy selling points like a carbon-fiber plate, Kevlar upper, and a number of notable long-distance FKTs to its name. But the affordable Enduris is actually our favorite shoe in the lineup, with a much more forgiving feel and fit for most feet (the Flight is very narrow and lacks cushioning for long efforts). Do expect the Enduris to take some time to break in, and you might need to get a few runs under your belt before the rocker shape feels natural. But for $139, it's a solid new entry into the max-cushioned market, and we've been really impressed by TNF's build quality overall.
15. Altra Olympus 5 ($180)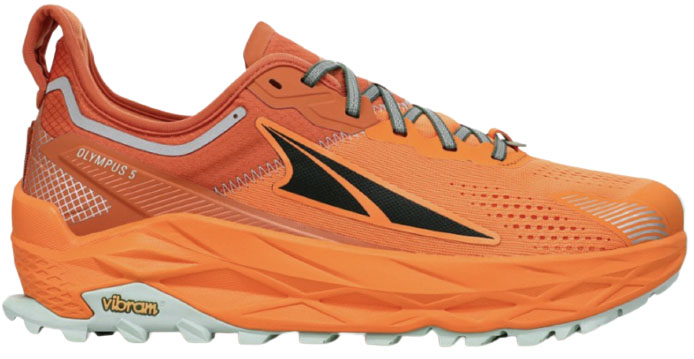 Weight: 1 lb. 8.6 oz.
Cushioning: Maximum
Drop: 0mm
What we like: A comfortable and stable max-cushioned shoe.
What we don't: Sluggish and not ideal for narrow feet.
Altra's Lone Peak (above) gets a lot of attention from everyone from trail runners to thru-hikers, but the Olympus 5.0 is arguably the better shoe for long efforts. With 33 millimeters of cushioning from heel to toe, you get no shortage of all-day comfort, on par with max-cushioned kicks like the Hoka Speedgoat and Nike Pegasus Trail above. The updated upper offers an impressively snug lock at the midfoot—translating to great stability on off-camber terrain—while Altra's trademark wide toe box keeps your toes happy. Tack on a Vibram Megagrip outsole, and the Olympus 5.0 is ready for everything from cruisy hardpack to technical cross-country adventures.
Not everyone will want to join the zero-drop, extra-wide-toe-box club, and with its beefy midsole, the Olympus is even more polarizing than the Lone Peak . But we actually like the combination: With a wide base, it feels a lot more stable than most max-cushioned shoes. All that said, the standard Altra caveats still apply here: The Olympus will feel sloppy on those with narrow feet, and its 1-pound 8.6-ounce build (for the pair) isn't going anywhere particularly fast. And at $180, it's far from cheap. But for long, slow days where comfort matters more than technical precision and speed, the Altra Olympus 5.0 is well worth a second look. And for those with narrower feet, Altra now offers the Mont Blanc, which features a slightly more streamlined footbed.
16. Brooks Divide 3 ($100)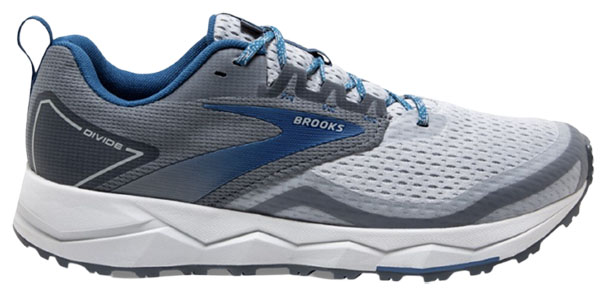 Weight: 1 lb. 4.2 oz.
Cushioning: Moderate
Drop: 8mm
What we like: Affordable shoe that can hold its own on dirt and rock.
What we don't: Not intended for technical trails.
If you plan to stick mostly to smooth trails or want to mix in some road miles, the Brooks Divide 3 makes a lot of sense. Designed for runners transitioning from pavement to dirt, the Divide pulls features from both styles of footwear. Road runners will be familiar with the airy mesh upper, which lends a good dose of breathability and comfort and doesn't have a difficult break-in period (like you might get with a burlier trail shoe), and the newest Divide forgoes a rock plate, which is great for ground feel on easy hardpack. On the other hand, the Brooks is trail-ready, with reinforcements on the upper, a full rubber sole, and enough cushion (31mm at the heel, 23mm at the toe) to protect from roots and rocks. For the right person, it's the best of both worlds.
It's important to note that with its hybrid, entry-level intentions, the Divide 3 shouldn't really be cross-shopped with the options above. If you'll be running steep terrain or over rocks, roots, or other rough ground, the stability, grip, and underfoot feel will be a disappointment, even for new runners. For just $20 more, you can bump up to the Salomon Sense Ride, which is a high-quality shoe built for experienced runners. But for light trail use and runs that feature a mix of terrain (even gravel roads), the Divide is a solid choice and a nice value.
17. On Cloudultra ($180)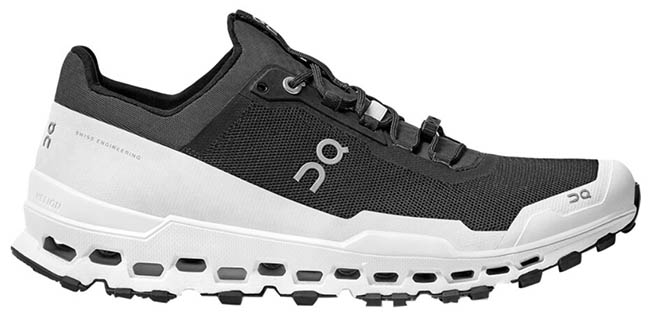 Weight: 1 lb. 4.8 oz.
Cushioning: Maximum
Drop: 8mm
What we like: Well made and great looking.
What we don't: Expensive and rocks get stuck in the outsole grooves.
Based in Switzerland, On is known for their innovative collection of road and trail shoes. It's easy to tell an On design apart from the rest—each model includes their trademark CloudTec outsole, a series of hollow cells that absorb impact and propel you forward, no matter what your stride. In theory, it makes a lot of sense, and it's for good reason that On shoes have become increasingly popular in the U.S. market. The Cloudultra is their most cushioned design for long-distance efforts, built to swallow ground impact and keep your feet happy, mile after mile.
The Cloudultra stood out to us as a unique shoe, but ironically it wasn't a cloud-like feel that set it apart. In fact, it actually felt rather firm underfoot, and in a blind test we'd be hard-pressed to tell the difference between the CloudTec technology and any other shoe. The biggest differences came from the sock-like upper, which felt sleek and close-fitting (and is undeniably good-looking) but was hard to get into and resulted in some pressure points on the top of our foot. In the end, it's worth considering sizing up a half size, and be sure to give yourself ample time for break-in (read: don't tackle 17 miles right away like we did). On shoes are expensive and known for one major and inherent downfall—rocks get stuck in the large grooves of their soles—but they exude quality and are well worth a look.
18. Arc'teryx Norvan SL 2 ($160)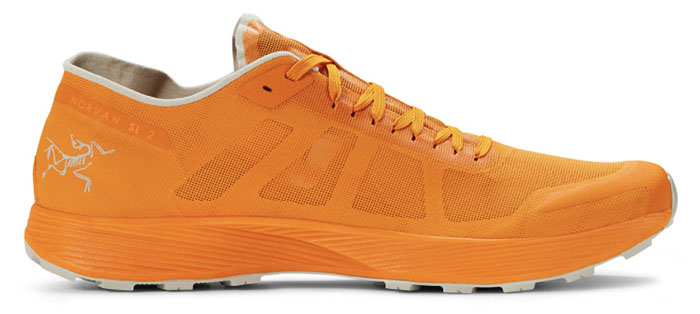 Weight: 12 oz.
Cushioning: Light
Drop: 7mm
What we like: Exceptionally lightweight and responsive; great on technical terrain.
What we don't: Narrow, minimal protection, lacks support for long-distance runs.
A lot of runners are turning to max-cushioned shoes for their extra comfort and shock absorption, but trimmed-down models still have their appeal. For short trail races, Vertical Kilometer events, or technical runs, you'll want a shoe that is light on your feet and prioritizes ground feel. Arc'teryx's Norvan SL 2 is a strong entry in this category, with the lowest weight here (by a large margin) and notably less cushioning than most (19mm at the heel). And it's not just light and nimble: with a Vibram Megagrip sole and snug, approach-shoe-like fit, the SL 2 offers exceptional grip and performance on rock (no surprise, considering Arc'teryx's dominance in the climbing market). The shoe even features a cutout on the inside heel to accommodate a carabiner.
The Norvan SL 2 shares a lot of characteristics with the La Sportiva Bushido above, including minimal cushioning and a solid rubber sole. But at just 12 ounces for the pair, the Arc'teryx is on another level in terms of weight, giving it much more credence as a shorter-distance, race-ready shoe (the downside is less protection and stability overall). We have had some issues with the mesh upper: The thin build doesn't do much to keep out dust and dirt, and it lacks the locked down feel you get with more robust, cushioned uppers. Keep in mind that Arc'teryx shoes have a tendency to run narrow, and this is particularly true for the streamlined SL 2.