Best Shoes For Hip Hop Dance
Hip Hop dance is a very physical art form. It's also one of the most popular forms of dance today.
The best shoes for hip hop dance are going to be comfortable, durable, and able to handle all the movements you'll be doing on stage or in the studio.
In this article we'll be going over what makes a shoe good for dancing and how to find out if it's right for you.
Best Shoes For Hip Hop Dance
What Types of Shoes Are Best for Hip Hop Dancing?
Hip hop is a style of dance that originated not in a dance studio, but in the streets of New York City in the 1970s and 80s so the types of shoes best for hip hop back then were street shoes.
Attire for hip hop dancers in its early days required only authentic style, and in fact, there were no dedicated shoes in the hip hop world.
As it has evolved into a popular studio class, style is still valued, but function comes into play as well in hip-hop footwear and there is a multitude of brands and shoes that you can choose from!
The best hip-hop shoes provide traction, support, flexibility, and style. When you begin looking for hip hop shoes, you need to decide between a split-sole dance sneaker, a full-sole dance sneaker, or a street shoe. Then, you must make sure they fit well, with a little extra room for a snug fit.
Some dance studios may have a shoe requirement for hip hop, so before you purchase, check the dress code.
If you are unsure about how to begin your search for the best hip-hop sneaker for your dancer, read on for an in-depth look at the most popular types of shoes available!
Why Should I Buy dedicated shoes for Hip Hop?
You might think why can't I just wear my sneakers to a hip hop class which is as I said earlier authentic to the origins of hip hop?
Street shoes can be worn in a hip hop class and I address this further on in the article, but wearing your regular everyday sneakers into class would mean you are bringing all the dirt and muck from everywhere you have been in them into the studio and not all studio owners or dancers appreciate that!
Just like most basketball players have their game shoes that they put on at the stadium, try to make it a habit to have studio only shoes, and read on to see all the different options you can choose from!
Should I Buy A Split-Sole Dance Sneaker?
Split-sole sneakers, like other split-sole dance shoes (jazaz and ballet shoes for example), were created to allow dancers more flexibility in their feet than a standard full-sole street shoe allows.
Split-sole sneakers, like the Boost by Bloch, offer arch support, a padded insole for shock absorption, and a spin-spot on the ball of the foot that allows for frictionless turns.
This type of dance sneaker is popular for dance teachers who are on their feet all day, due to the support they provide.
You will also see split-sole dance sneakers in the pro dance team world, but they have recently become less popular for hip hop dancers who are looking for a more authentic style.
What Are The Benefits of a Full Sole Dance Sneaker for Hip Hop Dance?
Full sole dance sneakers have the advantage of looking more like a street shoe rather than a dance shoe.
Dance shoe brands like Pastry have changed the hip hop sneaker world by creating functional shoes for dancing that also look super stylish.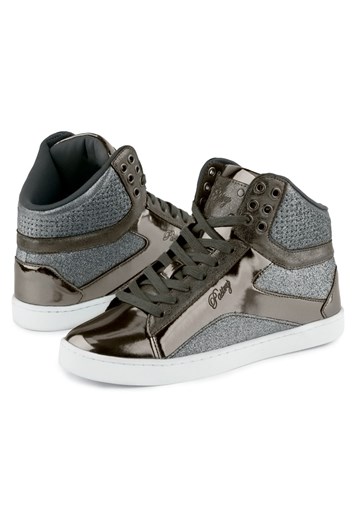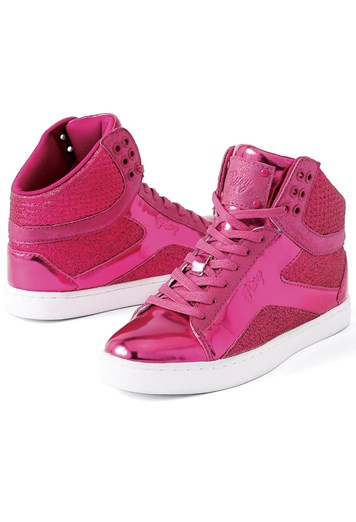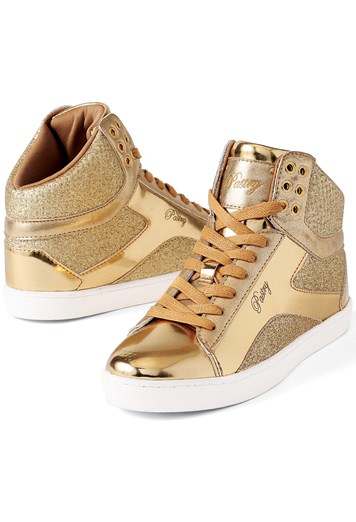 Usually, a full sole dance sneaker has memory foam or cushioned footbed, a smooth spin spot on the outsole, and a flexible and lightweight construction that allows for movement of the foot.
How Are Dance Sneakers Supposed to Fit?
Dance sneakers, like all dance shoes, should fit snug to the foot. Unlike a ballet or jazz shoe, dancers typically wear socks with a dance sneaker, so be sure to bring the socks you would wear to your fitting.
Dance sneakers won't stretch much with wear, so be sure to choose the correct size. Most dance sneakers run the same as street shoe size, but double check the sizing chart for the most accurate conversion.
How much do Hip-Hop Dance Shoes Cost?
Sneakers manufactured by dance brands will range in price from $50 USD to $90 USD.
Saying that you can actually find shoes for around the $30 mark and under for stage shoe for hip hop dance that look similar to Chuck Taylor's at Dancewear Solutions by clicking here!
Can I Wear a Regular Sneaker for Hip Hop?
You can wear some regular sneakers for hip hop, but in general, many street shoes lack the flexibility and targeted support that dance sneakers offer.
If you'd like to wear a street shoe for hip hop, choose lightweight sneakers without thick treads, that have some flexibility and a cushioned insole.
High top Chuck Taylors are popular due to their ankle support and lightweight construction. It's also important to note as I wrote earlier that going from the street into the studio with the same sneakers is frowned upon in most studios, as street shoes track in dirt onto the dance floor – so save your Chucks for class!
You are ready to hit the shops!
Hip hop is one of the most individualistic styles of dance, and the footwear options allow dancers to show their individuality and choose their own unique flavor (except if your dance studio has a type of shoe they require you to wear, usually for uniformity so everyone looks the same on stage).
If you are wanting to shop online why not try Dancewear Solutions which have a great range of hip hop shoes as well as colors!
As you shop for hip hop shoes, remember the information you learned here to make the best decision!