Hiking is a great way to get in shape and enjoy the outdoors. But it's also a good idea to bring along the right shoes for hiking.
Hiking shoes are designed with specific features that help you hike more comfortably, safely and efficiently. Hiking boots are made from durable leather or synthetic materials that offer traction on slippery surfaces and protect your feet from water damage. They also have ankle support, which helps prevent injury when you're carrying heavy backpacks or climbing steep trails.
Hiking shoes are lightweight and flexible enough to move with your foot so that you don't feel like you're walking on hard rubber soles. They may have mesh panels underfoot to allow air circulation and keep your feet cool on hot days. Some models come with Gore-Tex linings that help keep water out while allowing moisture to escape so your feet stay dry even if they get wet while hiking through streams or mud puddles along the way!
Hiking shoes are available in many styles including low cut models that feel more like sneakers than traditional hiking boots; high top versions that provide extra ankle support; mid height options that offer comfort but don't look like running shoes; low profile designs
Best Shoes For Hiking Women
Best Women's Hiking Shoes of 2022
The best in lightweight hiking shoes: tested and reviewed by women, for women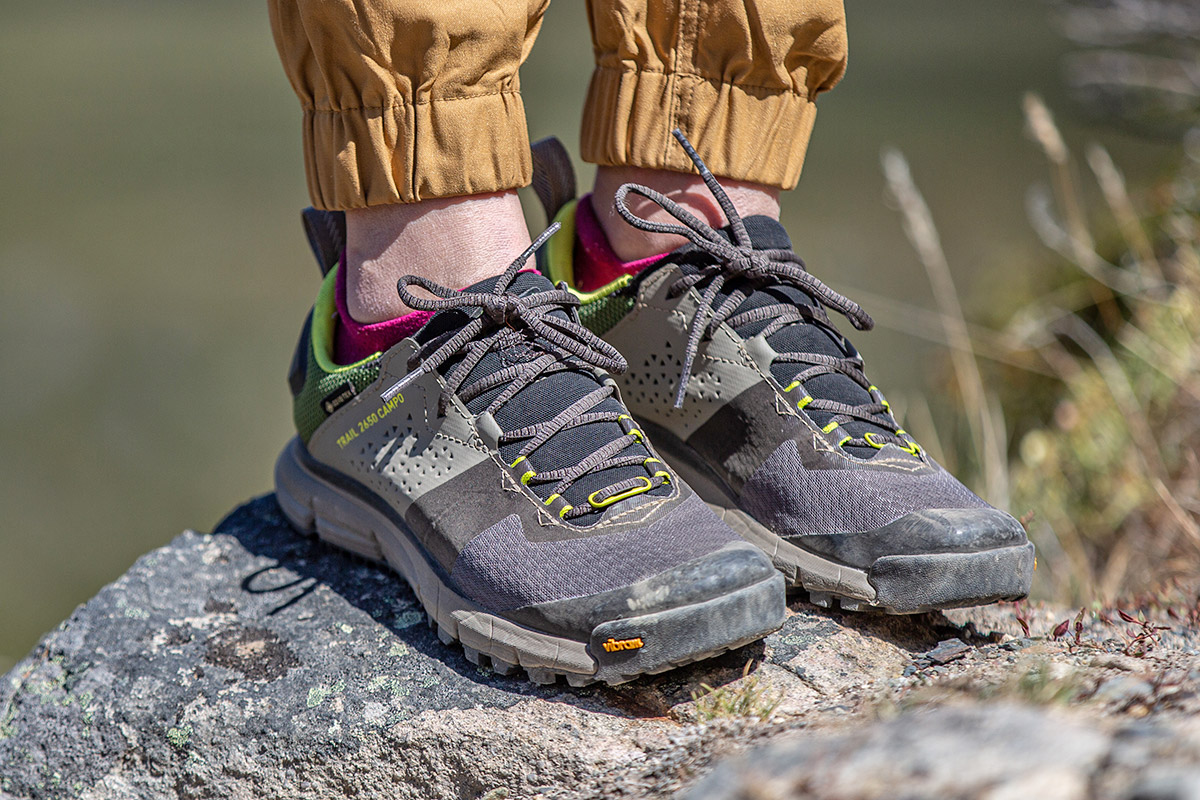 Whether you're setting out on a casual day hike or hitting the trail with overnight gear, there's a hiking shoe up for the task. Compared to traditional hiking boots, hiking shoes are characterized by their low-top design, which translates to less weight on your feet for covering ground quickly. To compile our top picks, the female editors at Switchback Travel took to the trail, testing out everything from heavy-duty leather hikers to cushioned trail runners and approach shoes originally intended for climbing. For more background information, see our women's hiking shoe comparison table and buying advice below the picks.


Best Overall Women's Hiking Shoe
1. Merrell Moab Speed Low ($130)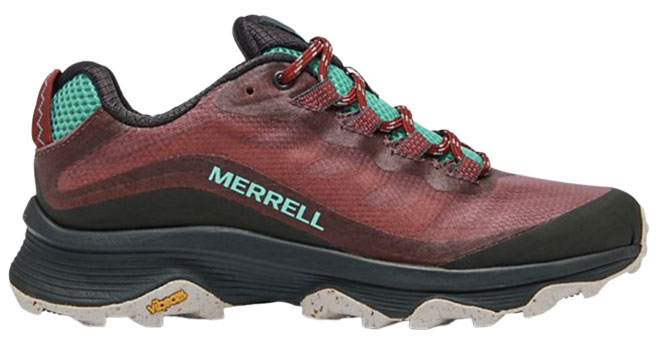 Category: Hiking shoe
Weight: 1 lb. 5 oz.
Waterproof: No (available)
What we like: Great on-trail performance in a lightweight build.
What we don't: Not the most supportive or durable option.
Merrell has long been a leader in hiking footwear, and this year their Moab Speed Low takes the cake as our top women's shoe. Bringing the much-loved Moab (below) into the modern era, the Speed Low features a lightweight and cushioned design that will appeal to day hikers and weight-conscious backpackers alike. And despite its trail-runner-esque appearance, the Merrell still offers a healthy amount of protection and support—including a generous toe and heel cap and firm midsole—along with a capable Vibram outsole. The end result is a hardwearing yet easy-to-wear hiking shoe that toes the line between weight-savings and on-trail performance better than most—and the price is right too at just $130.
The Moab Speed Low will get the job done for the majority of day hikers and ultralight backpackers, but keep in mind that it's far from the most supportive or durable shoe here. If you're headed out on technical terrain or with a heavy pack, models like the La Sportiva Spire and Moab 3 will offer noticeably more underfoot stability and isolation from the trail. On the other end of the spectrum, the Speed Low feels decidedly firmer and more planted than the even lighter Speedgoat below, although you don't get the Hoka's snug and sock-like feel (we noticed a bit of movement at the heel with the Merrells). In the end, it's a tall order to recommend a single shoe for a range of hikers and hiking venues, but the Speed Low nails the all-around equation and gets our top spot for 2022… Read in-depth review
Best Shoe for Backpacking and Technical Trails
2. La Sportiva Spire GTX ($199)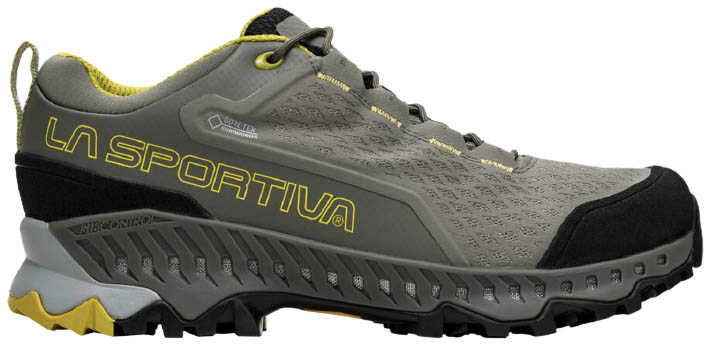 Category: Hiking shoe
Weight: 1 lb. 10.2 oz.
Waterproof: Yes
What we like: Incredible performance for everything from easy trails to scrambling.
What we don't: Heavy and pricey.
We hesitate recommending many of the shoes here for much more than hiking on established trails, but the burly La Sportiva Spire GTX is a notable exception. In short, the Spire is about as close to backpacking-ready as a hiking shoe gets—with a relatively high collar, La Sportiva goes so far as calling it a low-cut hiking boot. The thickly cushioned yet relatively stiff midsole offers a great balance of comfort, protection, and support, which comes in handy for high-mileage days and off-trail scrambling. Throw in excellent grip, good breathability (for a waterproof design), and the top-shelf quality we've come to expect from this Italian climbing brand, and you have one of the more capable hiking shoes on the market.
But the Spire isn't for everyone: At $199, it's the most expensive pick on this list, even topping the high-end Arc'teryx Aerios FL below. Second, with a rather stiff and heavy build (1 lb. 10.2 oz. for the pair), it's definitely more shoe than most day hikers need. Finally, the Spire is only offered in a waterproof version, which is great for early-season snow and colder weather, but is prone to overheating on mid-summer days at low elevation. Most day hikers will want to look elsewhere, but for backpackers and those frequently traveling off trail or above treeline in areas like the High Sierra or Colorado Rockies, the Spire offers an excellent combination of support, durability, and protection.
Best Lightweight/Cushioned Hiking Shoe
3. Hoka Speedgoat 5 ($155)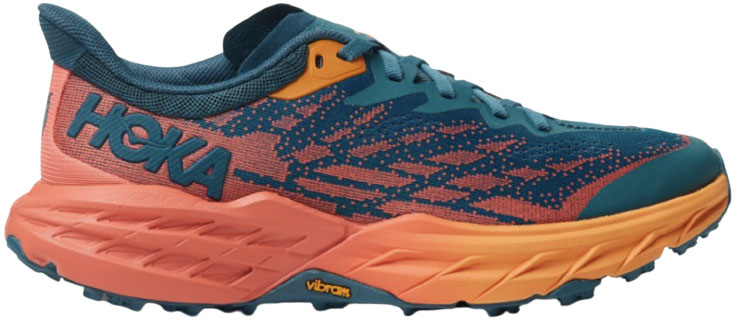 Category: Trail runner
Weight: 1 lb. 1 oz.
Waterproof: No
What we like: Extremely comfortable thanks to the thick cushioning and flexible construction.
What we don't: Tall stack height and soft midsole can result in instability.
Running brand Hoka is no stranger to trail-ready footwear, and their lightweight and cushioned designs have made a recent entrance into the hiking market. Built as a trail runner, the Speedgoat 5 has been adopted by the thru-hiking community as a durable, capable shoe that can meet the demands of hikers and minimalist backpackers alike. In true Hoka style, the Speedgoat features a super thick midsole that isolates you nicely from uneven terrain, and you still get ample firmness for covering serious ground. Following suit, the outsole is impressively grippy and—although non-traditional—we found ourselves really appreciating the athletic and sprightly feel of the rockered sole.
If you're thinking about going with a trail running shoe for hiking, there are a few important considerations to keep in mind. In terms of trail performance, you get far less protection from rocks and roots, and the flexible build translates to noticeably less stability on uneven ground (especially while carrying a load). And durability-wise, a minimalist shoe like the Speedgoat will pack out, abrade, and lose its cushion more quickly than a burly hiking-specific model. It's also worth noting that the fifth-gen Speedgoat features a softer midsole than the 4, along with a less durable upper (it is lighter and more breathable, however)—which benefits runners but isn't necessarily great news for hikers. That said, it's hard to argue with the myriad thru-hikers that routinely log 20-plus-mile days (with an overnight load) wearing the Speedgoat. For those that stick to the trail and travel light and fast, the Hoka is definitely worth a look. 
Best Budget Hiking Shoe
4. Merrell Moab 3 ($110)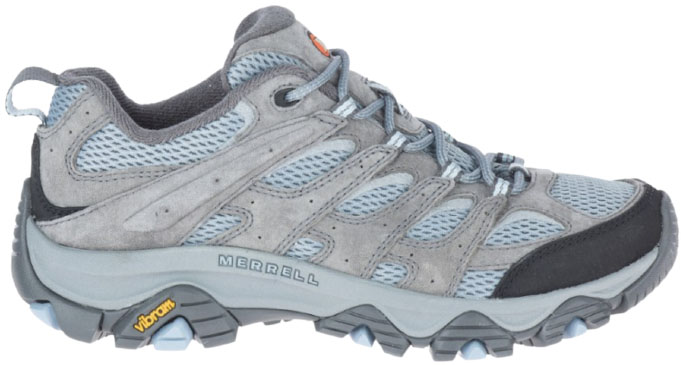 Category: Hiking shoe
Weight: 1 lb. 10 oz.
Waterproof: No (available)
What we like: A great all-around shoe for an affordable price.
What we don't: Heavy and not built for technical terrain.
For those that prefer a more traditional hiking shoe, there's a lot to love about the Moab 3 Ventilator. Merrell found a winning formula here, combining a comfortable fit with a sturdy yet lightweight feel—all for an affordable $110. The leather upper means you get a boost in protection and durability compared to synthetic designs like the Speed Low above, and mesh panels offer better ventilation than an all-leather model like the Oboz Sapphire below. All in all, the Moab 3 Ventilator is a hardwearing and time-tested solution for day hikers and casual overnighters alike.
While the Moab 3 checks all the boxes for moderate trails, the shoe is not meant for fast-paced or off-trail endeavors. On rocky and muddy trails, we've found that traction and stability fall short of grippier and closer-fitting designs like the Hoka Speedgoat above and Salomon X Ultra 4 GTX below. And despite clocking in well under 2 pounds, the Merrell is one of the heaviest shoes here and will feel clunky and cumbersome if you're used to a more trail runner-inspired design. But for folks that don't need cutting-edge performance, the Moab 3 is a wonderful hiking shoe with a long and reputable track record to back it up. Finally, Merrell also makes the Moab 3 Waterproof, which retails for $135 and checks in at a comparable 1 pound 11 ounces.
Best of the Rest
5. La Sportiva TX4 ($149)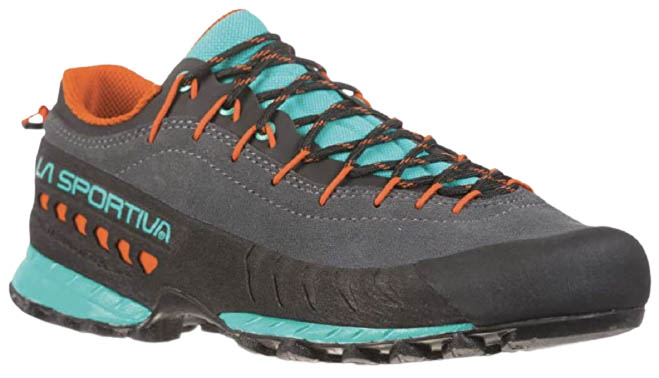 Category: Approach shoe
Weight: 1 lb. 4.8 oz.
Waterproof: No
What we like: Confidence-inspiring grip and protection in a lightweight package.
What we don't: Stiffer than most of the hiking shoes here.
Joining the Speedgoat above is another non-traditional hiker: La Sportiva's TX4. Despite the TX4's approach shoe designation, it's a fantastically tough and capable shoe that shines on off-trail terrain and is a favorite among both the hikers and climbers at Switchback Travel. A sticky Vibram sole means you get confidence-inspiring traction on rock, and the generous rubber rand and stiff midsole provide critical protection and stability while boulder hopping or scrambling up slabs. To top it off, we've been particularly blown away by the TX4's leather upper, which has withstood an incredible amount of abuse with no signs of wearing down (you'll likely need a resole long before the upper starts to deteriorate).
However, while the TX4 is ideal if you're tackling a mix of cross-country and on-trail travel, it wouldn't be our first choice as a dedicated trail shoe. For one, it's a bit stiffer than most other options here (especially when compared to trail runners like the Speedgoat above), which will start to wear on you at mile 20 of 25. Second, while the dotty tread is incredible on rock (and surprisingly snow, too), it doesn't bite as well into dirt or mud as the sharp lugs of a true hiking model. If you like the look and feel of the TX4 but want something a little different, check out the mesh TX3 and TX Guide, the latter of which features a narrower, more cushioned build with the same climbing-inspired sole… Read in-depth review 
6. Scarpa Rush Low GTX ($189)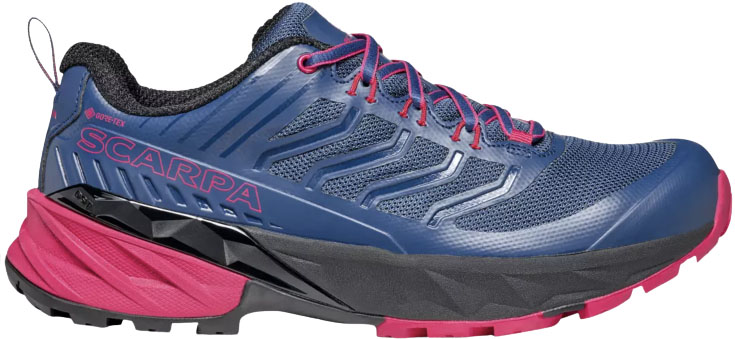 Category: Hiking shoe
Weight: 1 lb. 7.3 oz.
Waterproof: Yes (non-GTX available)
What we like: Great combination of stability and cushion; durable and protective for a synthetic shoe.
What we don't: Expensive; low collar limits ankle support.
The Rush Low GTX might have the appearance of a running shoe, but Scarpa's newest trail offering is a capable hiker that delivers excellent performance on even the trickiest of terrain. You get a durable fabric upper with welded reinforcements, burly midsole with EVA foam and TPU reinforcements for cushion and stability (we've found the Rush to be overall stiffer and more cushioned than the X Ultra 4 below), and a sticky outsole with a rockered profile that facilitates quick movements. To top it off, a Gore-Tex membrane keeps your feet protected from the elements (the shoe is also offered in a non-GTX version). All told, it's a robust hiking shoe that offers much of the performance and durability of a leather design in a lighter and more nimble package.
We've worn the Rush Low for everything from day hikes in Patagonia to climbing approaches in Zion, and much prefer it to the newest X Ultra (below): The fit is more accommodating in the midfoot without being too roomy in the forefoot, and the combination of stability and cushion is far superior to the Salomon's rigid heel and flexible midfoot. But there are a few downsides: The Rush Low GTX is undeniably pricey at $189 (the non-waterproof version is $159) and there have been issues with inventory since its release. Further, the collar rides fairly low, resulting in less ankle support than shoes like the La Sportiva Spire above and X Ultra 4 below, and the thick tongue is reminiscent of gym shoes of yore. But the Scarpa nevertheless offers some of the best on-trail performance and comfort of any model here… Read in-depth review

7. Altra Lone Peak 6 ($140)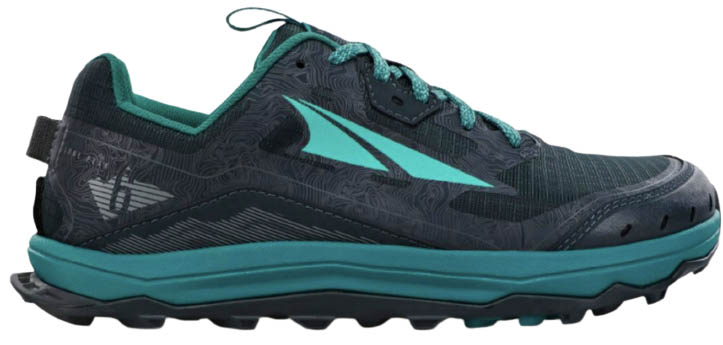 Category: Trail runner/hiking shoe
Weight: 1 lb. 1.4 oz.
Waterproof: No (available)
What we like: Super light, cushioned, and wildly comfortable.
What we don't: Durability issues; roomy fit lacks performance on technical terrain.
If you think the Lone Peak looks more like a trail runner than a hiking shoe, you're not mistaken. Like the Speedgoat above, Altra's high-cushion, zero-drop Lone Peak was designed first as a running shoe and has since won the hearts of thru-hikers with its minimalist-yet-tough build. In place of the stiff midsole and burly rubber common among many traditional designs, the Lone Peak uses thick cushioning to isolate your foot from uneven terrain, resulting in a shoe that's both lightweight and protective. It's also wildly comfortable with Altra's trademark zero-drop design and extra wide toe box—in fact, this is the shoe we recommend most for hikers that regularly suffer from hot spots and blisters.
Among thru-hikers, the Lone Peak's biggest competitor is the Speedgoat above. With the Lone Peak, you get a lighter feel and trail-ready features like an integrated stone guard, built-in drainage ports, and gaiter trap. The Altra's shorter stack height also puts you closer to the trail, which increases stability for many hikers (the Hoka can feel a little tippy and harder to trust on rocky terrain). But as with many minimalist options, we've had durability issues with various iterations of the Lone Peak (the rubber toe cap has a tendency to peel away from the upper), and the roomy toe box and zero-drop shape can detract from precision and stability. In the end, both the Altra and Hoka are legendary in their own right, and a final decision will likely come down to preferences on fit and cushioning.
8. Salomon X Ultra 4 GTX ($150)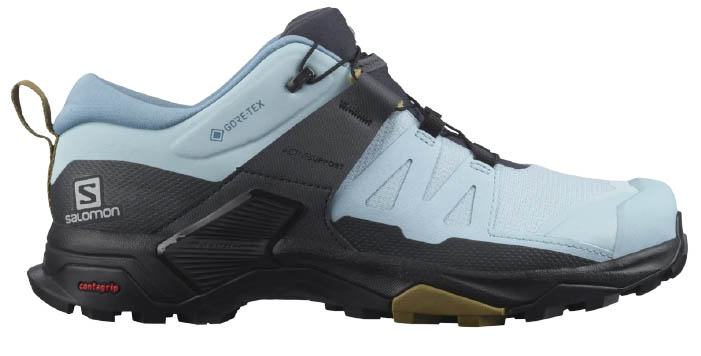 Category: Hiking shoe
Weight: 1 lb. 9.6 oz.
Waterproof: Yes (non-GTX available)
What we like: Great on-trail performance in a lightweight build.
What we don't: Strange fit and odd underfoot feel.
Salomon's X Ultra has been one of our favorite hiking shoes for years running, offering an exceptional combination of comfort, on-trail performance, and durability for everything from casual day hikes to long overnight missions. Last year, they released an update to the much-loved shoe in the X Ultra 4 here. Beyond its sleeker and more modern look, the X Ultra 4 features a revised lacing system and chassis, along with a wider fit in the toe box. Importantly, the shoe retains the outgoing version's fantastic mix of agility, durability, and protection, and there's enough cushioning underfoot for full days with a loaded pack. Finally, at 1 pound 9.6 ounces (our size 8.5 clocked in at 1 lb. 7.6 oz.), it's also a close match to its predecessor in terms of weight.
The X Ultra has held our top spot for years running, but we were forced to reconsider after thoroughly testing the most recent version. In short, we're not huge fans of the 4's fit, which features a narrow midfoot along with a very spacious forefoot. For some, this offers a locked-down feel but perhaps too roomy of a toe box; for others (ourselves included), it's ideal in the forefoot but too tight at the arch. Further, we found the X Ultra 4 to have an odd combination of stiffness in the heel and flexibility in the midfoot, which can result in sore feet. These differences are enough for us to hesitate in moving the updated shoe any higher on our list, but if you can try it on before you purchase (and it fits), the latest X Ultra is undeniably a high-performance, quality option… Read in-depth review
9. Danner Trail 2650 ($190)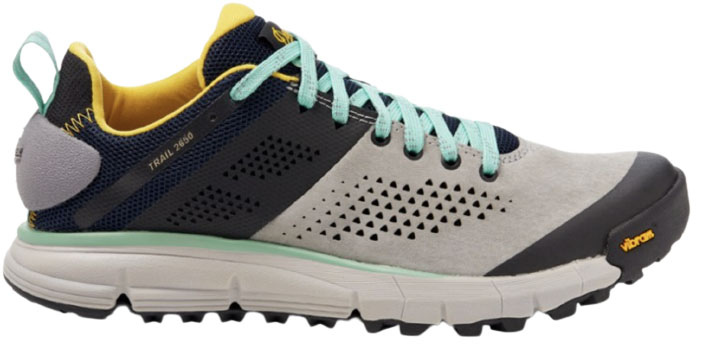 Category: Hiking shoe
Weight: 1 lb. 2 oz.
Waterproof: No (available)
What we like: Light and nimble without sacrificing protection or traction.
What we don't: Expensive, ungainly heel counter, and not the most stable shoe here.
Danner originally was known for its work boots, but the long-time footwear brand has made a nice transition to hikers of late. And the running shoe-inspired Trail 2650 is clear about its intentions: with the mileage of the Pacific Crest Trail in its name, this shoe is designed to tackle some serious ground. The Trail 2650 is comfortable right out of the box, grippy with a Vibram outsole, and competitively light (especially for a partial-leather design) at 1 pound 2 ounces per pair. Finally, it manages to do what most hiking shoes don't: look good in the process. All in all, we're impressed with the direction that Danner is headed, and the Trail 2650 lineup has received rave reviews (from us included) since its release a few years back.
The version of the Trail 2650 included here isn't waterproof, but Danner also makes a GTX model for $210 and 1 pound 5 ounces per pair, along with a Mid GTX ($220) for those who want more ankle protection. It's also worth noting the Danner Trail 2650 Campo—our favorite design for hot-weather hiking—which tones down the rubber heel counter (one of our nitpicks with the standard model), adds a lightweight mesh liner and sock-like construction, and knocks $10 off the price. Don't expect a high level of stability from any of the shoes in the Trail 2650 series—we hesitate to wear them with a heavy pack—but for day hiking and ultralight backpacking, they're solid all-rounders that are built to last… Read in-depth review
10. Hoka Anacapa Low GTX ($170)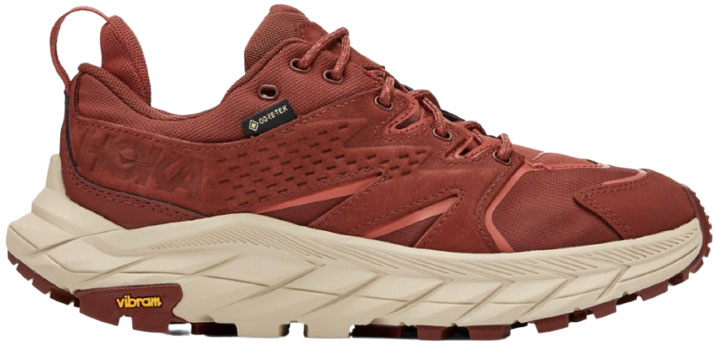 Category: Hiking shoe/trail runner
Weight: 1 lb. 8 oz.
Waterproof: Yes
What we like: Extremely comfortable, great lacing system and fit, and smooth ride.
What we don't: Some outsole durability issues and polarizing looks.
The Hoka Speedgoat above has achieved legendary status among hikers (specifically the thru-hiking community), but there are some notable tradeoffs with the trail-running design. For those who want a bit more support and protection, Hoka also offers an impressive lineup of hiking-specific footwear, including the Anacapa Low here. The Anacapa (also available in a mid-height version) features Hoka's well-known springy midsole, a rockered shape for a smooth ride on the trail, and a beefed-up construction that includes durable nubuck leather and a Gore-Tex waterproof liner. The result is a fast-moving shoe that nicely mixes a trail runner-like feel with the added structure of a hiker.
Our main concern with the Anacapa is durability and, more specifically, the longevity of its outsole. The majority of the tread is quality Vibram rubber, but Hoka incorporated large sections of blown rubber in the middle of the design. Blown rubber is common on road running footwear and is almost foam-like in feel. As a result, our pair has already received pretty significant damage from rocky trail use. Further, some hikers might want their feet closer to the ground, although we've been surprised by the Anacapa's stable (read: not tippy) feel. And finally, we'd be remiss not to point out that the Hoka aesthetic isn't for everyone. But if you stick mostly to established trails and prioritize cushy comfort and a nimble feel, the Anacapa is well worth a try.
11. Adidas Terrex Swift R3 GTX ($160)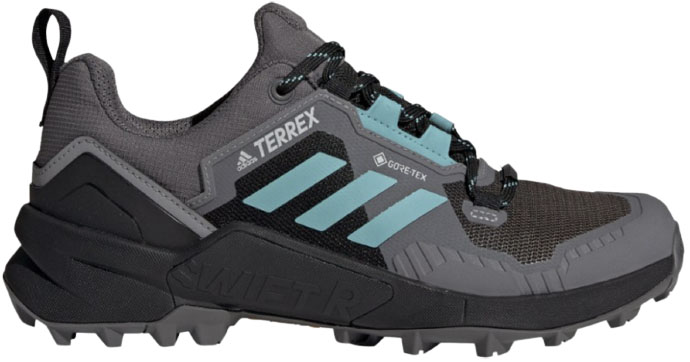 Category: Hiking shoe
Weight: 1 lb. 8 oz.
Waterproof: Yes (non-GTX available)
What we like: Tough, supportive, and protective for the weight.
What we don't: Stiff and difficult to break in.
Adidas has expanded its hiking footwear line substantially in recent years, and the updated Terrex Swift R3 GTX is very capable on the trail. The sleek design is reminiscent of a Salomon shoe, and at 1 pound 8 ounces for the pair, the R3 GTX is relatively competitive weight-wise, too. The sole feels like a hiking boot, toe and protection around the side of the foot are impressive (similar to designs like the Spire above and Cross Hike below, the collar is fairly high for a low-top shoe), and the Gore-Tex lining is waterproof without feeling swampy. That's a winning formula for Adidas and has made the Terrex line quite popular.
Why is the Adidas Terrex Swift R3 ranked here? We found the shoe to be on the stiff side—it loosened up a bit after a couple of days of backpacking in Utah's Canyon Country, but the break-in period wasn't fun and the stiffness remains noticeable. On the bright side, the rigidity translates to more support underfoot (especially helpful on tricky terrain or when carrying a load), and the Swift R3 is a noticeable savings compared to the similarly robust Spire above. But for greater comfort and versatility for the odd section of trail running, many will prefer the more flexible Cross Hike, which also features Salomon's convenient Quicklace closure. In the end, the Swift R3 falls a bit short of the competition, but it's nevertheless a capable and time-tested hiker.
12. Arc'teryx Aerios FL GTX ($170)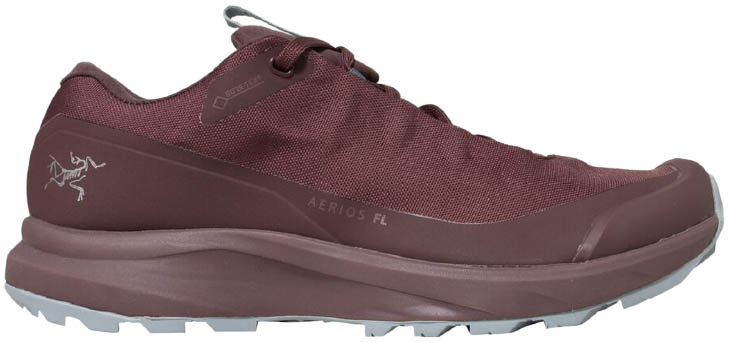 Category: Hiking shoe/trail runner
Weight: 1 lb. 5.2 oz.
Waterproof: Yes
What we like: Light, tough, and extremely well-built.
What we don't: Pricey, on the stiffer side, and runs narrow.
Arc'teryx has been experimenting with footwear for years, from the Bora2 hiking boots to the Norvan trail runners. But until recently, the legendary Canadian brand had yet to release a true hiking shoe. Enter the Aerios FL, which is super lightweight at just a pound-and-a-half per pair, waterproof with a Gore-Tex membrane, and tough with a burly toe cap and a large swath of TPU around the bottom portion. All told, the Aerios is lighter than most hiking shoes, more protective than a trail runner, and more comfortable than the average approach shoe. For these reasons, it's our favorite pair of Arc'teryx hiking footwear to date.
We tested the Aerios FL on the Grand Canyon's multi-day Escalante Route, which included off-trail scrambling with a loaded pack. The shoe felt a bit stiff at first—particularly under the heel—but it broke in nicely and ended up being comfortable during long days on the trail. In true Arc'teryx form, durability is excellent (we've been very impressed with the Cordura mesh upper in a number of their designs), and the generous toe cap adds a noticeable boost in protection. It all adds up to an impressively capable design that undercuts most of the hiking-specific competition in weight. However, the Aerios FL isn't cheap at $170, and keep in mind that Arc'teryx shoes run noticeably narrow (one of our female testers has struck out with Arc'teryx shoes for this reason).
13. Salomon OUTpulse Low GTX ($140)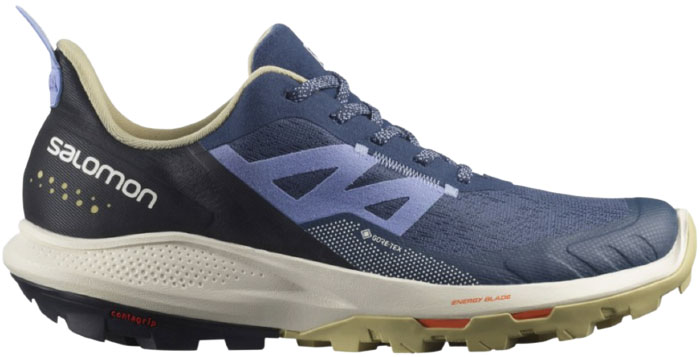 Category: Hiking shoe
Weight: 1 lb. 5.2 oz.
Waterproof: Yes (non-GTX available)
What we like: Lightweight, agile, and grippy, with great crossover appeal.
What we don't: Doesn't stand out in support or durability.
There's no shortage of Salomon offerings on this list, but the OUTpulse Low GTX is a favorite among our female staff team. With a hiking-shoe-meets-trail-runner build, the OUTpulse has appeal for everything from long day hikes to shorter trail runs. It's slightly lighter than the X Ultra 4 GTX above at 1 pound 5.2 ounces, and forgoes some of the X Ultra's stability and cushion with a softer and more streamlined midsole. The end result is a nimble and responsive shoe that still offers a step up in support and traction from trail runners like the Hoka Speedgoat or Altra Lone Peak above.
But while the OUTpulse Low GTX will get the job done for carrying a light pack on established trails, we don't recommend the shoe for particularly technical terrain or overnight loads. Comfort will start to suffer if the shoe is pushed too far, resulting in tired feet and sore ankles. What's more, the thin, knit-like upper won't hold up to heavy use, and we question the efficacy of pairing a waterproof membrane with such a low-profile design (water can easily get in at the ankle). But we're big fans of the OUTpulse for moving quickly on easy trails, and with a low weight and modern looks, it has great crossover appeal as well. 

14. La Sportiva Ultra Raptor II ($155)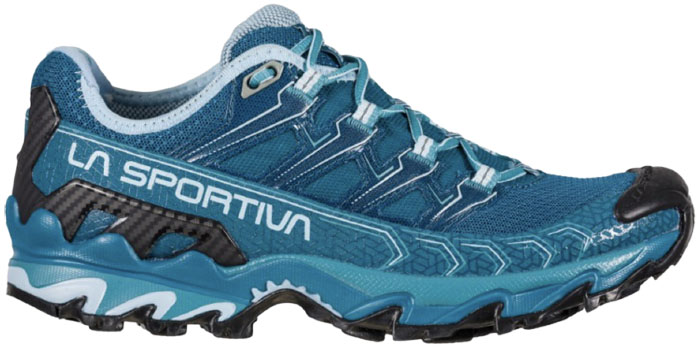 Category: Trail runner/hiking shoe
Weight: 1 lb. 4.8 oz.
Waterproof: No (available)
What we like: Incredibly capable in mountain terrain, including top-notch protection and grip.
What we don't: Relatively stiff and clunky; mesh upper retains water.
La Sportiva bills their Ultra Raptor as a mountain running shoe, but we're big fans of this design for hikers venturing above treeline on rugged trails or cross-country terrain. Now in its second iteration, the Ultra Raptor II provides chart-topping protection against rocks and roots by way of generous toe and heel caps and a full-length rock plate, along with incredible grip on everything from mud and loose talus to boulders and snow. Ample cushion makes the shoe comfortable enough to wear all day, and a sock-like construction keeps the foot snug while sealing out trail debris. For high routes, climbing approaches, and peak bagging, the Ultra Raptor gives Sportiva's Spire and TX4 shoes above a run for their money in terms of protection, support, and durability.
But for all the Ultra Raptor's strengths, it's not our shoe of choice for most trails. Compared to most trail runner-inspired designs, the Sportiva is rather stiff and clunky, and the rigid TPU heel counter is known to cause discomfort in the heel for some. Second, although the Ultra Raptor is built with a mesh upper, it has a tendency to absorb rather than drain water, which makes for a heavy shoe after creek or snow crossings. But the Ultra Raptor is an incredibly capable shoe for technical mountain terrain, and the fun updated colorways certainly don't hurt.
15. KEEN Targhee Vent ($155)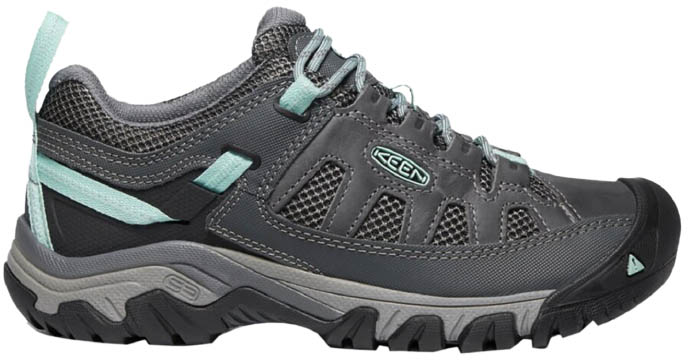 Category: Hiking shoe
Weight: 1 lb. 8.7 oz.
Waterproof: No (available)
What we like: A durable trail workhorse.
What we don't: Pricier than the Merrell Moab above without enough to show for it.
KEEN's Targhee Vent is a classic hiking shoe that goes head-to-head with designs like Merrell's Moab 3 above. The leather upper and sturdy outsole aren't particularly lightweight (especially compared to modern trail runner-inspired designs), but the benefits are excellent stability over rough terrain, great long-term durability, and impressive all-around protection for your foot. The Targhee also boasts a noticeably wide toe box, which is great for accommodating swollen feet and a nice alternative to some of the narrower designs here (those with lower-profile feet might be better off with KEEN's women's-specific Terradora). If you're in the market for a leather hiking shoe, KEEN's Targhee Vent is certainly worth adding to your list.
Among traditional day hiking options, the KEEN Targhee Vent and Merrell Moab 3 are two of the most popular shoes on the market. Both are very comfortable right out of the box, offer plenty of support and traction for non-technical trails, and can even get the job done on shorter backpacking trips. But while the Targhee's nubuck leather upper is a little more durable than the mesh used on the Moab, we're not sure it's worth the $45 bump. Further, within this price class, the KEEN contends with more modern designs like the Salomon X Ultra 4 above, which offers a closer fit and better performance overall. But for traditionalists looking for a true leather hiker, it doesn't get much better than the Targhee, which also comes in a waterproof version for $165.
16. Salomon Cross Hike GTX ($160)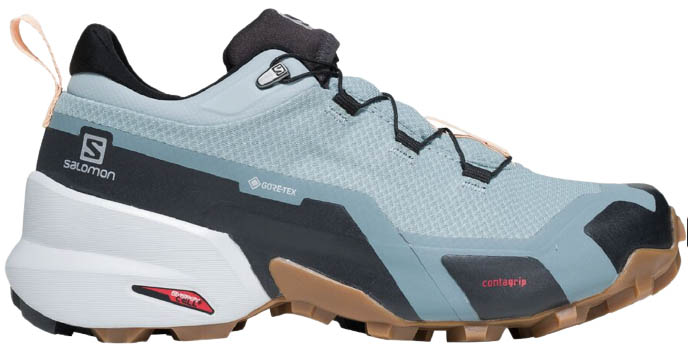 Category: Hiking shoe
Weight: 1 lb. 6.9 oz.
Waterproof: Yes
What we like: A sprightly hiking shoe with impressive grip on soft terrain.
What we don't: Less durable than the X Ultra and subpar traction on wet rock.
If you haven't yet noticed a trend in our picks, the Salomon Cross Hike should make things abundantly clear. Gone are the days of hitting the trail in leather clunkers—trail-runner-inspired hiking shoes have all but taken over. And the Cross Hike is about as purpose-built as it gets: Salomon took their Speedcross running shoe (a popular choice for mountain terrain), beefed up the protection and support, and lowered the stack height for greater stability. The result is a shoe that's light and speedy on the trail but robust enough to tackle everything from third-class scrambling to hauling an overnight load.
The relatively new Cross Hike joins the X Ultra (and plenty of others) in Salomon's lineup and slots in as a slightly lighter and nimbler option for those who love to move fast. That said, we found it to be less stable—not great news for new hikers or if you're carrying a lot of weight—and a step down in all-out durability (the upper started to delaminate after some rough use). Finally, while the Cross Hike's sharp lugs bite nicely into soft terrain, traction does suffer on smooth, slippery surfaces like wet rocks. In the end, the Cross Hike is a step up in overall performance from a trail runner like the Speedgoat above and a better match for moving quickly on technical trails, but we'll stick with the $10-cheaper X Ultra 4 for more demanding hiking and backpacking.
17. Brooks Cascadia 16 ($130)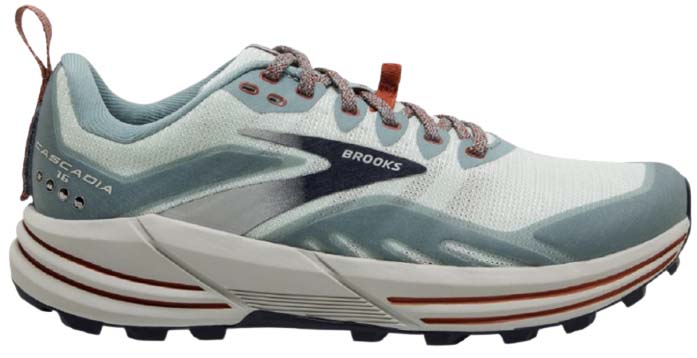 Category: Trail runner
Weight: 1 lb. 3 oz.
Waterproof: No
What we like: A classic thru-hiking shoe that offers a bit more stability than the Speedgoat above.
What we don't: Fairly dated and fit will be too roomy for some.
Now in its 16th iteration, the Brooks Cascadia is one of the longest-standing trail runners on the market and particularly popular in the thru-hiking community. Like the Speedgoat and Lone Peak above, this shoe bridges the gap for speed-focused hikers with the support and protection you need for rugged trails alongside a hefty dose of cushioning for long days out. And at only 1 pound 3 ounces for the pair, it won't weigh you down as much as the hiking-specific shoes here. Recent iterations of the Cascadia have started to feel really dated compared to the more modern trail runner competition, but the "16" is a nice middle ground for hikers looking for an effective balance of agility and stability.
How does the Cascadia compare with another darling of the thru-hiking world, the Altra Lone Peak above? Both offer a nice array of trail-ready features like tacky and aggressive rubber outsoles, drainage ports in the upper, and attachment points for gaiters. Fit is also surprisingly similar—both shoes feature fairly roomy toe boxes that are great for accommodating swollen toes (if your feet are on the narrow side, it might be worth considering the Speedgoat instead). One key difference is the Altra's zero-drop shape compared with the Cascadia's more traditional 8-millimeter drop, which is ultimately a matter of personal preference (but it does mean the Altra has more cushioning, especially under the forefoot).
18. Oboz Sapphire Low Waterproof ($140)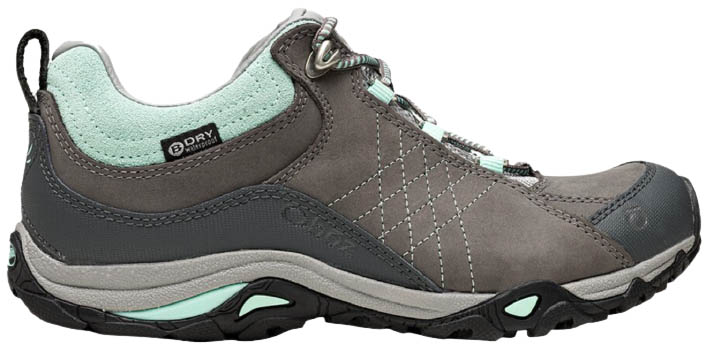 Category: Hiking shoe
Weight: 1 lb. 8.6 oz.
Waterproof: Yes
What we like: Comfortable and great crossover appeal.
What we don't: Stiff and some might find the heel too narrow.
If you're wary of outdoor brands' "shrink it and pink" tendencies, the women's-only Oboz Sapphire is a nice solution. Combining feminine contours and tailoring with a waterproof, breathable design, the Sapphire holds its own both on and off the mountain. You get a tailored fit that reduces bulk and looks great for casual use, excellent stability with a nice combination of TPU and EVA foam in the midsole, and a long-lasting and protective nubuck leather upper. Taken together, the Sapphire is a high-quality, versatile hiking shoe, whether you're above treeline or grabbing a post-hike beer in town.
Women with hard-to-please feet will likely appreciate the accommodating toe box of the Sapphire, but the narrow heel won't work for everyone. The shoe also lacks that locked-in feel you get with top performers like the Salomon X Ultra or La Sportiva Spire above, pushing it down our list for serious trail endeavors. Finally, the Sapphire feels stiffer and clunkier than more modern designs, and the Swiftcurrent outsole isn't as grippy as blends from Vibram or Contagrip (on the other hand, it lends more durability for use on pavement). Compared to Oboz's Sawtooth (no longer featured on this list), the Sapphire has more crossover appeal but less protection and support overall. Finally, it does not come in a non-waterproof model, limiting its appeal for true summer use. 
19. Merrell Siren Edge 3 ($110)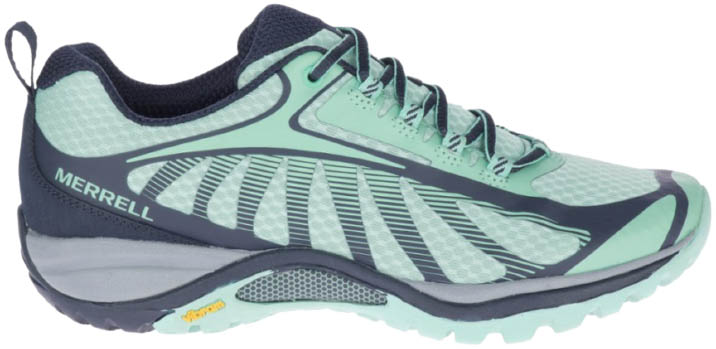 Category: Hiking shoe
Weight: 1 lb. 2 oz.
Waterproof: No (available)
What we like: A sturdy and durable hiking shoe for just $105.
What we don't: Sole is too firm; poor traction on wet surfaces.
Slotting in toward the bottom of our list is the Merrell Siren Edge 3. Like the Oboz Sapphire above, this shoe is designed specifically with women in mind, and has been a crowd favorite for years (it's now in its third iteration). Unlike the plush Salomon and Oboz, the Merrell streamlines its design, opting for minimal cushioning and a fairly sleek upper that result in great crossover appeal. But with robust materials, a stable heel cup, and a nylon shank, the Siren Edge is also surprisingly hardwearing, supportive, and protective on the trail. On paper, it's a fairly impressive and versatile shoe, and the price is right at just $110 (and $120 for the waterproof version).
But after testing the Siren Edge during multiple day hikes, we hesitate to give it our wholehearted recommendation. Although the shoe offers fantastic stability and durability for the weight, the main tradeoff is comfort: The stiff materials (notably underfoot) resulted in significant foot pain, even after the break-in period. The design also translates to a rather clunky feel—the Siren Edge is much less nimble and flexible than similarly lightweight shoes like the Hoka Speedgoat above. And finally, its shallow and rounded lugs don't provide great hold on soft terrain like mud and wet leaves. But if you're looking to save some hard-earned cash and aren't deterred by the Merrell's weaknesses, the Siren Edge is a durable and lightweight option with great crossover appeal…
Women's Hiking Shoe Comparison Table
| SHOE | PRICE | CATEGORY | WEIGHT | WATERPROOF | UPPER |
| --- | --- | --- | --- | --- | --- |
| Merrell Moab Speed Low | $130 | Hiking shoe | 1 lb. 5 oz. | No | Synthetic/mesh |
| La Sportiva Spire GTX | $199 | Hiking shoe | 1 lb. 10.2 oz. | Yes (Gore-Tex) | Mesh |
| Hoka Speedgoat 5 | $155 | Trail runner | 1 lb. 1 oz. | No | Mesh |
| Merrell Moab 3 | $110 | Hiking shoe | 1 lb. 10 oz. | No (available) | Leather/mesh |
| La Sportiva TX4 | $149 | Approach shoe | 1 lb. 4.8 oz. | No | Leather |
| Scarpa Rush Low GTX | $189 | Hiking shoe | 1 lb. 7.3 oz. | Yes (Gore-Tex) | Synthetic/mesh |
| Altra Lone Peak 6 | $140 | Trail runner/hiking shoe | 1 lb. 1.4 oz. | No (available) | Synthetic/mesh |
| Salomon X Ultra 4 GTX | $150 | Hiking shoe | 1 lb. 9.6 oz. | Yes (Gore-Tex) | Synthetic |
| Danner Trail 2650 | $190 | Hiking shoe | 1 lb. 2 oz. | No (available) | Leather/mesh |
| Hoka Anacapa Low GTX | $170 | Hiking shoe/trail runner | 1 lb. 8 oz. | Yes (Gore-Tex) | Leather |
| Adidas Terrex Swift R3 GTX | $160 | Hiking shoe | 1 lb. 8 oz. | Yes (Gore-Tex) | Synthetic |
| Arc'teryx Aerios FL GTX | $170 | Hiking shoe/trail runner | 1 lb. 5.2 oz. | Yes (Gore-Tex) | Synthetic |
| Salomon OUTpulse Low GTX | $140 | Hiking shoe/trail runner | 1 lb. 5.2 oz. | Yes (Gore-Tex) | Synthetic |
| La Sportiva Ultra Raptor II | $155 | Trail runner/hiking shoe | 1 lb. 4.8 oz. | No (available) | Mesh |
| KEEN Targhee Vent | $155 | Hiking shoe | 1 lb. 8.7 oz. | No (available) | Leather |
| Salomon Cross Hike GTX | $160 | Hiking shoe | 1 lb. 6.9 oz. | Yes (Gore-Tex) | Synthetic |
| Brooks Cascadia 16 | $130 | Trail runner | 1 lb. 3 oz. | No | Synthetic |
| Oboz Sapphire Waterproof | $140 | Hiking shoe | 1 lb. 8.6 oz. | Yes (B-Dry) | Leather |
| Merrell Siren Edge 3 | $110 | Hiking shoe | 1 lb. 2 oz. | No (available) | Mesh |

Women's Hiking Shoe Buying Advice
Women's-Specific Hiking Shoes
Hiking Footwear Types
Weight
Stability and Support
Waterproofing
Breathability
Lacing Systems
Upper Materials
Midsoles: EVA Foam and TPU
Outsoles and Traction
Toe Protection
Insoles
Hiking Shoes vs. Hiking Boots

Women's-Specific Hiking Shoes
In 2022, the vast majority of hiking shoes come in both men's and women's versions. In general, women's shoes are designed to fit narrower heels and higher arches, come in women's-specific sizes and widths, and are offered in a different set of colorways. There are also a few hiking shoes that were designed specifically with women in mind, including the Oboz Sapphire, Salomon Vaya, and Merrell Siren Edge. While the majority of our female friends wear women's shoes, it's important to note that some women might be better off opting for a men's model (this is particularly important for those with high-volume feet). As with all clothing and footwear, your best bet is to try on before buying.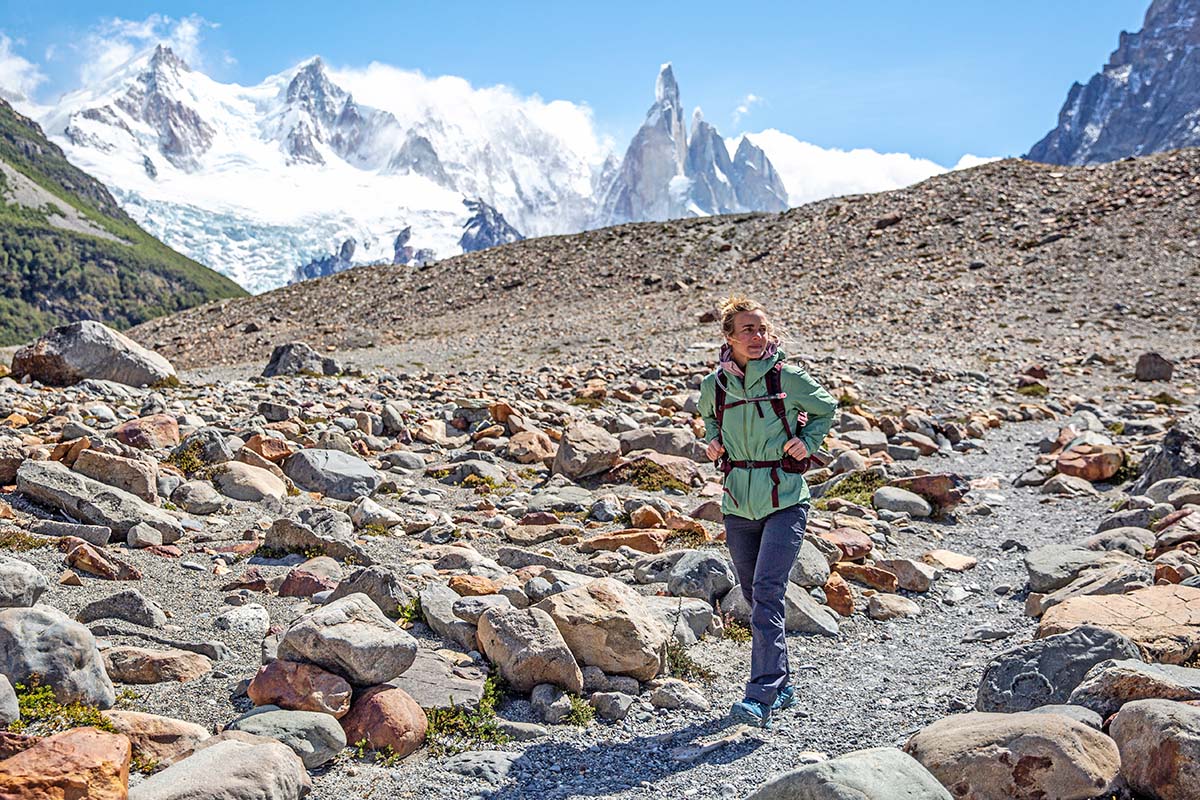 Hiking Footwear Types
Hiking Shoes
For most day hikers—and even a good number of backpackers and thru-hikers—a hiking shoe that falls just below the ankle is the perfect match. In 2022, these shoes generally take on one of two forms: the majority are lightweight, trail-runner-inspired shoes, while more traditional holdouts are leather designs reminiscent of a hiking boot (but with a low top). Regardless of the style, most of these shoes offer ample stability, protection, and traction for tackling rough trails with a load by way of stiff midsoles and outsoles, toe caps, and reinforced uppers. Hiking shoes also are great options for folks needing a substantial shoe for daily wear—just be aware that the outsoles will wear faster on pavement.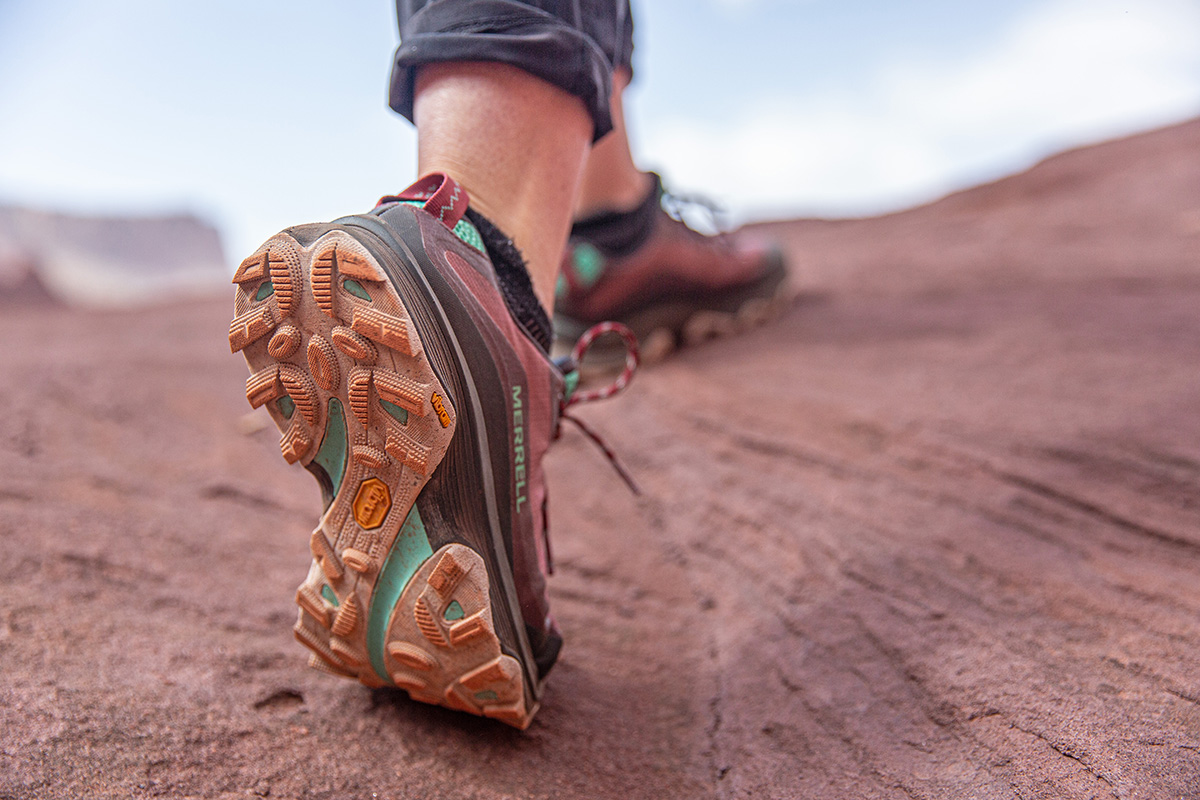 Trail Running Shoes
If moving fast trumps all else, we'd recommend a trail running shoe. These shoes are gaining popularity for being the ultimate lightweight option and beloved among thru-hikers on long trails like the PCT and AT. However, trail runners are really not intended as backpacking footwear: the flexible midsoles don't provide much support on technical terrain or while carrying a heavy load, durability suffers, and you get very little toe and underfoot protection. But for easy day hikes or experienced backpackers, it's hard to knock the comfort you get with a flexible build and cushioning underfoot. We include some great trail running and hybrid options here, but you can find more of our picks in our article on the best trail running shoes.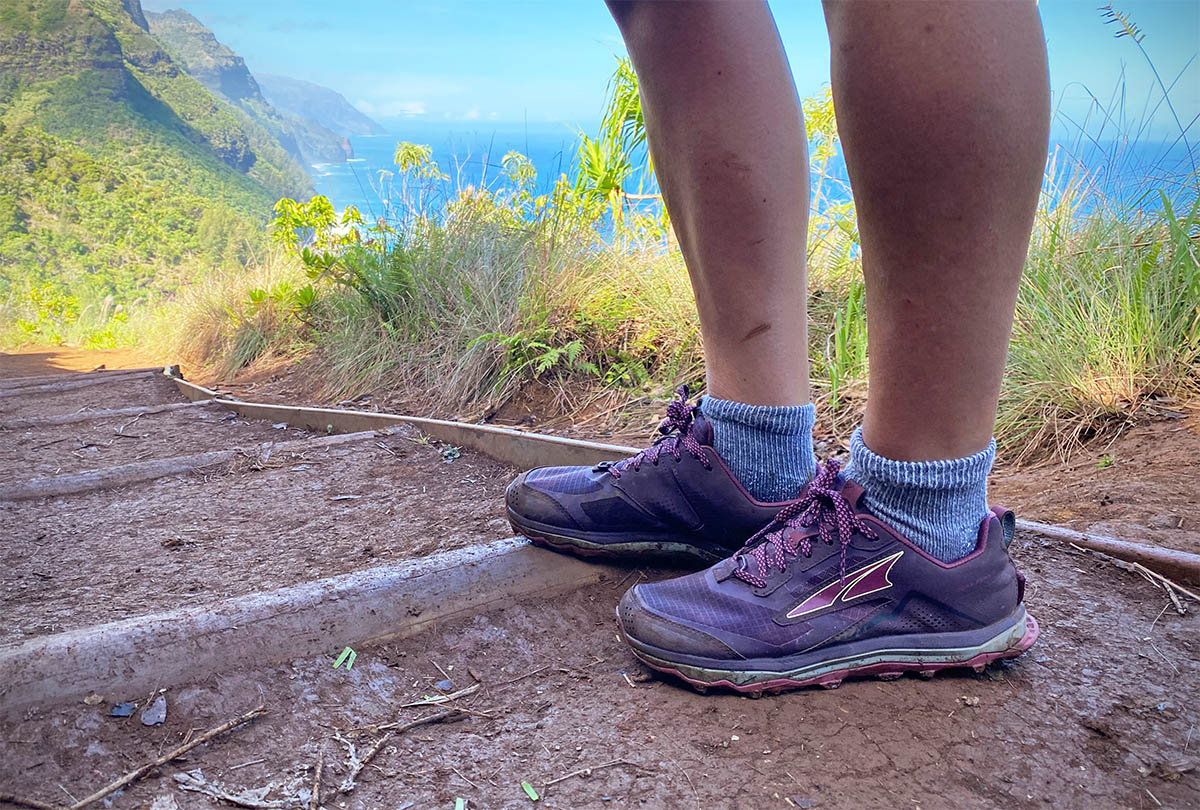 Approach Shoes
The third option has a relatively narrow focus: climbers or hikers that need a grippy shoe to tackle steep, rocky terrain (often part of the "approach" to a rock climb). Approach shoes are easy to spot: they have a large rubber toe rand, to-the-toe lacing, and a sticky, low-profile rubber compound underfoot for maximum grip on rock (look for shorter and more rounded lugs). These shoes can be plenty comfortable on day hikes but aren't what we typically recommend as a daily driver: the tread isn't as secure on muddy trails, and they're stiffer than most hiking shoes, which will result in discomfort on high-mileage days. But if your hikes include a lot of scrambling or rock hopping, an approach shoe can be an excellent choice. We've included one model on this list (the La Sportiva TX4), but for a complete look at the market, check out our article on the best approach shoes.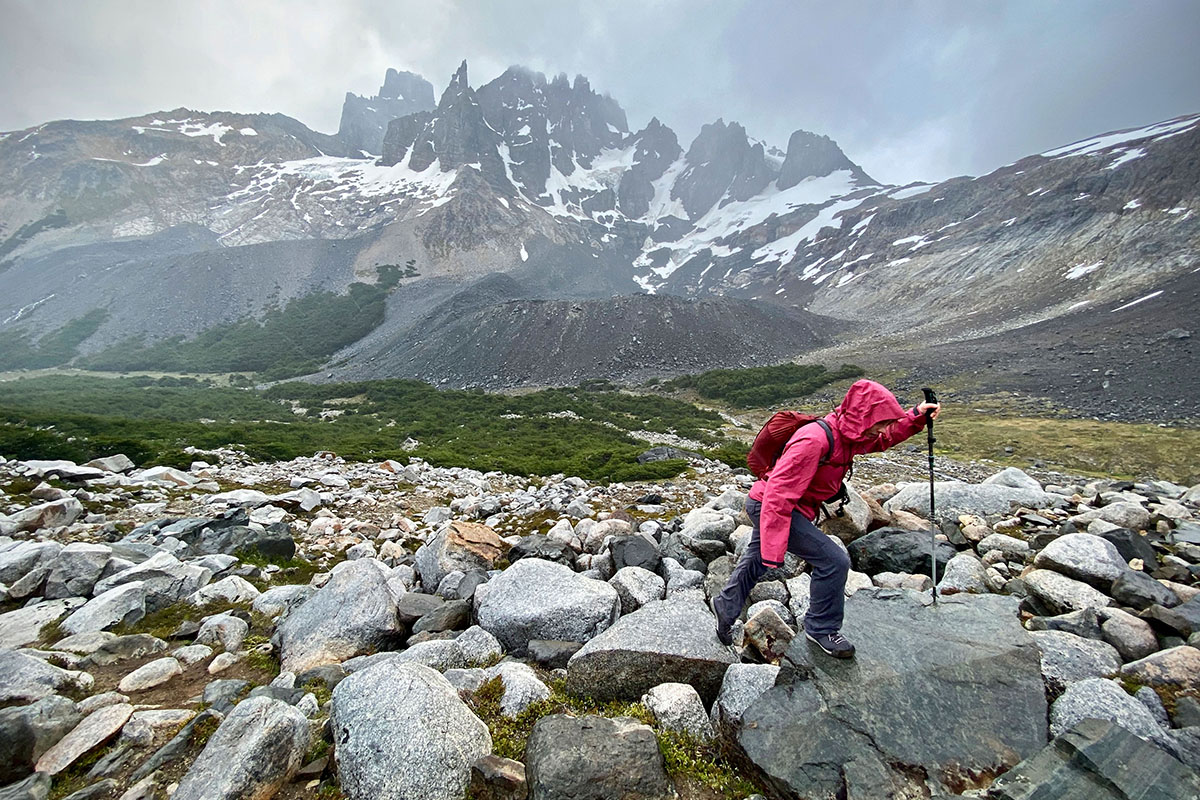 Weight
Over the past decade, one of the most significant advances in hiking shoes has been the move to lighter-weight designs. Tough but thin fabrics and the rising popularity of trail runners have made putting on major miles a lot easier. As a result, all of the shoes on our list weigh well under 2 pounds for the pair, with some dropping to just over a pound—by comparison, a traditional backpacking boot like the Asolo TPS 520 tips the scales at over 4 pounds. It's true that the drop in ounces sometimes impacts long-term durability, but there are still a number of compelling options for traditionalists, including the leather Merrell Moab 3 and KEEN Targhee. But for most, a lightweight trail runner-inspired shoe is the best choice for day hikes, peak bagging, and quick overnight trips. As long as the rest of your gear is equally light, there are very few sacrifices.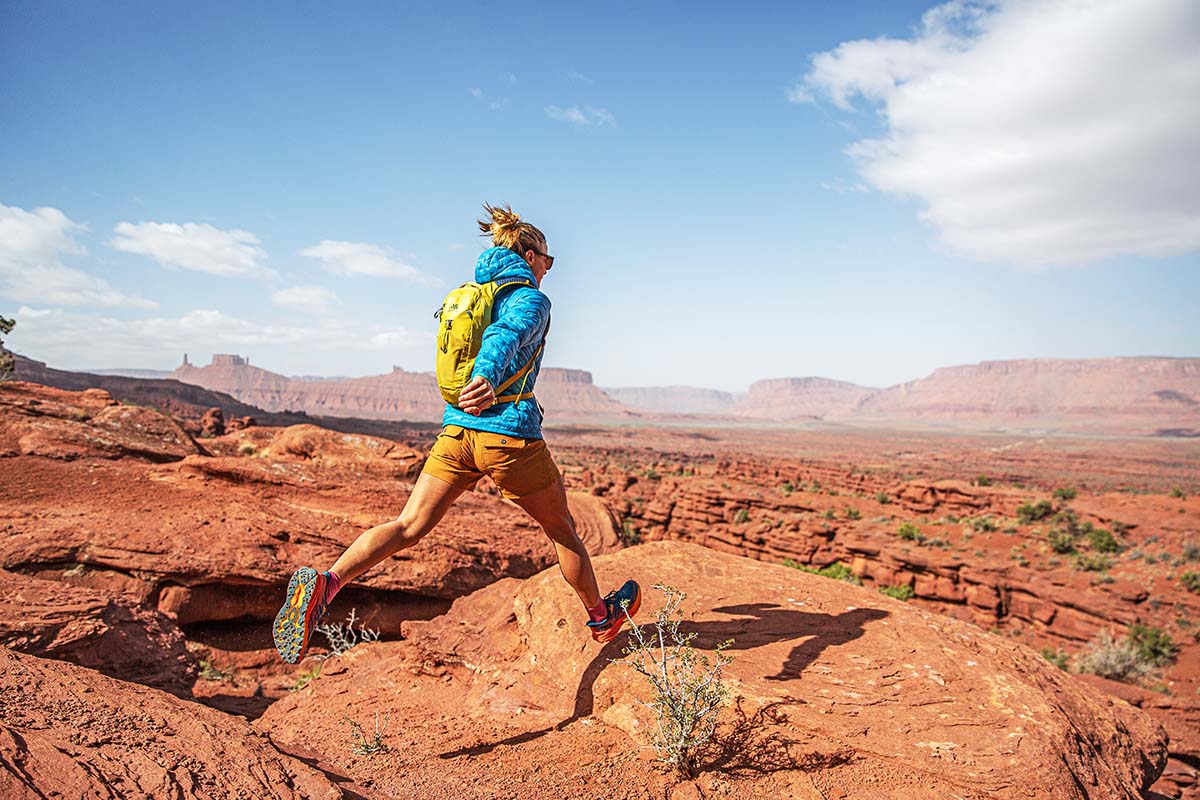 Stability and Support
Regardless of whether you're opting for a new-school synthetic model or a more traditional leather hiker, most hiking shoes retain good stability and support thanks to robust uppers and midsoles and relatively rigid soles. For example, despite having the appearance of a trail runner, the Scarpa Rush Low GTX incorporates a stiff TPU heel frame, along with a burly sole that prioritizes durability and traction on wet terrain. What's more, protection is solid with toe caps, generous rands, and burly nylon or leather uppers. This is good news for most hikers, who will want the added performance for tricky terrain or while carrying a load.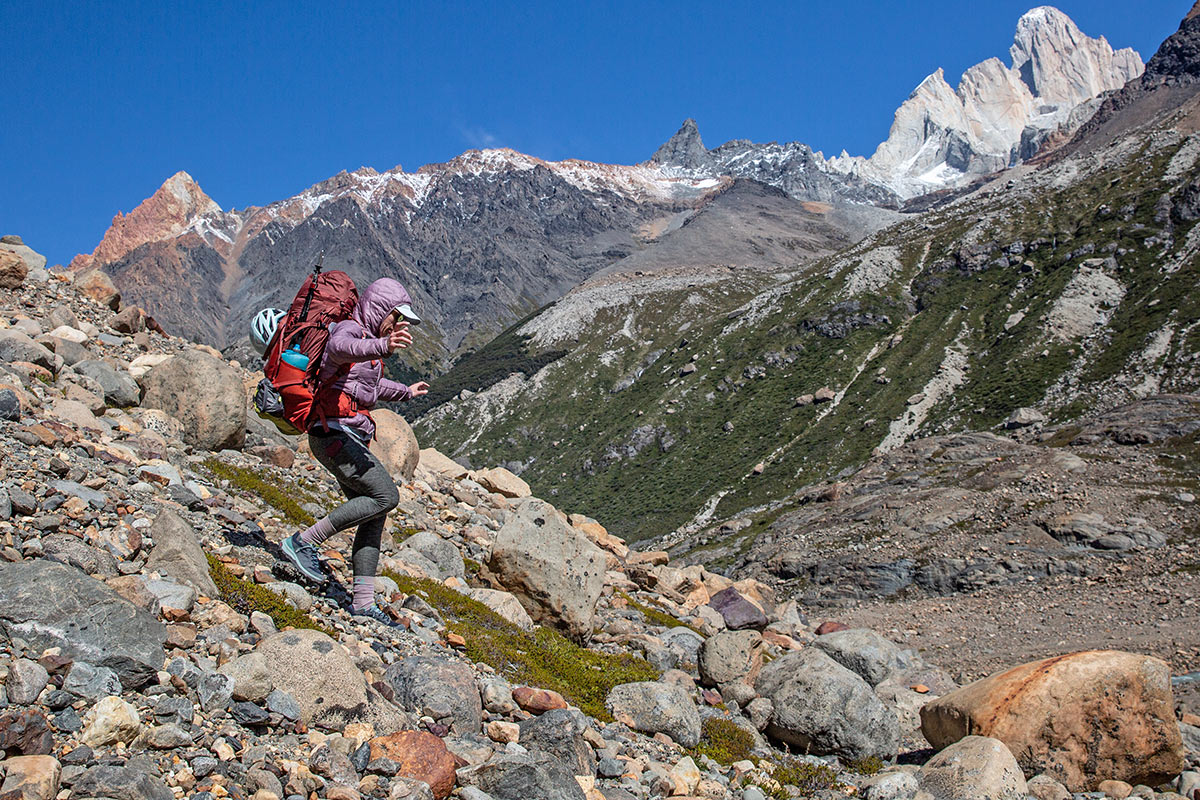 If you do choose to go with a lightweight trail runner, keep in mind that the tradeoff is decreased stability and support. These shoes have more flexible midsoles, and the large dose of cushioning underfoot is great for comfort but offers less structure for off-camber sections of trail. The mesh upper of a trail runner also lacks around-the-foot protection and leaves your feet more vulnerable to roots and rocks. These are compromises that many day hikers (and well-conditioned backpackers) are willing to put up with for a more nimble, lightweight shoe. However, in most cases, we hesitate to recommend a trail running shoe for inexperienced hikers and difficult trails (including off-trail scrambling).

Waterproofing
Most of the hiking shoes here come in both waterproof and non-waterproof versions. The extra protection that comes with a waterproof and breathable membrane inserted into the shoe is a nice security blanket if you plan to hike in the mountains or in shoulder-season conditions, where wet feet can grow cold quickly. In theory, these shoes should keep your feet dry during creek crossings, surprise rainfall, or if you hit snow on an early-season trek. If you go this route, we've found Gore-Tex models to work consistently well, and many in-house designs are similarly capable of keeping water out (breathability is a different story), including the Oboz's B-Dry in the Sapphire Waterproof.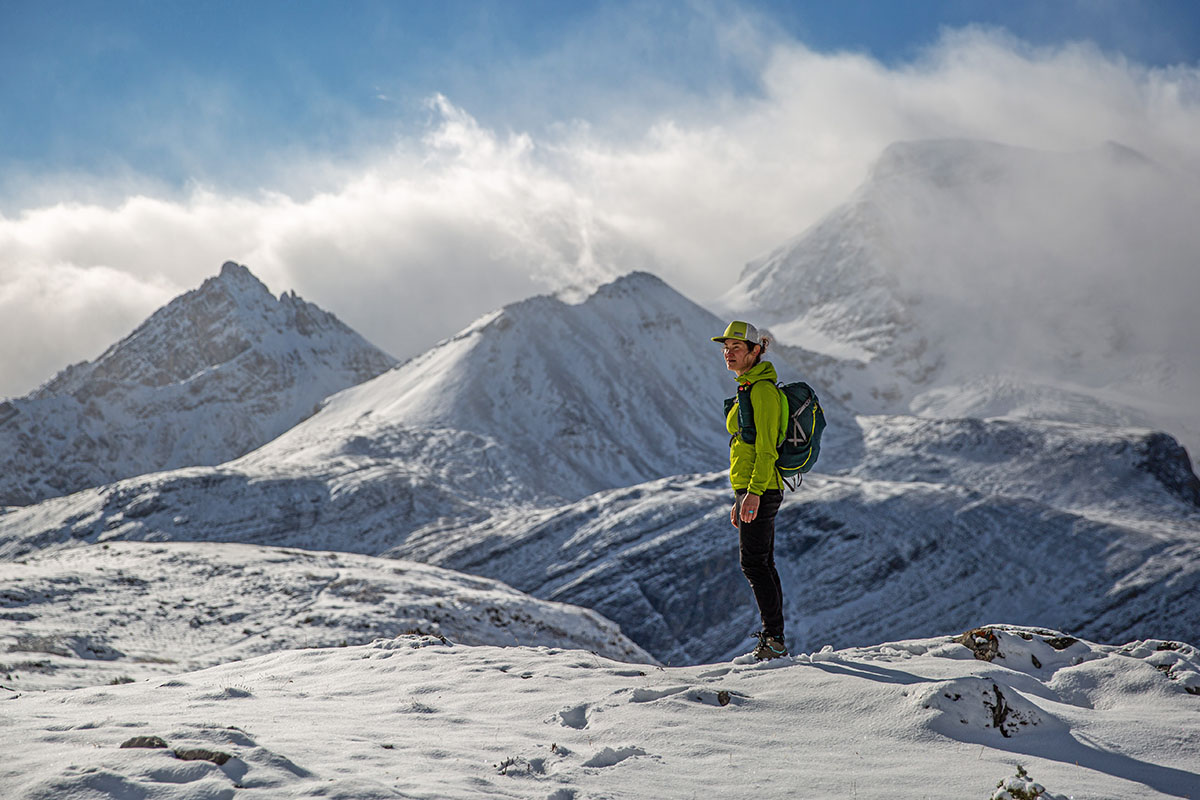 However, there are a number of downsides to going with a waterproof shoe: the extra layer adds weight, impacts breathability fairly significantly (discussed below), and will run you around $20 to $30 more. Further, if you do get water inside your shoe (not a difficult task with a low-top design), it doesn't drain as well and won't dry out nearly as quickly as a non-waterproof option. If you tend to get out only in the summer months or live in a hot or dry area, we recommend a non-waterproof shoe in most cases. Another option that we've adopted for snowy summer hikes is to pair a non-waterproof shoe with a waterproof sock. This lends a lot of versatility: you get protection when you need it, but your shoe will still dry out quickly after a dousing.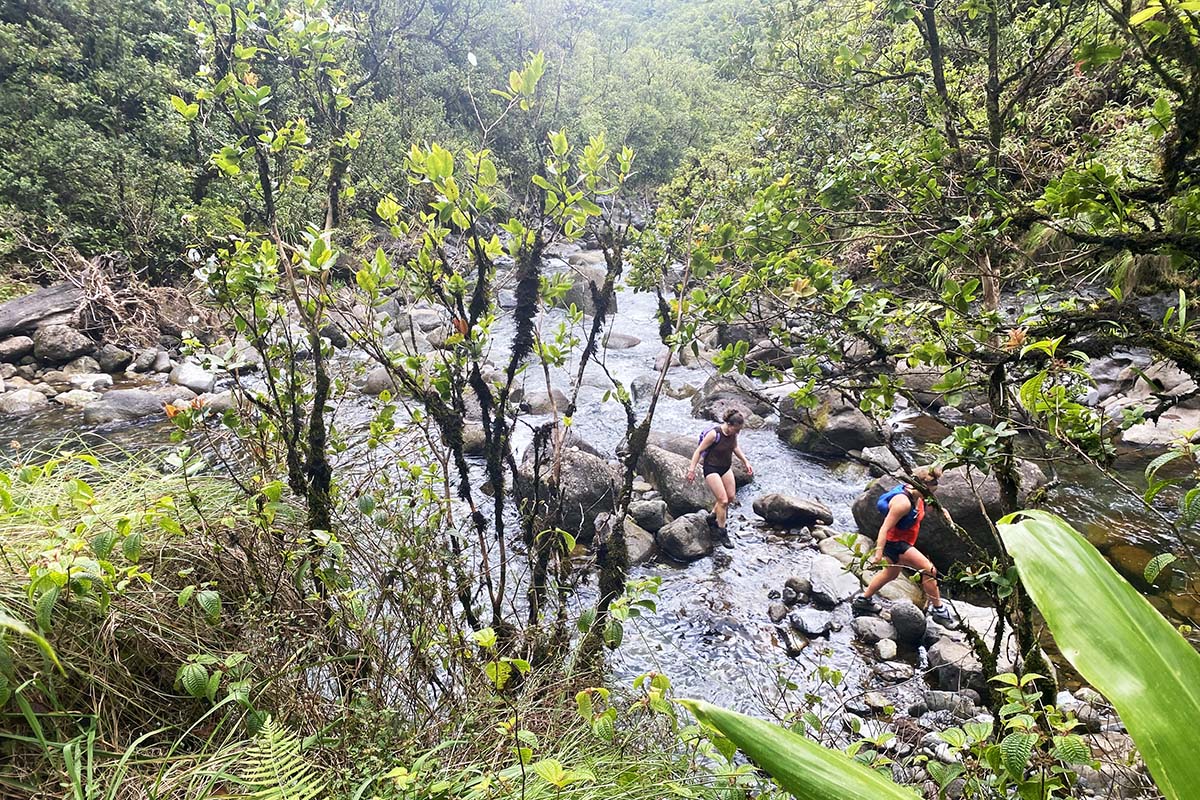 Breathability
The truth about waterproof liners, even expensive Gore-Tex booties, is that they don't breathe well—just as a waterproof jacket won't be as breathable as a comparable non-waterproof version. Simply put, waterproof membranes restrict a shoe's ability to pull moisture away from your sweaty feet as efficiently as a non-waterproof upper. Not all non-waterproof shoes should be treated equally, however. Footwear that features thinner fabrics and a lot of mesh will increase moisture transfer and airflow, which will keep feet less sweaty in hot weather as well as dry out soggy socks far more quickly. On the other hand, full-on leather shoes with built-in waterproofing—the KEEN Targhee III Waterproof comes to mind—will be among the least breathable.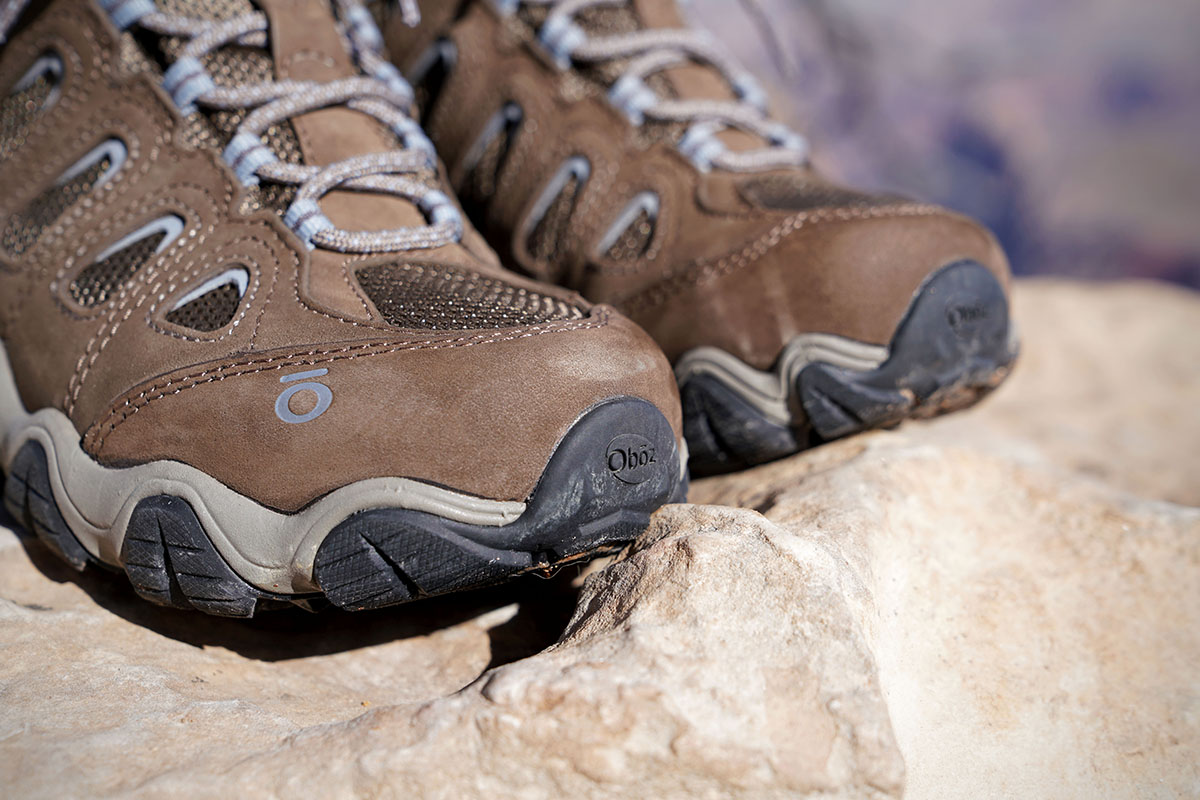 Lacing Systems
Easily overlooked, laces—as well as the lacing system of hooks and eyelets—play an essential role in fit and comfort. If a shoe has a poor lacing system that is prone to loosening, you'll find yourself having to readjust constantly on the trail. If the system itself doesn't secure your heel very well, the up and down walking motion will create hot spots and blisters. If the culprit is just the laces themselves, it's an easy fix: there are a number of good quality replacement laces available. But if the system design doesn't hold your foot very well, we recommend looking elsewhere.
Some models, including the Salomon X Ultra 4 GTX, have a single-pull lacing system. The design is very convenient, and we've had no more issues with durability than traditional laces. One thing to keep in mind, however, is that you aren't able to adjust the tension between eyelets, so the fit will be equally tight across the entire foot. In other words, those with finicky feet that need to fine-tune their laces to be comfortable may be better off avoiding quick-lace designs.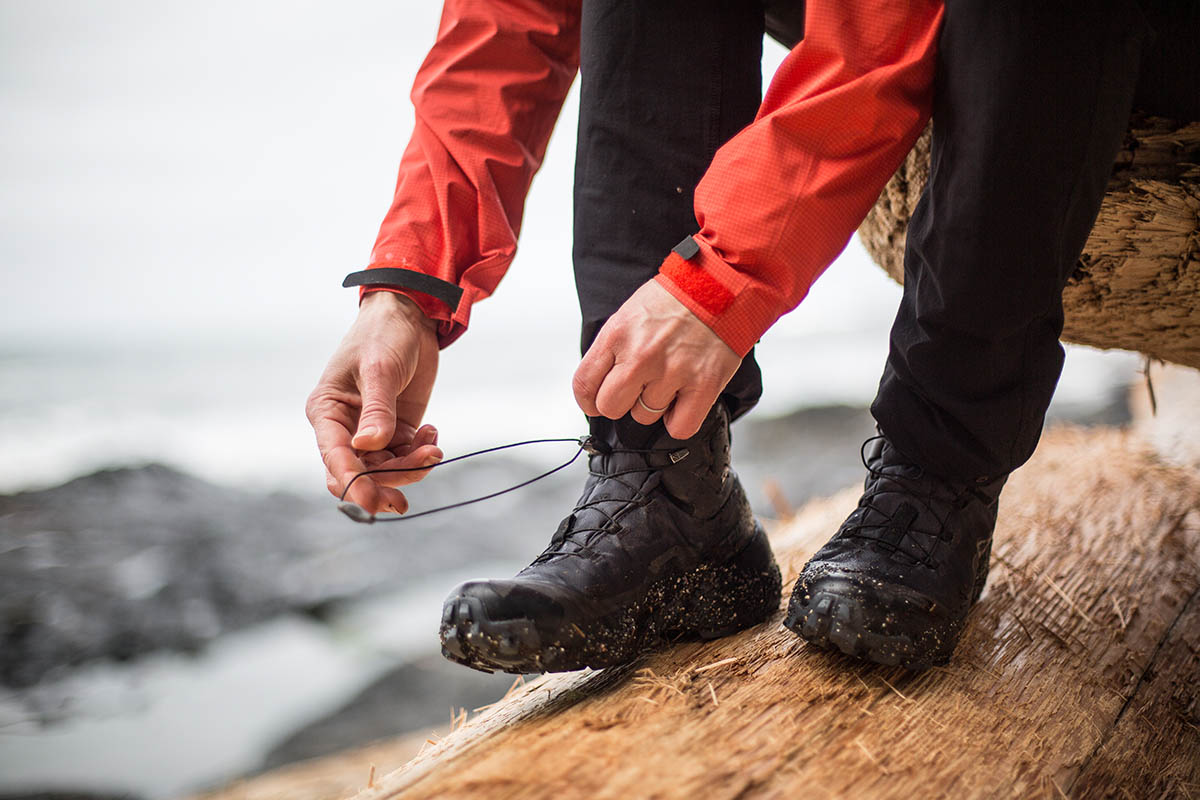 Upper Materials
Hiking shoe upper material is not the most exciting topic, but checking the construction can give helpful insights into the shoe's performance. The type of material used will correlate directly with a shoe's longevity, water resistance, and ability to breathe. Most often, hiking shoes are made with a mix of nylon, mesh, and leather to balance cost, weight-savings, and durability. Below, we spell out the pros and cons for the most common materials used for hiking footwear.

Synthetic Nylon and Mesh
Woven synthetic (often nylon) as well as open synthetic mesh panels are commonly used to aid breathability. These materials are not as well-known for their durability, but they do a great job cutting weight and are generally easy to break in. Note that synthetic materials don't conform to your foot over time as well as leather, but in most cases, the overall fit is still comfortable and snug. The majority of our favorite hiking shoes (and almost all modern designs) are made with synthetic materials, which provide a hard-to-beat balance of weight, durability, protection, and breathability.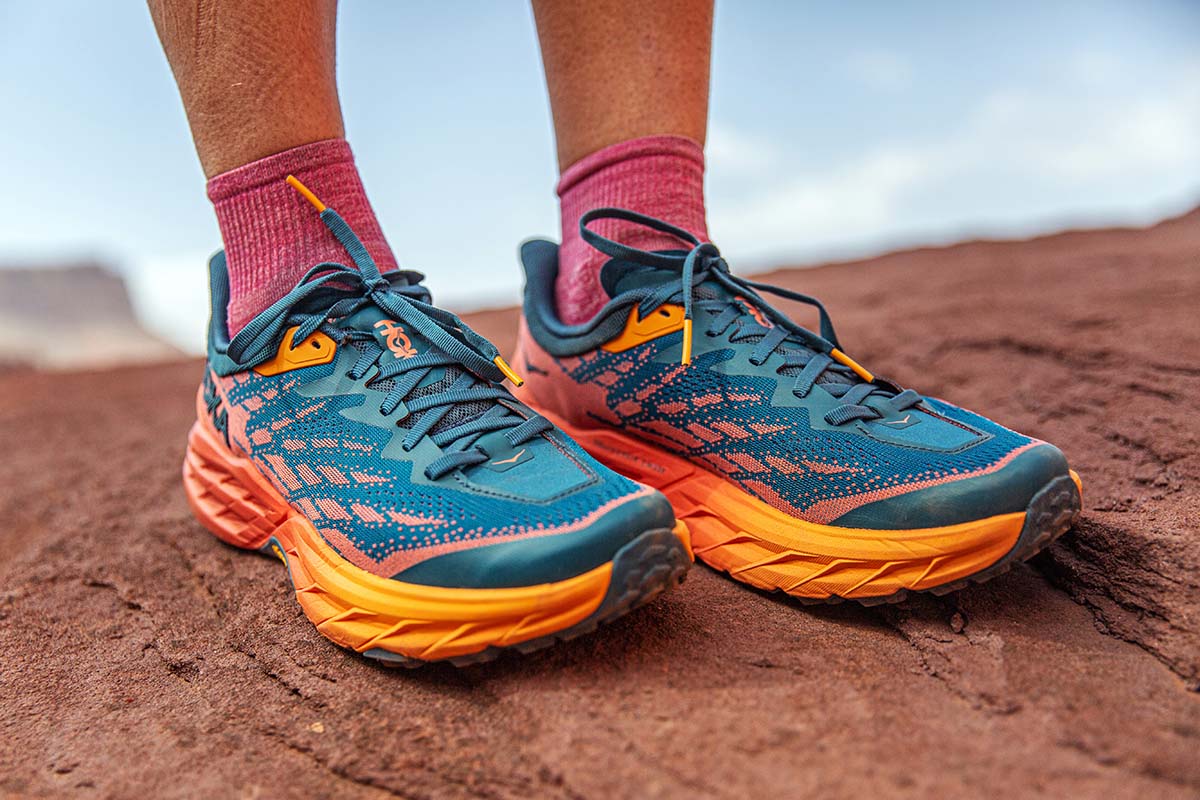 Nubuck Leather
Made of full-grain leather but given a brushed finish that has a suede-like feel, nubuck leather is a common sight on heavier-duty hiking shoes. The softer-touch leather is lighter and more flexible than glossy, full-leather options and more durable than most nylons. It does fall short in breathability, however, and generally weighs more. As a result, it's common to find a mix of leather and nylon mesh for abrasion resistance and breathability, as seen on the Merrell Moab 3 and KEEN Targhee Vent. In the end, if you're looking to prioritize durability and protection above all else, a leather hiking shoe is a good choice. But in general, these designs are a bit long in the tooth compared to modern synthetic shoes.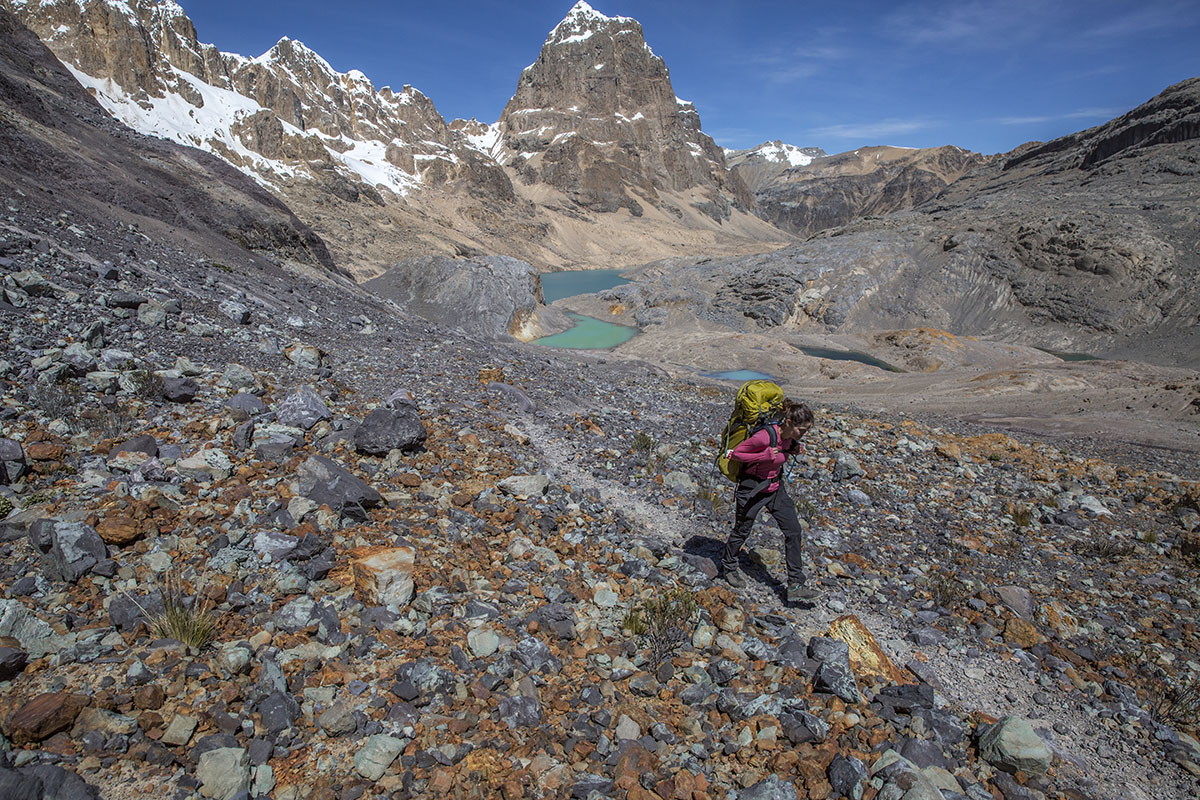 Midsoles: EVA Foam and TPU
The midsole of your hiking shoe functions to cushion your stride, working as a shock absorber from impacts and providing a stable base so your feet don't have to work so hard on off-camber terrain. Depending on the design, midsoles vary from very thin (minimalist trail runner) to stiff and substantial (burly hiking shoe). Most include EVA, TPU, or a combination of both.

EVA
EVA foam midsoles are a common sight on running and hiking footwear. The cushy, soft material takes some of the sting out of both your heel impact and forefoot spring and is also extremely lightweight. While nearly all shoes on this list use some sort of EVA, designs can vary from super soft to mildly stiff. For logging serious miles on tougher terrain, we prefer a firm and supportive midsole as opposed to too much cushioning. If we're planning on moving quickly on easy trail, softer cushioning is a better bet and commonly found in trail running designs like the Hoka Speedgoat. However, soft midsoles have a tendency to break down over time, so expect these shoes to pack out more quickly than dedicated hiking shoes.
TPU
Thermoplastic polyurethane, shortened (mercifully) to TPU, is a durable plastic commonly found in performance-oriented hiking shoes. Shoes that use TPU underfoot are often less cushy than those with only EVA but will last longer and provide better protection and stability underfoot. In addition, they'll keep their shape longer and won't be prone to compressing like EVA. Because both midsole types have valid applications and TPU is more expensive, it's common for a manufacturer to use a TPU frame or heel for stability and toughness and add in EVA underfoot to increase comfort. Finally, the absence of TPU is a good way to differentiate a trail running shoe from a hiking shoe—most running designs forgo this plastic in order to stay flexible and cushioned, but the tradeoff is less stability and isolation from rough terrain.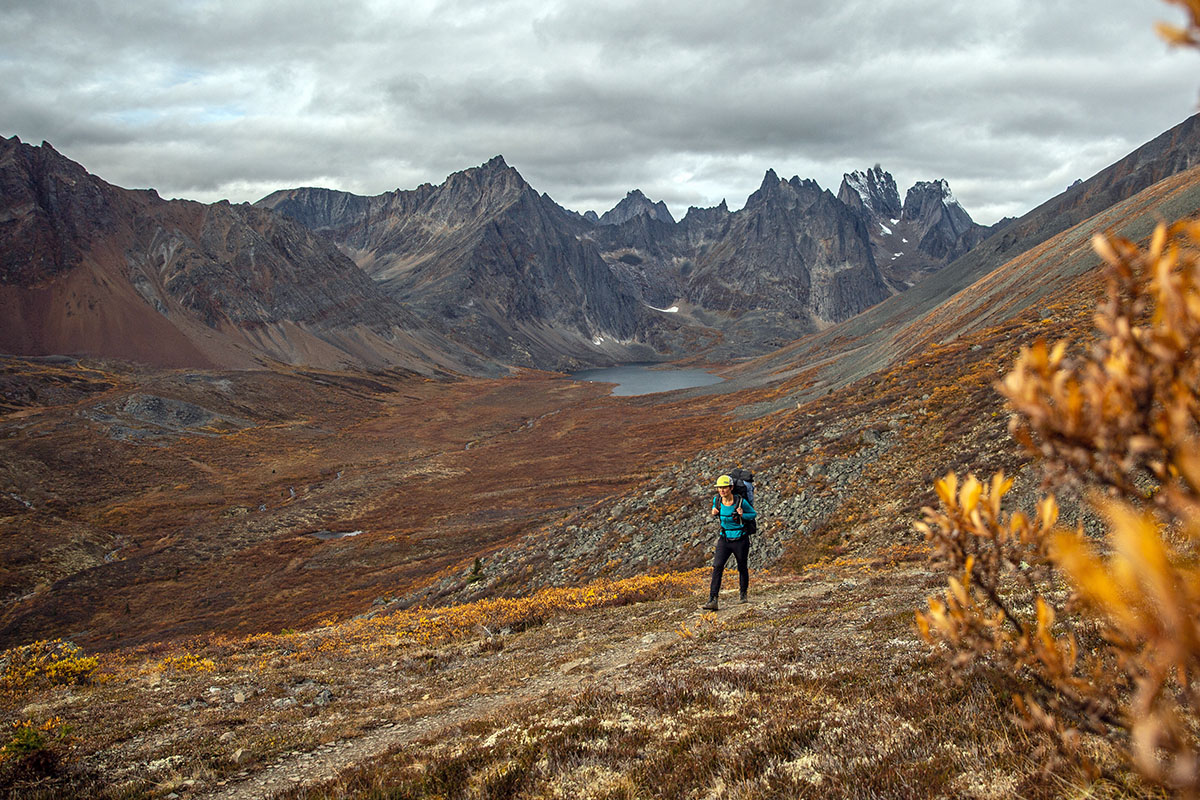 Outsoles and Traction
One of the hallmarks of a hiking shoe is good traction on a variety of terrain. In a way that more casual footwear can never match, hiking and trail running footwear are leaps and bounds better when the going gets rocky, slippery, and steep. Vibram is the gold standard when it comes to outsole rubber, but not all Vibram compounds should be treated equally: The rubber manufacturer tailors their blends and designs for the specific footwear and brand. Some shoes have much larger and sharper lugs underfoot for serious grip in mud, while others prioritize sticky rubber for scrambling over rocks.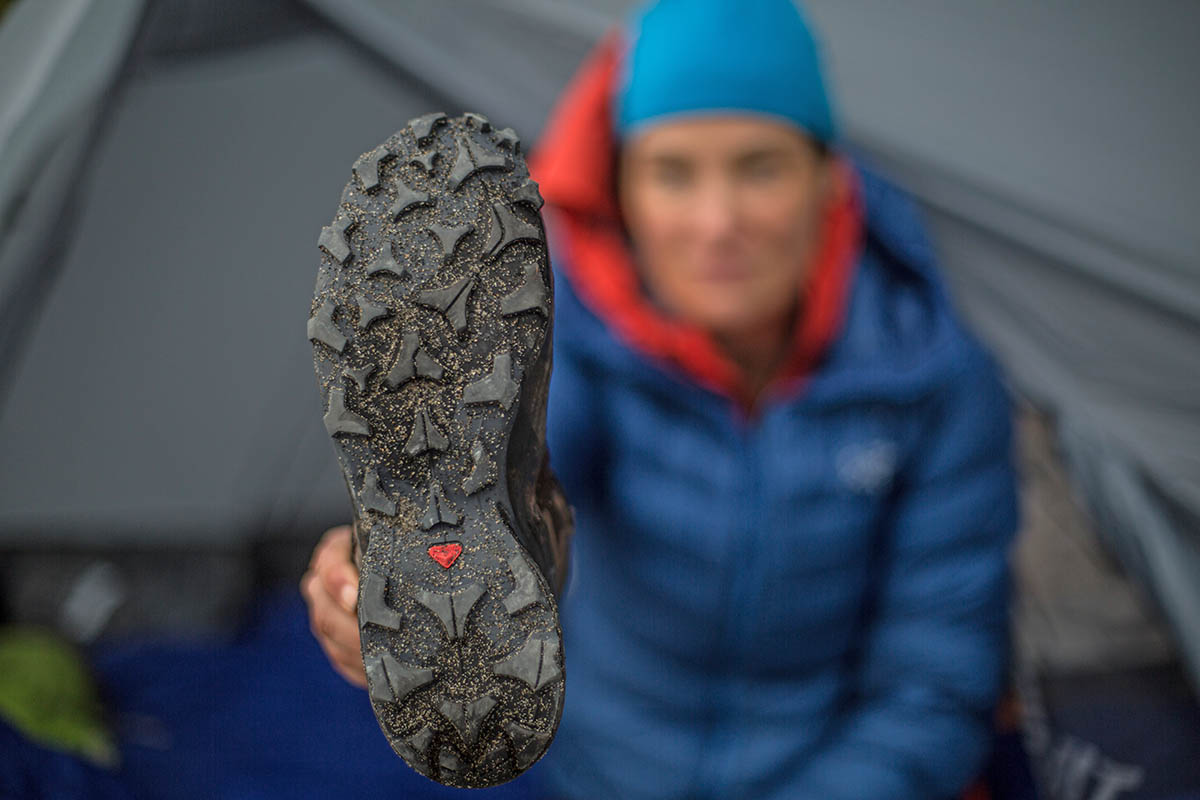 Salomon is one brand that doesn't outsource their traction needs. Instead, they use their in-house Contagrip for all of their hiking and trail running models. We've found the level of quality and performance is on par with Vibram's offerings, from anything from their fast-and-light X Ultra 4 hiking shoes to the burly Quest 4 backpacking boots. Keep in mind that, like Vibram, Contagrip compounds can vary from shoe to shoe (there are a number of different compounds, including Contagrip MA, MD, and TA). For example, we found the Vaya to offer fairly unimpressive traction on wet terrain, whereas the Cross Hike excels in this environment.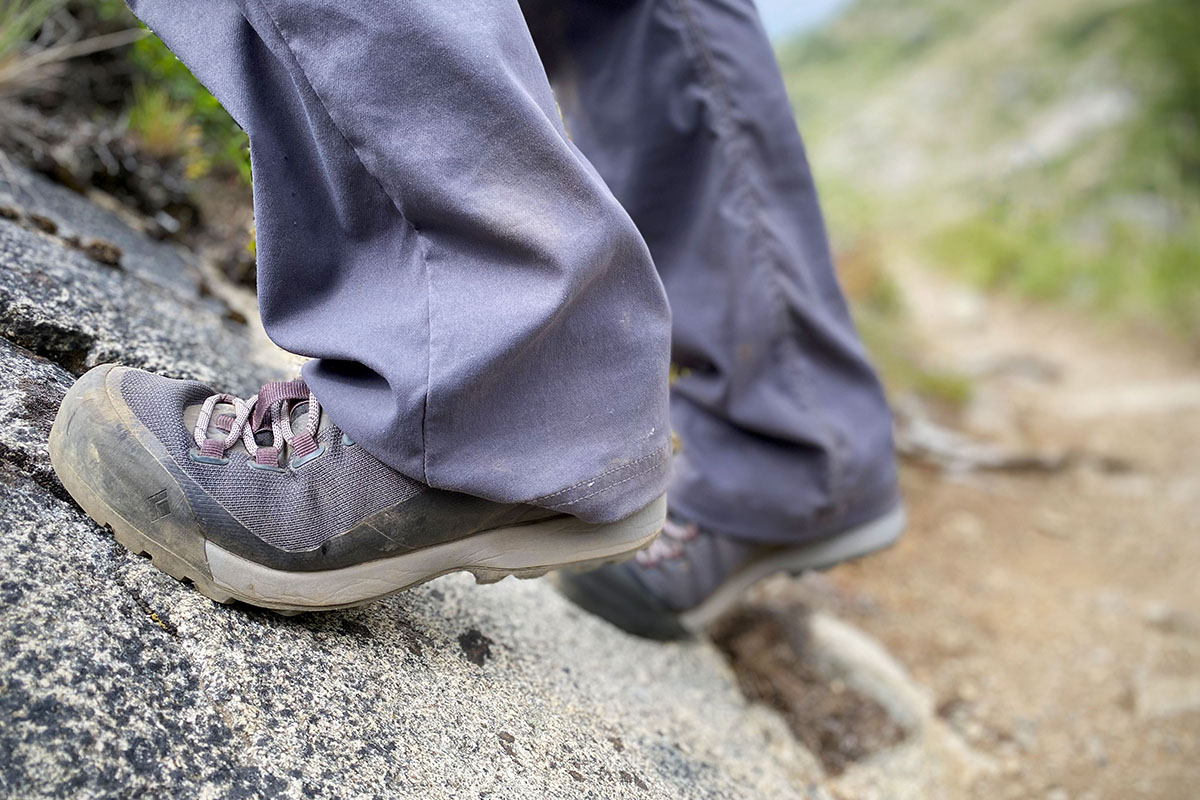 Toe Protection
Hiking trails, even well-maintained ones, are full of rocks, roots, and other potential hazards, so we almost always recommend a hiking shoe with some type of toe cap. Lacking any protection on the front of your shoes can lead to a trip-ruining impact when you inevitably look up from the trail to enjoy the scenery. Hiking shoes typically have a full rubber toe cap, but trail runners sometimes have a trimmed-down version or none at all—one of the compromises in opting for a minimalist shoe. Approach shoes, on the other hand, have exceptional protection with a standard wraparound rubber rand and stiff midsole and outsole.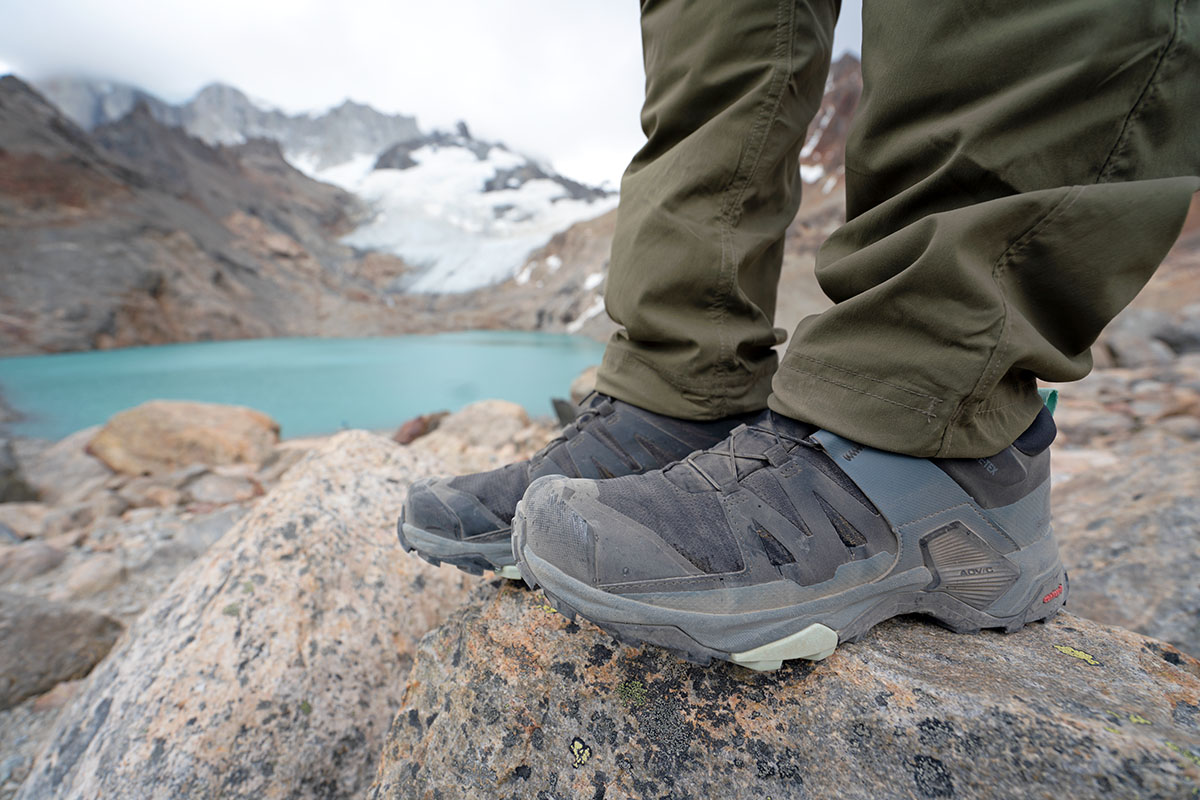 Insoles
Just like with running shoes, the stock insoles that come with nearly every hiking shoe are generally fairly cheap. For some, this might not make a difference, but for others, it's what separates comfort from misery. Thankfully, removing your insoles is super easy, and replacing them with an aftermarket model that's specific to your foot size and shape can remedy most shoe maladies. New insoles can provide more or less volume to fill out the shoe, improve the fit under the arch, and increase or decrease the cushion and impact absorption. We recommend checking out Superfeet insoles for their wide selection of options and trusted reputation in daily shoes, ski boots, and hiking footwear.
 
Hiking Shoes vs. Hiking Boots
One of the biggest trends we see across the board in the outdoor space is the move towards lighter-weight gear. This is exemplified in the world of hiking footwear, where, in just a couple short decades, we've gone from 4-pound leather boots being standard issue to the majority of hikers now wearing lightweight hiking shoes or trail runners. However, hiking boots still have their place, particularly for rugged terrain and schlepping a heavy multi-day load. We also specifically recommend a mid-height shoe for those needing extra protection around their ankles.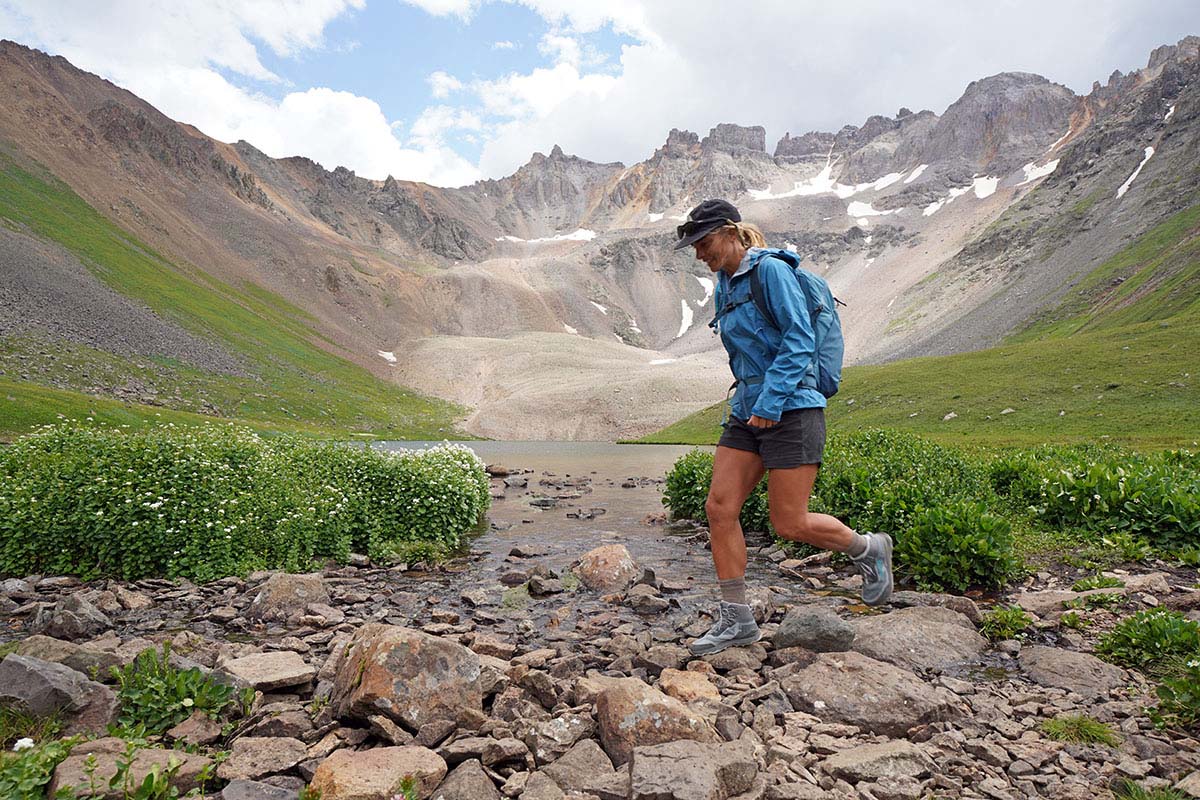 The biggest point of differentiation between hiking shoes and boots is height: shoes have a low-top fit, while boots generally sit above the ankle. Given their increased coverage, boots are able to offer a more secure fit, better stability, and more protection overall. Similar to hiking shoes, most modern hiking boots are built with lightweight materials and nicely balance agility and performance (even the Altra Lone Peak trail runner comes in a mid-height version). That said, for anything but the most rugged of trails or the heaviest loads, we still find ourselves reaching for a hiking shoe. You'll have to decide for yourself, but both are viable options for day hiking, backpacking, and non-alpine peak bagging. For our breakdown of the top models on the market—including everything from mid-height trail running shoes to traditional leather designs—see our article on the best women's hiking boots.