Best Shoes For High Jumpers
Are you looking for the best shoes for high jump? We've got you covered.
The high jump is one of the most exciting events in track and field. It's also a very challenging sport, so it makes sense that you'd want your equipment to be up to par. The right pair of shoes can make all the difference, so we've put together this guide on how to choose the best shoes for high jump.
Best Shoes For High Jumpers
The 4 Best High Jump Spikes for Your Best Season Yet
This guide was made to help athletes of all levels (beginner to advanced) navigate the process of finding their perfect high jump spikes. We've compiled hours of research into this article to help make your process easier. Without further delay, here are our top three selections:
Adidas Adizero High Jump Spikes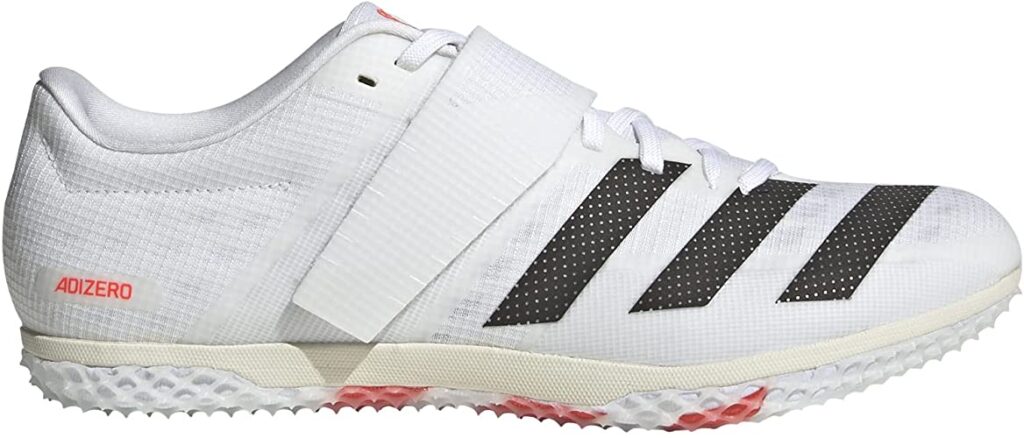 Overview
Adidas consistently puts out great products, and the Adidas Adizero's just add to the list. The purpose of your approach is to develop horizontal velocity. With the lightweight feel of these shoes, your approach will feel easy and you'll feel acceleration as you approach the bar. As you enter into your plant/takeoff phase, you will direct your speed vertically – and you can really feel the stability of these shoes.
Pros
Technology: These high jump spikes come well equipped with all of the technology to needed to clear your next big height. Whenever you're checking out spikes, it's always important to see if the shoes have spikes in the front and also in the back. Having spikes in the back allows you to have that stability in your plant/takeoff phase, whereas shoes that only have spikes in the beginning are primarily used for sprinting.
Durability: Despite some issues with the design, you can be assured that these spikes will last you a long time. In general, it makes sense to have two different pairs of shoes: one from practice and the other is for competition. The strap certainly helps with durability and adds to that stability.
Cons
Design: These shoes will get dirty quickly. If you're someone who doesn't care, more power to you, but just know that you'll likely have to hand wash these more than your typical spikes just because of the color and the nature of the event that you're doing. It can scuff easily and colors from the track/stadium can rub off easily.
Conclusions
In conclusion, we give the Adidas Adizero's a 90% ranking and our number one spot for the best high jump spikes. While the design of this shoe isn't the best, we'd argue that the actual functionality of the shoe is what is most important. Given that the technology is strong, and the durability will help any jumper use this for at least a season, we've decided to give them our highest ranking.
Nike High Jump Elites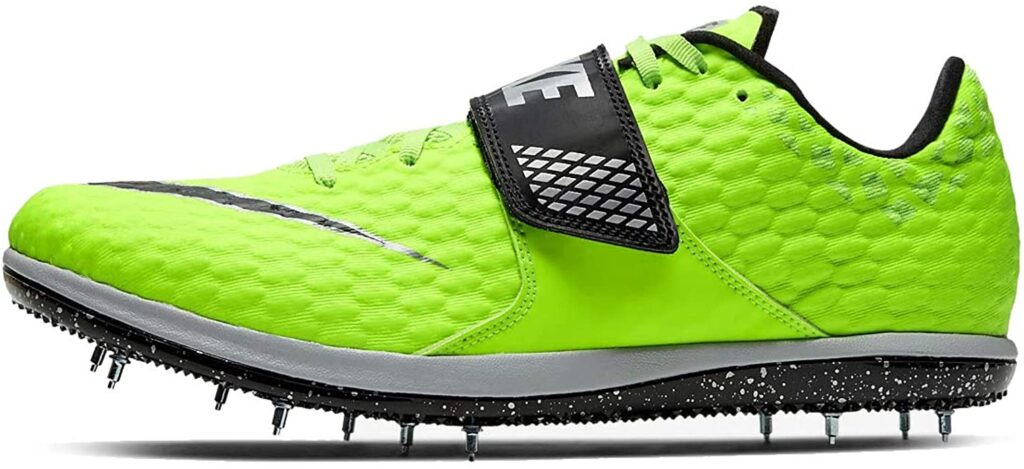 Overview
If you can get your hands on them, the Nike Zoom High Jump Elites are a staple for the best performing high jumpers in the Track & Field community.
Pros
Comfortability: These shoes are incredibly comfortable and are incredibly reliable. The sole is stiff provides enough bounce where you can accelerate into the takeoff phase with ease. A lot of high jump spikes are uncomfortable, and don't really feel good to wear until you're competing. These shoes are versatile, and certainly provide a lot of support.
Durability: The design is breathable and durable. After a long practice, these aspects can be crucial. Especially if it's been raining outside, you want to use your track spikes as long as you can.
Technology: Its 11-spike Pebax® plate offers additional support. As mentioned in our other blog posts about track spikes, high jump spikes require a larger number of spikes than other shoes.
Design: This shoe also has 11 spikes and comes with an incredible design. In addition to its design, it comes with a durable Velcro strap to safely secure your foot into the shoe.
Cons
Rarity: These spikes are tough to find – they're hardly available just because they're so in demand. Our recommendation is to stick with the Adizero, but watch Amazon and other marketplaces religiously to see if you can grab yourself a pair of new shoes. It's well worth it!
Conclusion
In conclusion, the Nike High Jump Elite are a great pair of shoes, but they're difficult to find. If you can get your hands on them, then I would definitely grab a pair.
Saucony Uplift HJ2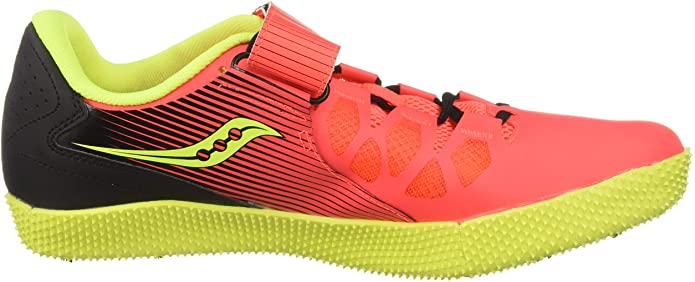 Overview
These Saucony high jump spikes have often been labeled as the "cheaper alternative". Most athletes that end up using these shoes end up only using it for a season, and has been deemed a great shoe for beginners. Durability and sizing is an issue with these shoes. If you're looking for durability, I would say that it'd probably be better to invest into a pair of Adidas Adizero High Jump Spikes.
Pros
Affordability: These shoes are one of the more affordable options that you'll find on the market.
Technology: These shoes get the job done. You can definitely rely on these at least for once season to help you get consistent and better results. If you are considering between this and sneakers, grab these. You'll jump higher just due to the technology alone.
Design: I think this is probably my favorite design. They're flashy, and provide a super clean look to them, especially for how affordable they are. Obviously, you want to buy based on what's going to help your performance, but at the price point, it's really not that bad of a purchase to get something like this to stand out in style.
Cons
Durability: If you're looking for durability, you're much better off with the Adidas Adizero's. When it comes to durability, it comes with the price of affordability. I would only really recommend these for absolute beginners or people who are just starting in high jump.
Conclusions
I would recommend these shoes to beginners, and beginners only. If you have more than one season under your belt, you are better off purchasing the best on the market shoes like the Adidas Adizero's. That being said, these shoes are still decent, but I would say that there are better options out there.
The Nike High Jump Elites are the go-to track spikes for any high jumper that wants to be competitive. On top of being our #1 recommendation, we'd recommend this as a competition pair.
Asics High Jump Pro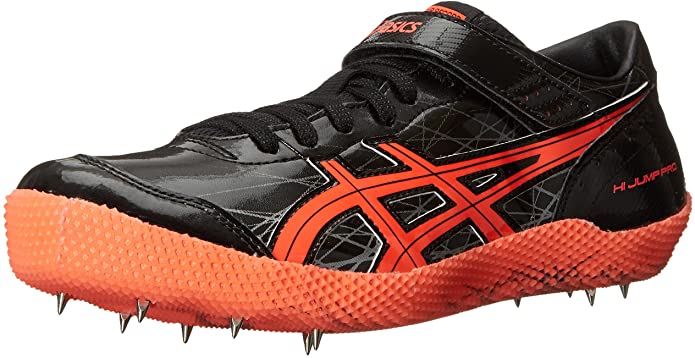 Overview
The ASICS High Jump Pros are our last pick for our top high jump spikes. This made our list, but did not rank high. This is because we believe that only beginners should consider buying these spikes. These spikes are similar to the Uplift 2's, but would rank slightly lower. Sure, these will provide you great stability. However, the reality is that if you're an experienced jumper, there are a lot better shoes out there.
Pros
Perfect for beginners: If you are a beginner, start with either the ASICS High Jump Pros or the Saucony Uplifts. These shoes are great for repetitions, and could even serve as a good alternative for a practice shoe. Always focus on understanding the fundamentals behind the event. My strength coach always said "In college, your major should be in two subjects: your major and your event". Having a solid pair of shoes that will help you get the repetitions in is perfect for this situation.
Durability: These shoes will last you a long time. ASICS makes incredibly durable shoes, but it also comes with the expense of the bulky-ness of it.
Cons
Design: These shoes are the standard for high jumpers. They're often probably the most common you'll see at a track meet. They're big and bulky. In comparison to other spikes, they just don't look as good.
Technology: You can definitely jump higher with other shoes in comparison to this one.
Conclusion
In conclusion, these ASICS are a good purchase if you're a beginner and are looking for something durable. However, if you're more advanced, you might want to explore the other options more carefully.
Final Thoughts on High Jump Spikes
At the end of the day, you are going to need to try multiple spikes. I've seen numerous tremendous athletes compete in spikes that I consider garbage. However, it all depends on preference. Whereas I really liked having aggressive spikes, some athletes enjoy stability and durability. Try out different pairs for 2-3 months, and you'll quickly be able to find the pair that suits you best.